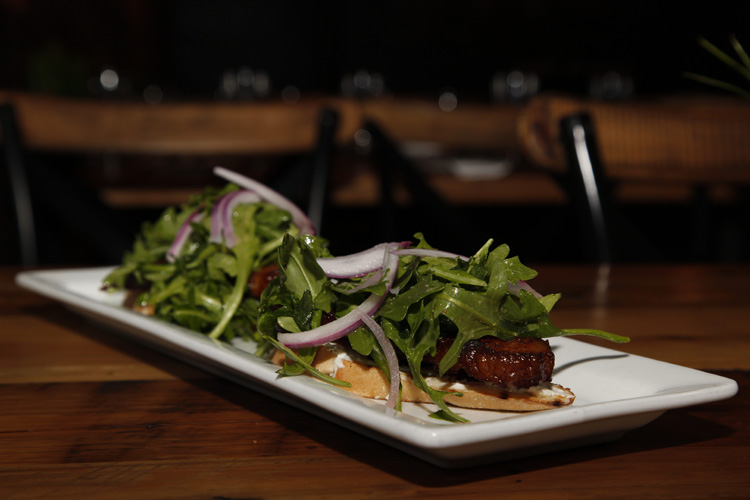 Less than three years after it burst onto the scene, Southern Social has established itself as the go-to eating-and-drinking spot in Vero's 14th Avenue art-gallery-and-dining district.
With a hip, country-casual vibe, a highly skilled bar that serves up innovative cocktails as well as craft beers, and a sophisticated kitchen that offers a creative take on classic Southern dishes, this fairly large restaurant is packed night after night.
On a visit last week, we arrived on the early side and were seated at the lone open table in the main dining room. Our server quickly brought us a basket of warm cornbread, and took our drink order.
Knowing from experience that portions here are huge, my husband and I decided to forgo appetizers and start by sharing a beet 'n burrata salad ($12). The salad was more than enough for two, pairing roasted red and gold beets with a creamy burrata, all nestled into a bed of arugula dressed with a horseradish vinaigrette. A wonderful combination of tastes and textures.
For entrées on this most recent evening, I finally settled on the short rib pot roast ($21) and my husband chose the pan seared hogfish ($29).
My pot roast was fork-tender served with luscious stone ground cheddar grits, pork belly collard greens, carrots, caramelized onion and gravy. My husband was equally pleased with his hogfish, which was presented atop garlic whipped potatoes, tasty collards and crispy leaks.
While we really had no room for dessert, our server talked us into sharing an order of Hummingbird Layer Cake ($6). This turned out to be a combination of banana, pineapple and pecans with a cream cheese frosting – and it might be my new favorite dessert.
On earlier visits to Southern Social, I have enjoyed the deconstructed shrimp and grits – perfectly cooked shrimp served with a grit cake complemented by wilted collards and Andouille butter sauce – and also the company burger, two house blend patties served with bacon jam, American cheese and Bama BBQ sauce.
A party of two can dine here – having a couple of beers or glasses of wine, sharing an appetizer, and enjoying two entrées – for $70 to $90, before tax and tip (somewhat more if you're having mixed drinks).
The good news is that Southern Social takes reservations, and we would strongly recommend them. On the night we were there, it got busier and busier as the evening went on. The less good news is that when it is full, this restaurant is very noisy.
But in this restaurant, loud is clearly the sound of lots of diners – many of them on the younger side – enjoying themselves. Our guess is this nouveau Southern gastropub will be with us for a long run.
I welcome your comments, and encourage you to send feedback to me at tina@verobeach32963.com.
This reviewer dines anonymously at restaurants at the expense of Vero Beach 32963.
Southern Social Kitchen and Bar
Hours: Daily, 5 p.m. to closing
Beverages: Full Bar
Address: 1932 14th Ave., Vero Beach
Phone: 772-205-2212
Photos by: Kaila Jones
Click HERE to see more or buy photos