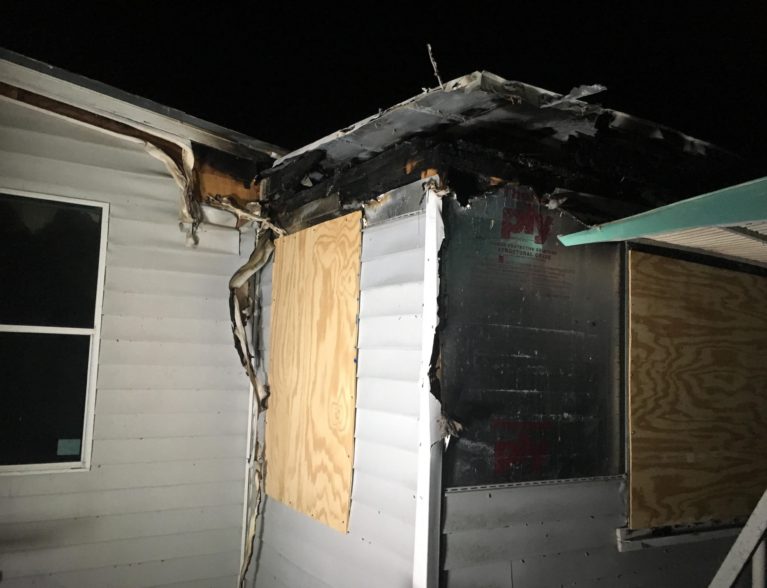 SEBASTIAN — Three police officers were just five feet away from scorching flames when they pulled a man overcome by smoke through a back sliding door and out of a burning home.
"As you got further back (in the home), the smoke began to get thicker and more intense," Sebastian Police Sgt. Steve Marcinik said. "The fire was popping and crackling."
The policemen, who typically patrol the streets, found themselves racing into a burning home, becoming what neighbors call heroes.
Burn marks, a damaged roof and boarded up windows could still be seen Thursday at the home, located in the 300 block of Valencia Street. The resident, 53-year-old Rodney Dyke, continues to recover at a hospital in Orlando after being treated for excessive smoke inhalation, Marcinik said.
"He will still be in the hospital for a couple weeks," Marcinik said. Marcinik, who had already known Dyke for about 20 years, described the resident as a friendly, kind man who would not harm anybody.
Authorities were still working to determine what caused the blaze at Dyke's residence.
*Click the audio icon in the lower right hand corner for sound. 
.Sebastian Police Department Sgt. Steve Marcinik talks about him and two other officers pulling a man from a burning home Feb. 9 in the 300 block of Valencia Street in #Sebastian.The resident, Rodney Dyke, remains in the hospital for treatment for excessive smoke inhalation.

Posted by Nick Samuel on Thursday, February 14, 2019
Marcinik was working a collision involving a train and a pickup truck about 10 p.m. Feb. 8 at Main Street and Louisiana Avenue. Hours later at 3 a.m., Marcinik, who works the overnight shift, got a call about a house fire half-a-mile down from his location.
Marcinik, the first responding officer at the scene, said a next door neighbor, John DeVaux, told him Dyke was still inside. DeVaux told Marinik that Dyke's room was in the back of the home.
"I didn't know the layout of the home," said Marcinik, who noted this was the first incident where he had to run into a burning home. "The neighbor should be praised for seeing something and saying something."
DeVaux said he and Dyke are good friends and that he was worried. He called the officers heroes.
"They did it with no breathing apparatus and got him out," said DeVaux, 66. "He's a big man, 250 pounds. They did a heck of a job."
Marcinik said he saw heavy smoke coming from the residence when he arrived. The sergeant said he ducked inside the home and could only see two feet in front of him.
Marcinik said the heavy smoke made it difficult for him to breathe. Dyke could be heard yelling from his back bedroom, Marcinik said.
The smoke was heavy. Marcinik ran out of the home to get some air. Then, he ran back inside one more time.
Two other policemen, Officers Ritchie Revis and Tom Quinn, helped Marcinik grab Dyke from his bedroom, just a few feet away from the kitchen fire.
The officers pulled Dyke out of a back sliding door. Indian River County Fire Rescue crews then arrived at the scene and put out the flames within 15 minutes, officials said.
"I can't tell you how grateful I am for my guys," Marcinik said.
Marcinik was treated for smoke inhalation at a local hospital after the incident. He was released later Feb. 9.
Marcinik said he appreciates firefighters and all they do. The sergeant teared up as he talked about his late brother, Michael Marcinik, who worked as a Palm Bay firefighter for 22 years.
"I have a love for those guys. They are outstanding," Marcinik said. "They have a brotherhood like no other. They appreciate what we do and we appreciate what they do."
Photos by Nick Samuel