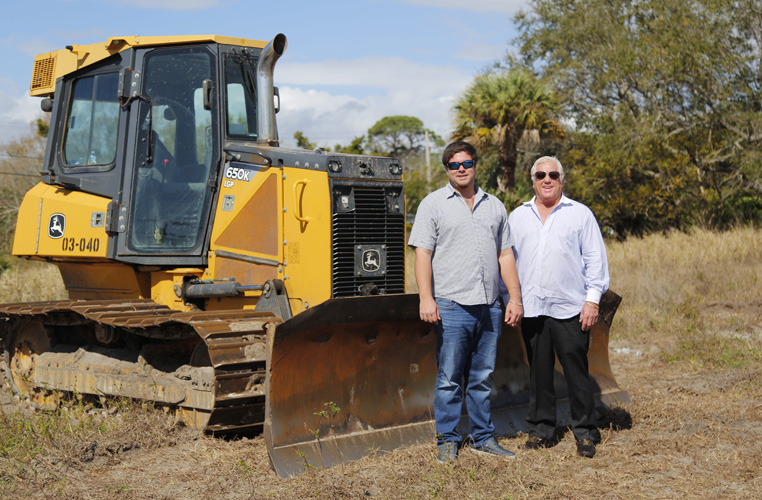 Photo by Kaila Jones     
Developer Nicholis Rauch-Heine knows what millennials want, being one himself. In a pricey real estate market, they often buy townhomes, also called villas or attached single-family homes, forgoing the joys and hassles of a big yard to save time and money for other pursuits.
Millennials like leaving their car behind, preferring to walk or bike as they soak up the feel of the neighborhood, becoming welcome habitués, like Hemingway in Paris.
Preston Estates will make modern Left Bank types feel right at home, the 54 townhomes and one single-family home ringing a small lake located "near restaurants and shopping," the 28 year-old Nicholis said.
The homeowners in the subdivision will be just a few steps from stores, restaurants and entertainment venues on U.S. 1, and only a 10-minute walk from downtown with all its restaurants and art galleries.
The 8-acre site "is probably the last infill project possible in the city," Nicholis said. "We bought it not only because of the location, but also because it was zoned multifamily residential."
The homes will be located behind the 12th Street Plaza shopping center, at 1205 and 1245 11th Avenue. Nicholis said his "objective" was to build reasonably-priced homes with minimal homeowners' association control. "The younger generation does not like homeowners' associations, but this project was not possible without one."
Homes will be paired, duplex style, with each residence having its own small front and back yards, the HOA maintaining the road and stucco wall surrounding the property and common grounds. "There will not be a gate or a security code to get in. I'm steering away from that. I don't think it's necessary in Vero," Nicholis said.
"The architectural style will be simple – stucco with bands – I like simple," Nicholis said. The homes will have "shingle, hip roofs. Impact glass is one of my standards, so you don't need hurricane shutters."
There will be three floor plans available, each with two bedrooms and two baths, some with an extra half bath, some with "one and a half car garages" and some with two-car garages. Each home will also have a study. Home sizes will range from 1,300 square feet to 1,600 square feet.
"They are all one floor. Nobody likes second floors. It's a thing of the past," Nicholis said.
Prices will start at $199,000.
Nicholis is taking the lead on this project, having worked on many others with his West Palm Beach family. "Real estate is in my blood. Both my grandfathers were developers and builders."
He typically teams up with his uncle, Chris Heine Sr., and his cousin Chris Heine Jr. "We're all part of each other's projects," Nicholis said.
Another project the family is working in Vero on is Bridgehampton, a 29-home development in the 4900 block of State Road 60, catty-corner across from Walmart.
"Chris junior and I partnered on building both projects under his company's name, Chris Allen Homes, in partnership with my company, NRH Homes. Junior's real estate company, Chris Allen Realty, will market and sell both Bridgehampton and Preston Estates."
Preston Estates is slated to break ground this month. The work was held up because more than 20 gopher tortoises had to be relocated by local environmentalists. "They couldn't be moved until the temperature was above 50 degrees three days in a row. It was weeks before that happened," Nicholis said.
It will take about six to eight months for the site work to be complete, with vertical construction beginning in four to six months.
The Heine family likes doing projects in Vero Beach, Nicholis said. "It's got a small-town feel, but still has the amenities of a larger city. Prices have come up here and you have a steady, older population with better finances."
Baby boomers, as well as millennials, could be attracted by the villas at Preston Estates. One-floor attached homes have sold well to Boomers west of town, at Pointe West and Three Oaks.