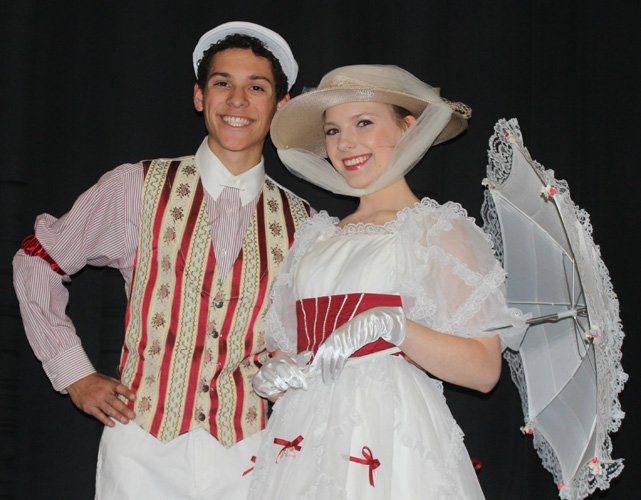 Umbrellas at the ready! Of all the beloved, magical, musical Disney movies, "Mary Poppins" is certainly among the tops, and the newest film iteration is charming a whole new generation. So right now is the perfect time for the Vero Beach High School Drama Department to bring the exciting "Mary Poppins – The New Musical" to its Performing Arts Center stage, this Friday, Saturday and Sunday, Feb. 15-17. The show is, of course, based on the books by P.L. Travers, as well as the classic Walt Disney film "Disney and Cameron Mackintosh's Mary Poppins." Says a source close to the show, the irresistible tale will include awesome stage craft, including Mary Poppins' preferred form of transportation, and some 'oh, wow!' aerial work from Bert, as well as, says the show promo, "unforgettable songs and breathtaking dance numbers." If you've already had the pleasure and fun of seeing local high school theatrical performances, you already know how seriously, amazingly talented our high school theater kids are. If not, you're in for a huge treat. "Mary Poppins" is a show your entire family will love sharing. Time: Friday and Saturday, 7 p.m.; Sunday, 2 p.m. Tickets: $10 and $15. 772-564-5537 or www.indianriverschools.tix.com.
An intimate evening of wonderful, warm, soulful music is in store as singer/songwriters Karla Bonoff and Jonathan Edwards take the Emerson Center stage this coming Thursday, Feb. 21. This Live! From Vero Beach show will be the series' first non-tribute act of the season, and a supremely satisfying vocal and interpretive pairing. Musicworksconcerts.com describes an Edwards concert as "warm as summer sunshine, real as the truth, intimate as a visit between old friends," and quotes Billboard Magazine as saying of Bonoff's work that its "soul-searching, heartache and joy touch souls in a way few can muster today." Bonoff had been scheduled to perform in Vero last year, but fires near her California home forced her to cancel. Time: 7 p.m. Tickets: start at $25. 1-800-595-4849.
Have you ever watched a dazzling Broadway musical filled with eye-popping dance numbers and wondered how all that fancy footwork and complicated routines happen, and who the choreographer was behind such terpsichorean magic? If you have, you'll want to attend the Vero Beach Museum of Art's International Lecture Series Simulcast presentation this Monday, Feb. 18, "A Life of Opening Nights," with Tony, Emmy, Drama Desk and Outer Circle Critics award-winning choreographer (and Orlando native) Rob Ashford. Obviously, this will be a singularly fascinating presentation. Time: 4:30 p.m. Tickets: Member: $70; non-member, $80. 772-231-0707, ext. 136.