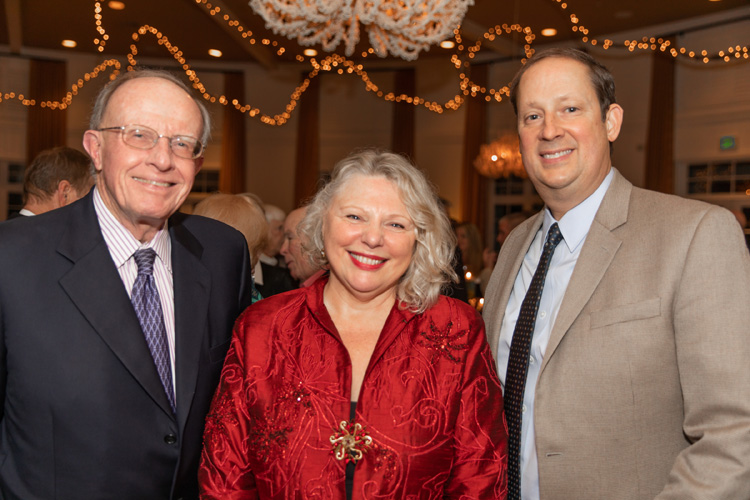 Aquatic environmentalists gathered last Friday evening at the Quail Valley River Club for the eighth annual Love Your Lagoon fundraiser to benefit the Harbor Branch Oceanographic Institute Foundation.
Mingling over cocktails and hors d'oeuvres, guests chatted with HBOI Graduate Research Fellows about their efforts to conserve and protect the Indian River Lagoon along with our oceans, river basins and coastal communities.
"This Love Your Lagoon event has been going on for quite some time," said Michael O'Reilly, HBOIF board chairman. "We raise a lot of money, and working together we're going to ensure that our water today is clean, our water tomorrow is clean. This is our most precious asset."
O'Reilly commented that in addition to helping to raise funds to support the critical research projects currently taking place at Harbor Branch, the event also provided an opportunity to honor former Sen. Joe Negron for his work on behalf of the Lagoon, the Everglades and Florida's most precious asset – water.
He noted that protecting Florida's coastal communities from polluted Lake Okeechobee discharges was one of the four key issues Negron focused on during his terms in office. In that vein, he was able to secure funding and set deadlines for the construction of a reservoir to reduce Lake Okeechobee discharges to coastal estuaries through Senate Bill 10.
Negron was honored as the recipient of the 2019 Love Your Lagoon Lifetime Leadership and Achievement Award and, in addition to the accolades, was presented with a sculpture by local nature artist Cathy Ferrell.
"I want to celebrate the incredible success that we've had over the past couple of years. And it's really all because of everything that each of you has done to support what we've accomplished," said Negron.
He added that it may have taken 20 years, but told the crowd, "I'm happy to report the president of the United States has signed actual legislation authorizing the construction of this reservoir. The theme of the night is to celebrate the fact that we didn't just talk about a problem. We all worked together to accomplish this. I hope that we continue in the right direction of accomplishing these great goals to protect our environment and our community."
To date, the foundation has raised $614,967 through its Love Your Lagoon Events. The nonprofit supports the annual Indian River Lagoon Symposium, generates awareness of critical issues facing the Indian River Lagoon, and funds other lagoon-centric research, education and outreach efforts.
An additional $100,000 raised this year will enable the HBOIF to fund up to 10 2019 Indian River Lagoon Graduate Research Fellows, said Katha Kissman, HBOI Foundation president and CEO.
The 2019 Annual Indian River Lagoon Symposium: Quo Vadis? (Where are you going?) will be hosted at FAU Harbor Branch in Fort Pierce, Feb. 7 and 8. For more information, visit hboifoundation.org.
Photos by: Denise Ritchie
Click HERE to see more or buy photos