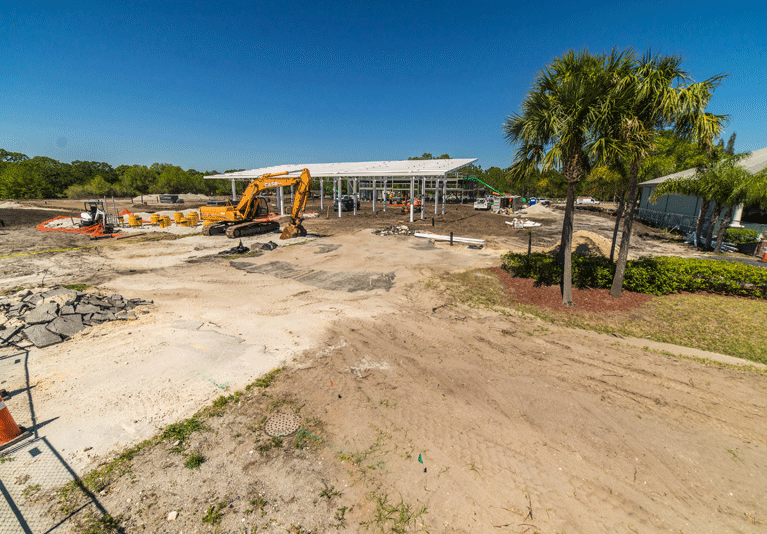 The Indian River County Commission on Jan. 24 held a public hearing and then approved a zoning change for 17 acres of abandoned citrus groves on 66th Avenue, switching the zoning from agricultural to residential with up to six houses per acre – meaning a substantial subdivision of 50 or 60 homes can be built on the tract.
The action is part of a land-use trend that began in the early 2000s, died down during the real estate recession, and is now picking up again. Since canker and greening hit local citrus groves around 2000, the county has seen tens of thousands of acres of grove land go out of production, and a significant part of that acreage is being opened up for housing development.
According to county Senior Economic Development Planner Bill Schutt, this was the 12th zoning change from agricultural to residential since 2014. That is nothing compared to 2004, when there were 16 zoning changes from agricultural to residential in a single year, but it represents an acceleration in land-use change since the downturn. Between 2009 and 2013, no ag land was rezoned residential because no new homes were being built.
The rezoned land, owned by Franzia Properties, is located at 675 66th Ave., at the corner of 66th Avenue and 8th Street. No one objected to the land-use change at the public hearing late last month, probably in part because the county's comprehensive plan projected the property would become residential at some point.
The tract is surrounded by residential development on three sides and lies just within the county's urban service area, with county water and sewer hookup available from pipes along 66th Avenue. In addition, there is no environmental impact associated with the land switch, since it was already changed from its natural state when it became a citrus grove.
Neither Franzia Properties, nor its representative, Steve Sullivan of MBV Engineering, spoke at the county hearing and requests for comment were not returned; therefore, it is unknown when a site plan will be submitted to the county, the next step in the residential development process.
Schutt estimated about 3 houses per acre would be the eventual density, about 51 houses, accounting for required buffers, green space, interior roads, 70-foot-wide lots and retention ponds.
Development by the owner or a sale to a developer is likely sooner than later. An increase in taxes due to the zoning change will apply pressure. Up till now, the property, which has been used as pasture since 2007, has been taxed at a discounted agricultural rate, with taxes amounting to just $386 a year. Now, as residential land valued at $286,450, the tract will be taxed at a rate of about $5,700 a year.
The trend of converting old groves to residential use is likely to continue, given the continuing abandonment of citrus cultivation. According to an August 2018 article by Citrus Industry News, Indian River County "lost" the most citrus acreage among the 25 counties in the state reporting to the U.S. Department of Agriculture. According to Indian River County Chief Deputy Appraiser Mickey Umphrey the county abandoned or lost 7,378 acres in 2017, 6,870 acres in 2016, 6,364 acres in 2015 and 4,620 acres of citrus in 2014.