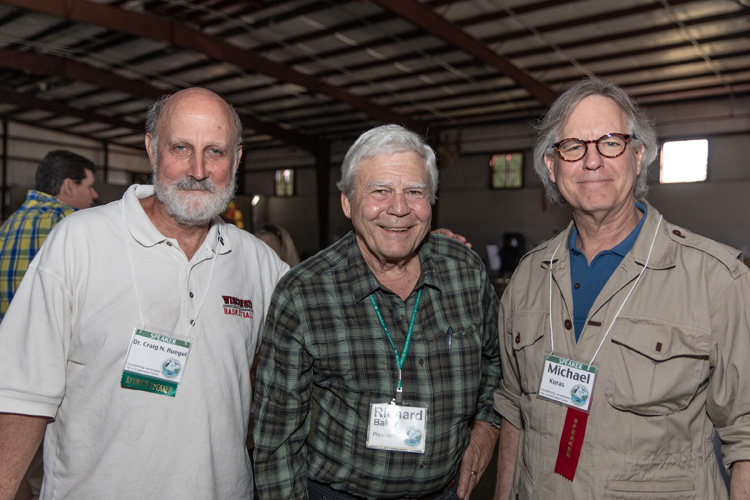 Following on the heels of last year's successful inaugural event, the Pelican Island Audubon Society hosted its second Transforming Landscapes for a Sustainable Future Conference last Saturday at the Indian River County Fairgrounds. Experts in the field covered an array of topics focused on planting sustainable gardens with native plant landscaping to protect and restore the environment.
"Fascinating speakers all day," said Nancy Heinrich. "I came to get some new inspiration for my yard and the conference met my expectations and exceeded them."
"We had different speakers but the same caliber as last year," said Donna Halleran, first vice president of the all-volunteer PIAS board. She noted that many of the nearly 200 environmentally conscious attendees had also attended last year and had offered suggestions which they took to heart this year.
One of those ideas was the inclusion of native plant vendors, so attendees were able to purchase plants from Native Butterfly & Flowers, Nancy's Nursery, and the Brevard-based Conradina Native Plant Society. Another was providing additional time for Q&A opportunities with the esteemed speakers.
"We work closely with all of our partners to try to enhance Indian River County," said Halleran. "Another focus issue for us is we are planting 5,000 trees; we have a program called Trees for Life. We have begun planting live oak trees from acorns, and we have a little over 675 saplings so far. We're really putting our efforts into helping the community to work with native plants."
PIAS board president Richard Baker, Ph.D., said they have 22 partners for the Trees for Life project. "We're going to be planting 100,000 trees in Indian River County. We're starting out with 5,000 trees in the first two years. The other thing we want to do is change the landscaping ordinances in our counties and in our cities. We want to cut back on the amount of water that we're using and the chemicals."
Speakers this year included Vince Lamb, nature photographer and Florida Master Naturalist; Craig Huegel, Ph.D., author and owner/operator of Hawthorn Hill Native Wildflowers; Chris Waltz, a member of the Florida Native Plant Society and Florida Wildflower Foundation; Michelle Peterson, founder/president of the Treasure Coast Beekeepers Association and a Florida Master Beekeeper specializing in Native Bee Apiculture; interdisciplinary scientist and author Marc Minno, Ph.D., a Water Resource Coordinator with the Suwannee River Water Management District; Kirsten Hines, author, photographer and conservationist; James Kushlan, Ph.D., ornithologist, educator, author and conservationist; and Michael Kuras, a Florida landscape designer who utilizes native plants and environmentally friendly materials.
"We're trying to educate folks that we need to think about removing some of our current practices with non-native plants and that we can have beautiful yards for the butterflies, bees and birds, that are consistent with saving the environment; not just for them but for us," said Baker. "We're in trouble."
PIAS hosts informative talks and workshops at its Pelican Island Audubon House on Oslo Road, including a free monthly series on Fridays at 9 a.m. For more information, visit PelicanIslandAudubon.org.
Photos by: Denise Ritchie
Click HERE to see more or buy photos