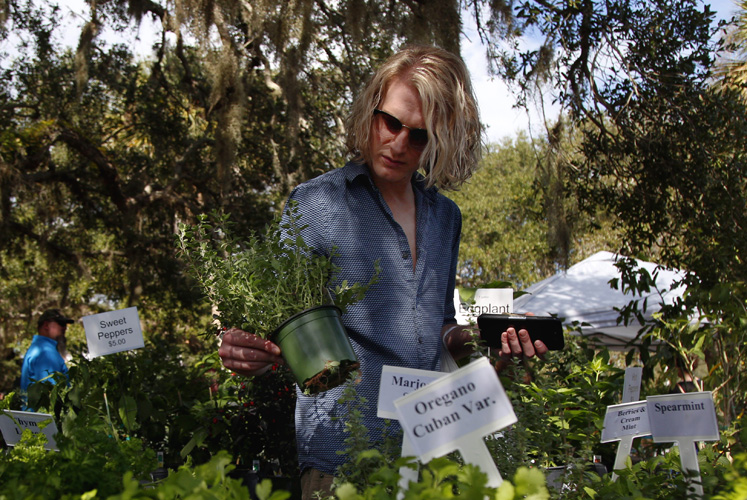 No groundhogs were needed here to declare an early spring – not when we have Gardenfest! Nature's Finest Marketplace, presented by the Garden Club of Indian River County. Spring was definitely in the air last weekend as thousands of gardeners flocked to Riverside Park to attend the 18th annual gardening extravaganza.
Bright sunshine and clear blue skies enhanced the sea of colorful blooms offered by vendors from around the state, lifting the spirits of visitors who walked shoulder to shoulder throughout the displays.
Numerous vendors offered an impressive selection of plants, including decorative palms and bamboo, Florida fruit trees, easy care succulents, brilliantly colored annuals, and aromatic gardenias and jasmine. Chefs in the crowd were pleased to find nearly every herb imaginable, as well as a variety of hydroponic growing systems for patio gardening.
Even the lushest garden needs to be accentuated with statuary, lighting, fountains, pottery and furniture, and Gardenfest didn't disappoint. Visitors also enjoyed free lectures from experts on topics ranging from toxic plants and pruning, to backyard beekeeping.
"There is literally something for everyone," said Garden Club volunteer Elizabeth Graves Bass. "Whether you are a master gardener or an amateur, you'll find something. The turnout has been overwhelming. Of course, the weather is a factor but so is the quality of vendors. People come back year after year because they know they'll find exactly what they need, even those hard to find exotic plants."
Volunteers from the Shining Light Garden Foundation proudly displayed samples of the fresh garden vegetables they grow to donate to those in need.
"Our organization is 100 percent volunteer and 100 percent giveaway for the homeless in our county," said Connie Derman. "We grow and harvest fresh vegetables on our 20-acre farm in west Vero and donate all of it to feed the hungry and homeless."
Susannah Wagner Merritt from Richmond, Va., took advantage of the lush environs, setting up a chair to work on a lovely colored pencil drawing of the spectacularly staged plants and planters.
"I'm a member of the Virginia Plein Air Painters, so I draw wherever I go," said Merritt. "The bursts of color and blend of textures is just begging to be replicated. It's what I do."
Others took a break from their shopping to enjoy lunch from assorted food vendors, relaxing under the shade trees while pondering their purchases. As the festival was free, many attendees supported the Garden Club by purchasing raffle tickets for more than 100 donated prizes.
The mission of the Garden Club of Indian River County, which celebrated its 80th anniversary last year, is to educate the public in gardening, horticulture, floral arrangement and landscape design; beautify the community through civic projects; and assist in the protection and conservation of native plants and natural resources.
For more information, visit gardenclubofirc.org.
Photos by: Stephanie LaBaff
Click HERE to see more or buy photos