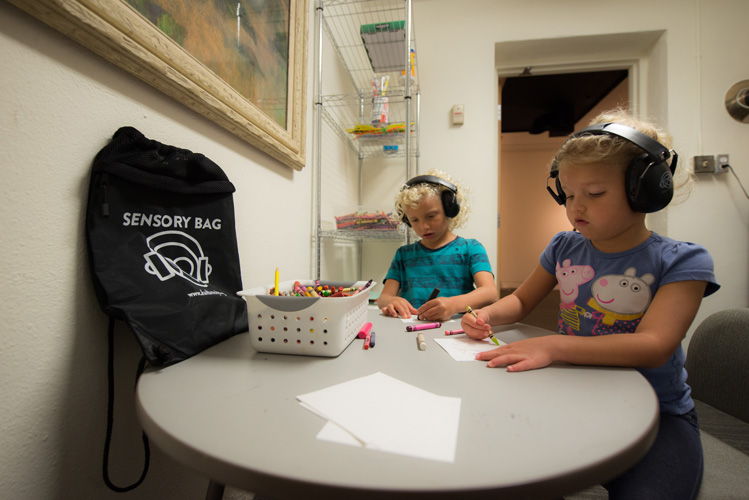 Almost three decades after the Americans with Disabilities Act was signed, a concerted effort is now also being made at cultural venues to better include individuals with sensory special needs. That work took a big step forward recently when the Foosaner Art Museum, Renee Foosaner Education Center and Ruth Funk Center for Textile Arts, all of which operate under the umbrella of Florida Institute of Technology in Brevard County, announced their certification as Sensory Inclusive venues.
Broadly defined, that inclusion refers to making it easier for individuals with such challenges as autism, dementia, post-traumatic stress disorder or other sensory processing disorders to visit and enjoy cultural facilities.
"These kinds of disorders are not always obvious or visual," says Kathie Elias, curator of education for the Foosaner Museum and Education Center. While she doesn't have estimated numbers on how many residents with sensory-related challenges might visit the museum, several recent studies have found that between 5 percent and 16 percent of children deal with some form of sensory processing difficulties, from startling at loud noises to a hypersensitivity to touch and texture.
Staff members at the three facilities received online training through KultureCity, a Birmingham, Alabama-based nonprofit created to promote acceptance and inclusion for all individuals, particularly those with 'invisible' disabilities.
The training helps staff to more readily recognize those guests who might have sensory challenges. KultureCity also provides kits of assorted tools to make the experience better for museum visitors, such as noise-canceling headphones for guests who might become over-stimulated by a noisy environment. Elias mentions their popular summer arts camps as an example of where auditory-overload might occur.
Elias says verbal cue cards, "an emotional thermometer of nonverbal images that looks like a comic strip," can also be used, explaining: "A child with sensory overload can point at images of how they're feeling, such as angry and sad."
Fidget tools – toys which can help people with autism, ADHD, anxiety and other issues calm themselves when under stress – are part of the kit as well.
Quiet spaces are another important way to aid those with sensory difficulties. At the Foosaner museum, a small room between galleries will serve as a space where visitors can step away from the hustle and bustle to calm down, according to Elias. The room will contain a table with provided art materials, such as crayons and drawing paper.
Signs at entryways will alert the public to the availability of sensory bags at the front desk, and they are also reaching out to community groups and providers to promote awareness of the new certifications.
The Scott Center for Autism Treatment in Melbourne, also part of Florida Tech, plans to take advantage of the new sensory resources this spring. Other organizations, such as the Space Coast Early Intervention Center, the state of Florida's Early Steps program, and public and private schools in Brevard, are also expected to make use of the sensory tool kits.
Elias stresses that the sensory-friendly resource is not limited to just one hour or a particular day, and that no special tour is required. The experience is available to the community any time that the facilities are open.
Sensory-inclusive planning at public and private venues is a burgeoning trend nationwide. KultureCity has already assisted zoos, sporting arenas and stadiums to better serve the needs of their sensory-challenged visitors.
In some cities, movie theaters, amusement parks and even restaurants are trying out ways to accommodate children and adults with sensory processing differences, according to an Oct. 18, 2018 forbes.com article by contributor Michele Hermann.
In the past, families and caregivers were sometime hesitant to take sensory-challenged individuals to museums, not knowing what their reaction would be. Now, Elias says, they "can enjoy at their own pace. I think the biggest benefit is that they can appreciate art with no pressure."
For more information, visit foosanerartmuseum.org or textiles.fit.edu.
Article by: Annette Clifford, correspondent