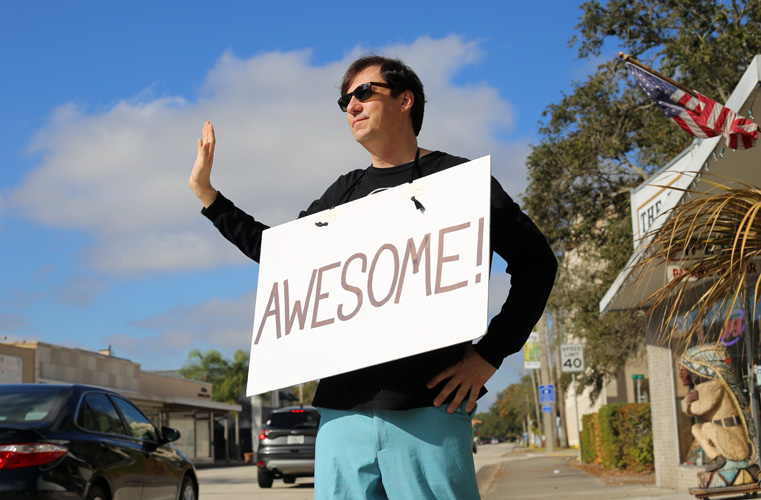 Xaque Gruber loves Vero Beach. And Vero Beach loves him. The love flowed at recent matinee and evening presentations of short films on "Hollywood to Vero: The Film and TV Work of Xaque Gruber."
Presenting the programs in the Leonhardt Auditorium at the Vero Beach Museum of Art, Gruber began with a 2002 documentary short he made as a Boston University graduate student and ended with two comedies he filmed here in Vero Beach.
Gruber moved to Vero from Los Angeles in 2016 to be near his parents, David and Joann Gruber, after his father was diagnosed with a life-limiting illness. In happier times, the younger Gruber had made brief annual visits to our city. After three sometimes difficult, often joyful years here, he has decided to make Vero his home base while continuing his work in film.
"I felt very bogged down in Los Angeles," he says. "I would never have made these shorts if I'd stayed in Los Angeles."
A selection of films from his 13-year West Coast career comprised the greater part of the "Hollywood to Vero" program. These included his 2007 interview with Phyllis Diller on her 90th birthday; a clip of Gruber's appearances as "Francisco," a fictional party planner on the FOXTV reality show, "Hell's Kitchen"; a segment from a 2008 TV docu-series Gruber directed profiling cancer survivor Mary Olsen Kelly; and a movie trailer for the 2012 feature film "Broken Roads," a drama for which Gruber wrote the script.
Gruber also introduced "Humans of Vero Beach," a documentary short directed by Vero resident Kenneth George that was dedicated to the memory of Gruber's father, who died from complications of Alzheimer's last May. When the elder Gruber entered a care facility here in 2017, Xaque found a way to enliven not only his father's days there, but those of other patients, as well. The film features an exuberant Gruber in a colorful chef's apron, leading sing-alongs in the common room with residents whose illness does not preclude their capacity for creative fulfillment.
Highlighting his presentations were the two comedy shorts Gruber wrote, produced and directed in Vero Beach. "The Pistol" is the story of a plucky 80-something who apprehends an intruder with the help of her late husband's revolver. And "The" (yes, that's the name of the film) is the tale of the English language's most commonly used word and 'her' search for meaning. The title character is played by local actor Isabel Garrett, wearing a sandwich board emblazoned with a single word: "The."
When the museum originally scheduled the event last August, the idea was to screen only the "The Pistol."
"I said, 'Folks, that's a 10-minute movie! If we are going to make a special program, I'd like to show an actual body of work,'" says Gruber, recalling that he offered to fill a two-hour program with film clips from his other projects.
Instead, Gruber decided he had time to make "The," which was edited just in time to premiere at the museum.
Because "The Pistol" was his first foray into directing, he assembled a professional crew for the filming in Vero and paid them accordingly.
"I didn't cut corners," says Gruber.
His director of photography, Mathias Fain, holds a graduate degree in production from the American Film Institute and has worked in the Los Angeles movie industry since 1998. His experience includes everything from set dresser to art director; camera operator to director of photography. His skills also include directing movie shorts, which was especially useful on "The Pistol."
Gruber says, "At times, when the actors weren't giving me what I really wanted, he would pull them gently aside and work with them, and step in like a director. I observed Mathias and his expertise, which helped make me a better director."
Out-of-town pros on the set included assistant photographer Lia Gaitan of Miami, script supervisor Aleshia Mueller of Atlanta, lighting director Scott Oldis of Chicago, and first assistant director Quinton Macari of Orlando. Local crew members included production designer Jared Thomas, location manager Marie Healy, sound director James Fleck and sound assistant Ethan Denniston.
It was more difficult to find local actors to audition for the film; Gruber's first casting call attracted only one hopeful.
"If this was Los Angeles, I'd have a line of people wanting to audition stretching two blocks," he says.
On a visit to the Vero Beach Theatre Guild to drum up actors, Gruber met Anne Talbot and another Guild member in the parking lot, sweeping up broken glass.
"I said, 'Excuse me. Are you actors?' And they said, 'Yes.' I said, 'I'm a director, and I'm directing a local film. I'd really love for you to audition.' They looked at me and said, 'You don't want us – we're too old for you.' I said, 'No – you are exactly what I want. The characters are your age.'"
He eventually cast Talbot as Mildred, breezy best friend to the story's crusty protagonist, Claire. Nicholas Keeler, another Guild member, was selected to play Aldo, a persistent young burglar.
Garrett was recommended to Gruber by Michelle Genz, 32963's assistant managing editor, who profiled Gruber in this paper a couple of years ago.
"She called me out of nowhere and said, 'You know what? I know the perfect crazy older lady. She has character; you've got to meet her.' And then Isabel called and left a message."
Gruber mimics Garrett's raspy voice: "She said, 'I'm really good at playing crazy ladies.' I just heard her voice and I thought, that's her."
A house near St. Helen's Church was selected for an exterior scene of Clair's house, which was supposed to be in Queens, N.Y. The interior of a modest house in the Rockridge subdivision was used for indoor scenes, and a beach in Indian River Shores was used as the location for the final scene.
The film was shot in early December 2017. In late February, Gruber sent a rough cut of it to the Cannes Film Festival for consideration. Very soon thereafter he was thrilled to receive an email accepting the film for screening at Cannes Court Métrage, a forum for short filmmakers the festival sponsors apart from its international competition.
Gruber went to Cannes to enjoy the 2018 Festival, which began May 8 and continued through May 19, when "The Pistol" was screened in between a Spanish horror film and an Israeli documentary.
The exposure also led to a production company representative from Canada asking to read "Sallywood," a script Gruber wrote in 2015 based on his experience as personal assistant to actress Sally Kirkland.
"If everything moves as it should, we should be shooting maybe in May in Los Angeles," Gruber says.
Starring Kirkland, it will see Gruber directing his first feature length film.
In the meantime, "The," edited in the nick of time for inclusion in the "Hollywood to Vero" program, employed an all-Vero film crew and cast. Anne Talbot played "Of," the sympathetic buddy of Garrett's despondent "The," a word that has no meaning by itself.
Says Gruber, "I will enter 'The' in Cannes; I will enter it far and wide. I'll be very excited to see where it lands and how it plays."