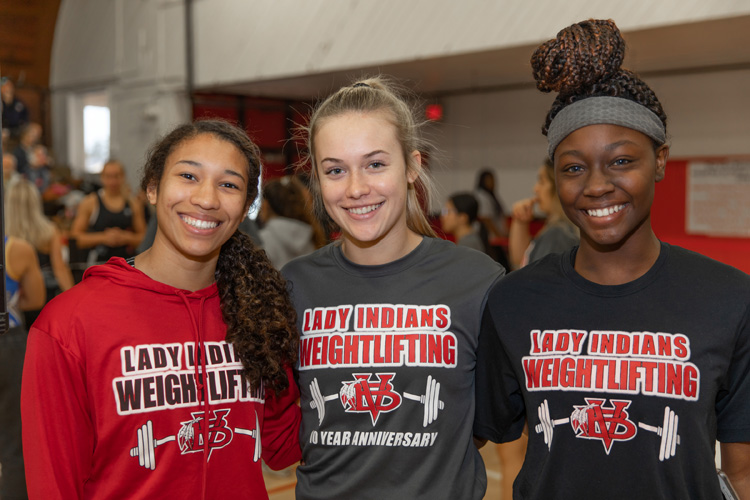 A little over a decade ago, head coach Pete DeLuke took on the formidable task of creating a girls weightlifting team and eventually turning the fledgling enterprise into a popular, competitive and mainstream varsity sport. By every measure this program is not only there, but has reached the towering standards expected of all athletic endeavors at Vero Beach High School.
Currently on the heels of a second straight undefeated regular season to go with district and regional titles, the state championship tournament at Panama City Beach is the next stop for the 2018-19 team to secure its place in history.
Describing the season from the beginning, DeLuke said: "Finishing second at states last year definitely helped the numbers grow this year. We have 59 girls on the team. We actually had more come out, but some saw how hard we worked and dwindled off; 59 is 20 more than last year, and that includes 22 returnees.
"This season I had to schedule more meets because we had a bigger team. We went over to St. Ed's and I took some of the younger girls to that meet. We had our Invitational and some of the bigger teams from around the state came here. Then we went to St. Cloud because we knew that we were going to have to face them at regionals, and they were probably going to be our nemesis.
"I wanted to go to places where there was going to be some serious competition. Our girls had to step up – and we did that when we went up to Spruce Creek. New Smyrna Beach was there and they finished third behind us at states last year.
"I didn't care whether we won or lost. I just wanted to see the girls push and that's exactly what they did. It was a tough match but we came out on top. They came through and I was so happy about what they did. That was the pinnacle of the regular season."
Vero was 27-0 during the regular season. All of the planning by the coaching staff – combined with the hard work and desire of the lifters – is a direct indication of what this team aspires to. Second place in the state tournament a year ago left one more rung to climb.
"The start to the process is to focus on one meet at a time," DeLuke said. "Obviously that is what we did at districts and we sent 19 girls to regionals. I thought regionals was going to be a little tougher than last year, but I felt going in that we would come out on top."
Vero hosted the 17-team regional tournament last Saturday and outpointed St. Cloud for the title, 74-47. The weigh-in for the state meet is scheduled to begin at 7 a.m. on Friday, Feb. 8. That's a long ride up to the Panhandle, but it's the same as last year and that part of the experience package is also valuable.
Senior Jayda Jenkins has been with the team four years and qualified for states a year ago in the 119-pound weight class. She earned fourth place and contributed three points to the team total of 20. Vero lost two tiebreakers and finished only five points behind the champs. It was that close.
She will get one more opportunity this year after winning the regional title at 119 with a combined lift of 320 pounds.
"It will be exciting to make another trip to Panama City," Jenkins told us. "It's like making history. The first time was a little nerve wracking, but I thought it was pretty successful.
"Before this season started I tried to recruit other girls to the team. I just wanted to give them a heads up that they could do big things and make history. Some actually came out and I persuaded them to stay. I also told them it would take time and they were probably not going to get better overnight.
"There is a fun element to this as well. Whenever you hit a PR (personal record) you feel the energy. Everyone is cheering you on and it gets your adrenaline pumping. It makes you feel good about yourself. Weightlifting makes you stronger and it can also be a confidence booster.
"Having that experience last year pushed me to work harder, get bigger numbers and place higher."
DeLuke knew early along that it would take that type of commitment and enthusiasm to see the weight room filled to near capacity on a daily basis – and to see the program reach these heights.
"It feels nice to be one of the elite teams in the state. That was the goal – to get this program to where it is today. That is Vero Beach High sports for you. My goal was to get the girls weightlifting team to where it needed to be. And we are here.
"Now we just need to get that state championship."