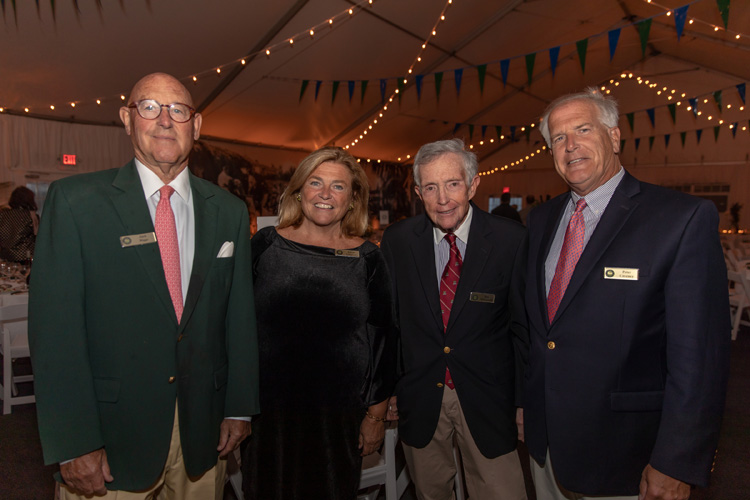 Riomar Country Club members said "Cheers!" to another 100 years as they gathered to celebrate their centenary at a Centennial Season Opening Dinner last Saturday evening.
After enjoying cocktails in the clubhouse, bagpiper Jacob Craig led the crowd down a covered walkway to festivities on the green, where a tent of grand proportions held the 340 guests. Pennant flags billowed in the breeze while poster-size photographs of bygone days graced the walls of the tent. Tables adorned with sunflowers and golf clubs invited guests to "tee up" for a delicious meal inspired by the Riomar Centennial Cookbook.
In a fitting tribute, centenarians John Hardy and Barbara McPherson reigned supreme over the celebration, after being crowned Riomar's King and Queen.
"This is a spectacular salute to our history," said Jack Biggs, club president. "It started with pioneers in Vero Beach. They were fighting mosquitoes and the swamp, but they had a vision about what this could be. The founders enjoyed a wonderful camaraderie and made sure they built a place where those values could survive."
"There is no pretense here at all," said Tom Kappus. "This club is rich with history and reflects the attitudes of the people who are members."
Biggs said the idea for the Centennial Celebration came from the late Warren Sumner. "His vision was for a memorable experience for all members to enjoy; a series of events that captured the rich history and valued traditions of the club."
"The Riomar of today is bigger and more diverse than even back in 1994, when most of the members lived between the bridges," said Jim McConnell, Centennial committee chairman, referring to the book written for their 75th anniversary. "But the basic values of the club and the club's culture have been beautifully maintained over that period of time."
McConnell and Debbi Peniston spearheaded the production of the book, "Riomar Country Club: A Centennial History," written by Peter Coveney and Karen Salsgiver, who gave a presentation on the making of the book during dinner.
"They understood the role the club plays in our lives," said McConnell. "More than a designer and writer, more than historians, Karen and Peter became archaeologists, putting together the shards and relics of the past into a mosaic which explains the present."
"Riomar – the river and the sea – the name founding member Winchester Fitch bestowed in 1919, was the inspiration and centerpiece of the centennial identity," Salsgiver told the crowd.
Club members will centuplicate their festivities throughout the year, concluding with a Centennial Jubilee Closing Dinner and Golf Razzmatazz April 6 and 7.
Afterward, members will say goodbye to the current clubhouse. Planned construction on a new facility will carry on the traditions and values of Riomar past and present through to the next century.
Photos by: Denise Ritchie
Click HERE to see more or buy photos