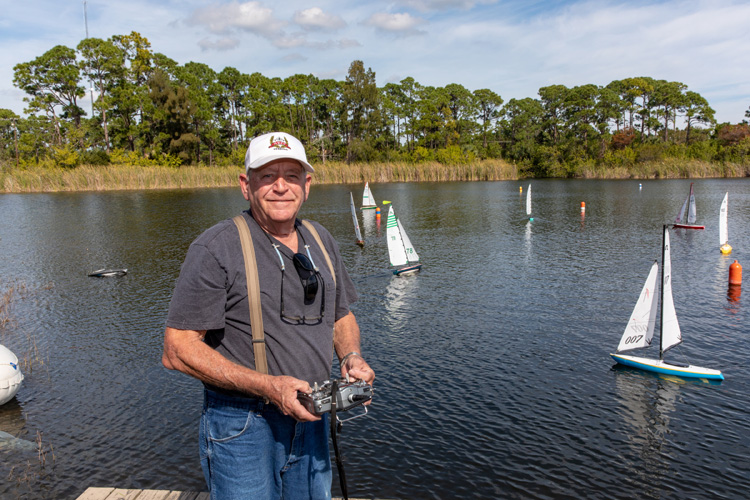 The age-old wisdom that you can't change the wind but you can adjust the sails was shown to be true at the recent Frostbite Regatta at Hobart Park hosted by the Indian River Model Sailing Club. Members from various southeast Florida clubs gathered under warm, sunny skies to test their racing skills as they navigated a course with radio-controlled sailboats.
The contestants were all retired gentlemen with a love of sailing. And, while the companionship was casual and friendly, the races were very competitive, with each man in it to win. Races were segmented into classes, depending on the weight and size of their fiberglass boats, which navigated a charted course via remote control from the shoreline.
The local club, founded in 1995, boasts a membership of more than 40 and is dedicated to the construction and racing of Soling One Meter, RG 65, Dragon Force and Dragon Flite 95 sailboats.
"There are two controls," explained Peter Dube, the regatta's race director. "The radio controls the sails that are adjusted to catch the wind, and the rudder, that can change the direction of the boat. I'm here to make people aware of the rules but they are really self-regulated. The participants call their own fouls and adhere to the penalty. It's relaxing to watch a race, but it can be a little tense when you are actually racing."
Accidents do happen, and during this event Curtis Hakes acted as the rescue captain in charge of bringing the crafts safely back.
"If a sailboat is stranded, I send out my remote-control 'coast guard cutter' to get them. This cutter was built by my father in 1980," said Hakes. "It's equipped with hooks that allow me to drag the distressed boat back to shore. If by chance the boat ends up in the weeds and I can't rescue it remotely, I resort to the good old-fashioned rowboat dinghy."
Member wives get into the act as scorekeepers.
"Model sailboat racing is a hobby that gets our men outside and keeps them healthy," said Commodore Bill Houghton's "Commodorable" wife Lois. "Most of them race several days a week and many come out to the lake randomly to practice. It's just a lot of fun."
Members are always happy to introduce newcomers to the sport and can assist with the construction of new boats. They're generally available for purchase for about $250 to $350 or can be built less expensively from model kits.
If you want to join in on the fun – you'll find model boaters share the same gift of gab as sailors on the high seas – members gather from fall to spring at Hobart Park at 1 p.m. every day except Thursday and Saturday, or during the summer each Friday and Sunday.
For more information, visit irmsc.org.
Photos by: Denise Ritchie
Click HERE to see more or buy photos