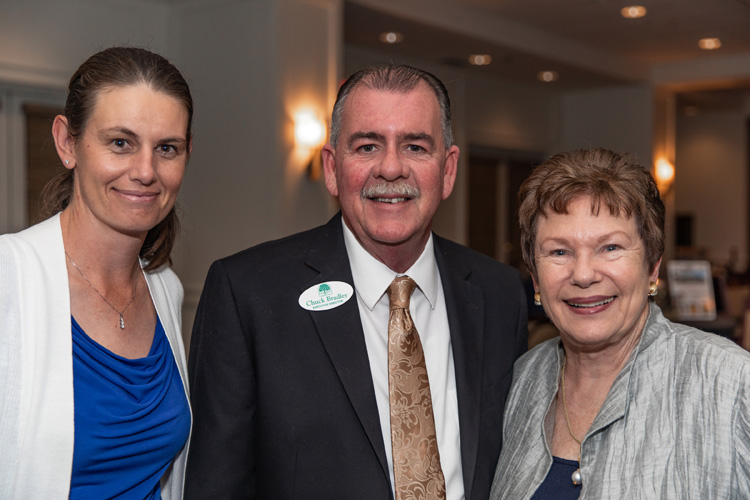 The Grand Harbor Golf Club sparkled with hope last Thursday evening during the sixth annual Diamonds in the Rough Gala to benefit Camp Haven, a transformational shelter that helps local homeless men rebuild their lives by providing them with temporary residency, food, medical care and employment, as well as psychological and personal counseling.
Guests enjoyed cocktails, dinner, live and silent auctions, and great music by Bobby and the Blisters, while celebrating the progress of the nonprofit over the past five years.
"Camp Haven is a place for rebuilding men's lives," said emcee Geoff Moore. "It all started to happen in 2014, when the very first five men were brought into Camp Haven and shown that regardless of their past, they could have a future. They just needed somebody to guide them, be their coach and show them how to achieve it. You made an investment in your community and in humankind."
Event chair Linda Teetz had the honor of presenting an inaugural Diamond Award to Timothy and Bernadette Longden, who have supported the organization from the beginning. In addition to providing financial support, the couple has prepared hygiene kits and has brought meals and clothing for the men.
"It is so easy to write a check. It's much harder to give your time and your talent," said Teetz.
"It is unbelievable what this organization is doing. This is the way you solve problems," said Timothy Longden.
Through a video presentation, Daniel Bradley shared the story of his struggle with mental health issues, drug and alcohol addiction. A former paramedic, Bradley had difficulty coping after having been one of the first to respond to the 2012 Sandy Hook massacre.
"This is the story of one man's journey at Camp Haven," said executive director Chuck Bradley (no relation). "The journey of homelessness is different for different folks. Sometimes people end up at the wrong place at the right time and life just happens. Your support has helped men with clothing, money and, mostly, love. You've helped men like Daniel with their journey back."
"In 2017 we undertook a major overhaul of eight rooms in another wing of the facility which brought our capacity up to 26 beds," explained Brian Korkus, board president. "During 2018 we were able to hit almost full capacity with 25 men in our program."
He shared that 60,000 meals have been served and 170 men have participated in the program to date, enabling each of them to change their lives and situations. With additional space needed for meetings, computers, training, food storage and offices, plans are in the works to reconfigure current offices and to build a multi-use space on the south side of the property, increasing the number of men that could be housed up to 32.
For more information, visit camphaven.net.
Photos by: Denise Ritchie
Click HERE to see more or buy photos