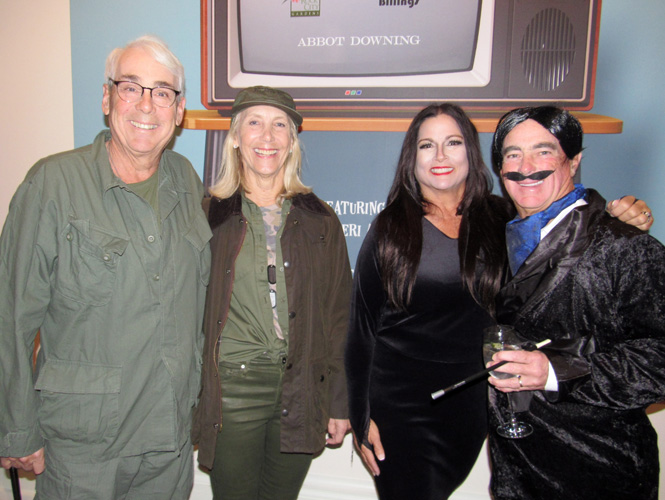 Guests at last Friday evening's Vero Beach Museum of Art Gala harkened back to a simpler time for this year's 'The Golden Age of Television' event. Many relished the opportunity to dress as their favorite TV characters from yesteryear, a nostalgic era when families would gather around their living-room sets to watch what today would be considered a laughably limited number of shows.
As iconic theme songs played in the background, Vero's most prominent figures – some almost unrecognizable in their getups – enjoyed cocktails in a tented area outside the museum entrance before moving indoors for a rollicking retrospective.
No TV dinners on TV trays here. Guests dined at tables with creatively designed TV centerpieces highlighting classic shows, on a buffet dinner by Elizabeth D. Kennedy & Co. featuring beef filet and grilled salmon. The broadcast continued into the evening with dancing to Cactus Jack & the Cadillacs.
"The idea started at our kitchen table," said Geri Altieri, event co-chair with Julie O'Connor. Explaining how they came up with the period décor and ingenious centerpieces, she said, "I went online and found retro TVs and Michael Naffziger and students from the Indian River Charter High School recreated them. It's amazing the way he transformed everything."
The museum will go even further back in time with its next exhibition, 'Victorian Radicals: From the Pre-Raphaelites to the Arts and Crafts Movement,' on display Feb. 9 to May 5.
For more information, visit vbmuseum.org.
Photos by: Mary Schenkel
Click HERE to see more or buy photos