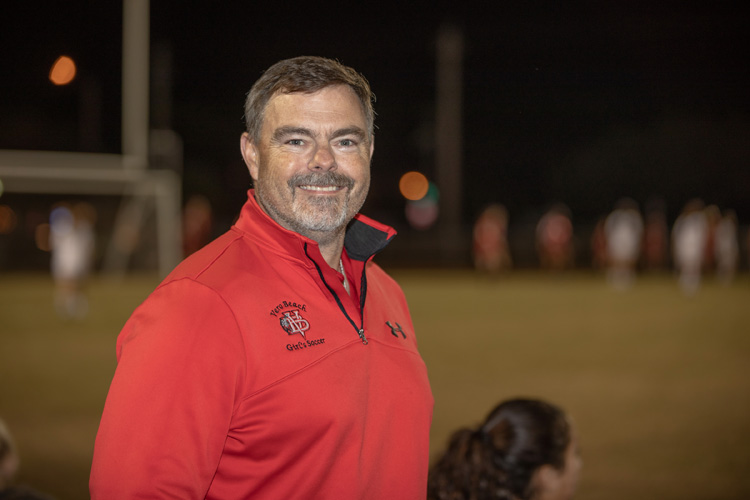 You would be hard pressed to identify any team that didn't want to ride into the postseason on a high note, but the defeat experienced by the Vero Beach High varsity girls soccer team last Wednesday evening could be exactly what was needed to kick everyone into gear before the district tournament.
Losing to Montverde Academy 4-0 was no reason to panic, for that is the No. 1 team in the state. On Friday night Vero got back on course with a 2-0 win over West Shore to conclude the regular season ranked 18th statewide with a record of 15-2-1.
Montverde was the first team to find the net against Vero since Jupiter prevailed 4-2 on Dec. 4. The final regular-season total of 14 zeroes for the opposition in 18 games left the Fighting Indians holding an 89-10 advantage in goals scored.
The challenge ahead is recapturing the district championship that was denied last year after seven straight. Jupiter stands in the way once again. The schools split a pair during the regular season and are expected to meet for the title. Should that occur, both will advance to the regionals.
After that the consensus among the players is to make it to states – and that means the Final Four. Fourth-year head coach Dan Dickens took his first team that far, but the past two fell one game short in the regional finals. Accordingly, there is no merit in abandoning a process that has been so rewarding.
"We talk about one practice at a time, one game at a time, and the focus that is required to get you there," Dickens explained. "You can't just turn it on. Practice like a champion and you are more apt to be a champion.
"This is the first time the seniors have been with me all four years. All of the players have gotten to know me and understand my style. This is just a fun group of kids. They work together as a team and as a family – and it shows on the field. We are seeing some success because everybody works together as a unit."
Seventeen different players have scored at least once. Dickens emphasizes spreading the wealth in precisely that manner. The program is also built to last with 12 sophomores dominating a roster that also includes five seniors, one junior and two freshmen. Seniors Lauren Barkett, Kate Hassell and junior Madzy Rhodes are tri-captains.
"We have very strong relationships on and off the field." Barkett said. "We communicate well and maintain our focus in practices and games because that is one of the priorities set by our coach.
"We have a really fun group of girls and it's definitely a team effort at all times. This is our year to make it to states. We are driven. That is what we are working for."
Barkett plays defense and leaves the scoring headlines for her fellow captains. Rhodes set a school record last year with 54 goals and led this regular season with 27 goals and 11 assists. Hassell was next with 15 and 13.
"Making it to the Final Four would be a real nice accomplishment after getting shut down in the regional finals the past two years," Hassell said.
"But getting to the finals and winning it all would be the ultimate goal. We know that it gets much more difficult at that point because the goals don't come easy.
"There are a lot of different parts to this team. Lauren (Barkett) says the defense doesn't get much recognition, but they are still doing a lot of hard work. We don't want to single anyone out; we want to praise the team as a whole."
Scoring at about half the pace of a year ago, Rhodes told us, "I just haven't really needed to. Other people like Kate (Hassell), (sophomore) Emma (Romans) and all of our other forwards have really stepped up. When they key on me the other players are open and able to finish. The need hasn't been there for me to do it all by myself.
"Of my three years here this has been the most fun team to play on. The chemistry has been great. I see that taking us to states."
If this team journeys deep into the postseason, assists will go to the unfriendly outcomes against Jupiter and Montverde.
"After Jupiter we made some adjustments with our formations, and that paid dividends," Dickens said. "We won't see Montverde in the playoffs (different class), but a big challenge like that at the end of the year helps us identify the weaknesses we need to work on. That helps us clean things up – and that's always important."