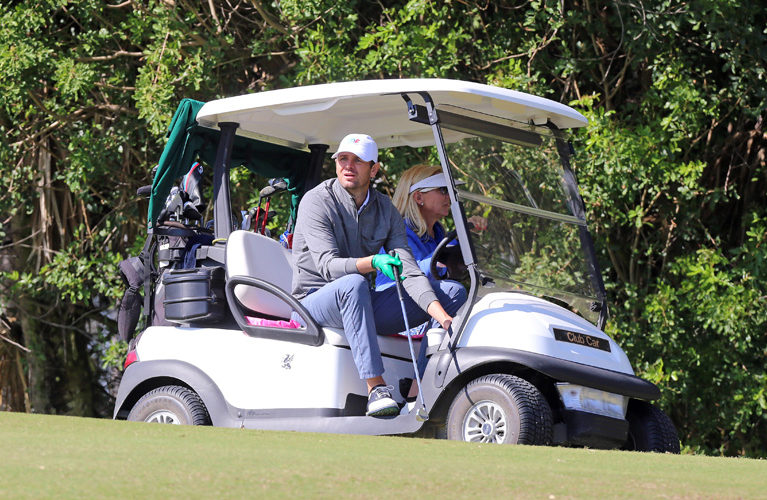 Sixty golfers teamed up last Monday morning to play in the Mardy Fish Children's Foundation Charity Golf Tournament on the majestic Windsor golf course before heading to the clubhouse patio for a luncheon and awards presentation.
Each year the tournament garners a substantial following of celebrity athletes teeing up in support of the charity founded by Vero's own Mardy Fish, the former Top 10 tennis star who was recently named U.S. Davis Cup captain. Notable celebs included former Los Angeles Dodger pitcher Rick Rhoden, former Boston Red Sox pitcher Tim Wakefield, French Open finalist Mikael Pernfors, and two-time U.S. Open semifinalist and founder of the Celebrity Golf Tour, Cliff Richey.
"To be able to support and give back to this area is very special. The place that has given so much to me and our family," said Mardy Fish. "It's a lot of fun to have that platform and be able to give back."
"This year we've helped over 2,400 children in this community with fitness and health programs," said Mardy's father, Tom Fish, MFCF chairman, noting that the foundation now funds scholarships for a broad assortment of existing youth programs. "We're really excited to help those kids and more kids in the future. Your money is going to go directly to helping children."
The nonprofit was founded in 2007 to provide afterschool exercise, nutritional and enrichment programs to youngsters who would not otherwise be able to participate. The program currently supports impactful fitness, nutritional and enrichment programs at 13 elementary schools, six middle schools and two afterschool centers.
Last year, the MFCF changed its organizational model from running programs to funding them, enabling them to double the number of children they've been able to serve, explained Kristen Wilson, MFCF director of marketing and programs.
"There are some amazing programs out there. Now we can support them instead of competing with them. We're a great resource for them and can even help bring programs together to collaborate," said Wilson.
From April 29 to May 5, the 2019 MFCF Tennis Championships will be played at the Boulevard Tennis Club. Randy Walker, tournament director, announced that this year the tournament has been elevated by the offer of increased prize money.
"The $25,000 purse will attract higher-ranked, more prestigious players," said Walker.
And on Feb. 23 the Mardy Fish Children's Foundation will again be the beneficiary of the Sea Oaks Charity Day, featuring golf at Sandridge and tennis and bridge at Sea Oaks.
For more information about MFCF visit mardyfishchildrensfoundation.org.
Photos by: Leigh Green
Click HERE to see more or buy photos