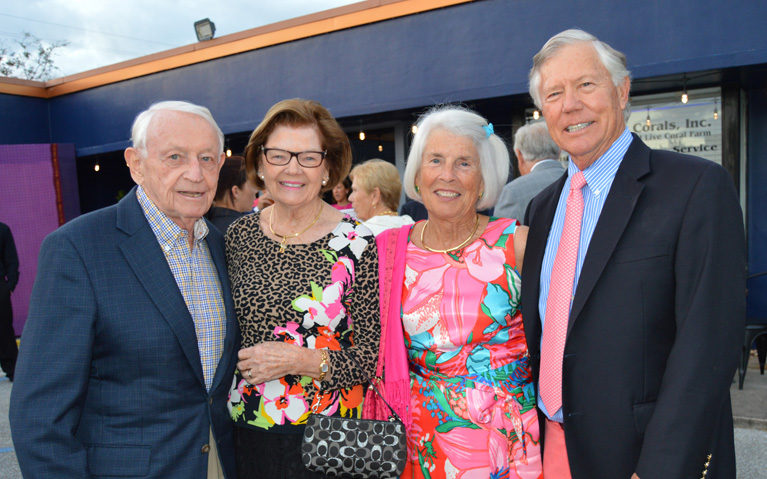 McKee Botanical Garden benefactors took a culinary journey at the second annual Seed to Sea: Secret Supper last Sunday evening at Chef Kitty Wagner's Blue Star to benefit the Children's Garden at McKee.
Adding to the suspense of the clandestine gourmands' adventure, the location was unveiled just before it was time to depart. Attendees were welcomed with a relaxed, eclectic vibe, enjoying al fresco cocktails and hors d'oeuvres or taking in the sumptuous surroundings of the Library Bar.
The sophisticated dining room took on the tropical beauty of a botanical oasis, where April French of Lady Sings the Blues entertained guests as they supped on one delectable course after another prepared by Wagner and her team.
The six-course menu featured an heirloom tomato gazpacho paired with an Elizabeth Spencer Sauvignon Blanc; a petite Belgium endive salad with crumbled Chevre served with Alois Lageder Riff Pinot Grigio; and Moroccan spiced jumbo shrimp paired with a Clean Slate Riesling. For the main course a chargrilled Faroe Island salmon was accompanied by Alexander Valley Chardonnay and the Angus short-rib beggar's purse with Tortoise Creek Zinfindel. Dinner concluded with Warre's Warrior Porto and an Italian cappuccino Semifreddo served with wild Italian Amarena cherries.
Auctioneer Jeff Petersen prepped the crowd before offering choice auction items including a cruise with Capt. Bruce Jackson aboard Moonraker and a paddle raise for a private garden party in the Children's Garden.
Ginny Blossom, McKee director of philanthropy, shared the progress being made in the Children's Garden – an area filled with engaging features to spark imagination and get children outdoors and in sync with nature.
The space will feature a Lily Pad Water Walk, Karst Hideout, Splash Fountain, Bamboo Village and Huts, a life-size Pirate Shipwreck, Fairy House in the Fairy Forest, Educational Amphitheater, Blue Crab Reading Circle and Stumpery.
"We are only $900,000 away from reaching the nonprofit's $7.5 million goal, and we had our first million-dollar donor come to McKee to establish an endowment for education," said Blossom. "Everything we raise this evening will go toward our Children's Garden."
The Children's Garden is an extension of the mission to preserve and sustain the 18-acre historic property for future generations. Scheduled to open this summer, the Children's Garden is a space where children can reconnect with nature, explained Christine Hobart, McKee executive director.
"There is nothing else like the Children's Garden around," said Hobart. "If you look at our community and beyond, there's no place for kids to go that's safe and fenced in that is also interactive and outdoors. It will be a great place for families to come – that's what we're all about."
The Seward Johnson Sculpture Exhibit will be on display through April 28, and on Feb. 9 McKee will host the 10th annual Motor Car Exhibition. For more information, visit mckeegarden.org.
Photos by: Stephanie LaBaff
Click HERE to see more or buy photos