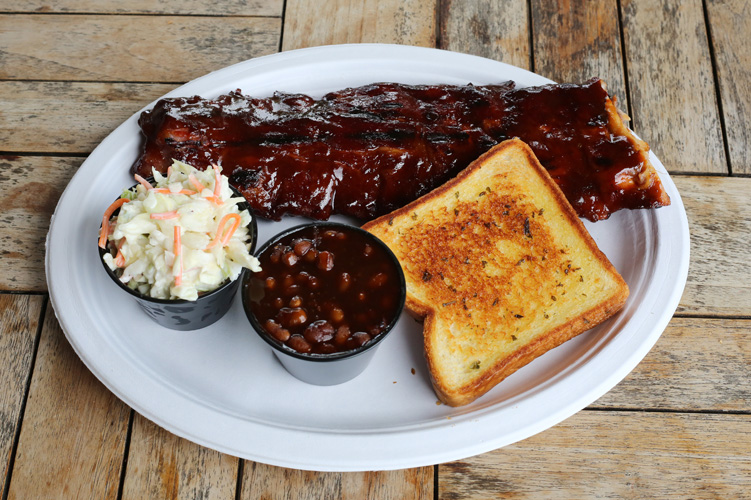 Mention Grant to a local foodie, and the first thing that comes to mind usually is the Grant Seafood Festival – a half-century-old annual event coming up this season on March 2 and 3.
But when I hear the word Grant, I think of the old general store – Historic Grant Station, a landmark that has been there since the 1890s – which is now home of Rib City, my favorite area barbecue restaurant.
Let's face it. While there are a number of rib joints here in Vero, none of them would get a second glance in Austin, Kansas City, Nashville, or any of a dozen other barbecue belt cities.
But I have been a fan of Rib City ever since discovering it on U.S. 1 a couple of years ago while driving home from Melbourne.
I was immediately struck by their promise – "If you have to pick up a knife to eat our baby back ribs, we will pick up your meal." Spoiler alert: I have never scored a free meal at Rib City.
So last week, we went back for another visit. As usual, we arrived a bit after 7 p.m. on a weeknight, and as usual, there were still people camped out in the foyer waiting for a table.
But we got a glass of wine from the bar, and fortunately only had a 20-minute wait before a table opened up on the far side of the eclectic room. (During season, you're probably always looking at a wait; Rib City doesn't take reservations.)
For starters on this evening, my husband talked me into sharing an order of baked potato skins topped with bacon and cheese. He really liked them.
Then for entrées, we both went for our favorites. I ordered the rib and rib combo ($17.99) – a plate of baby backs and St. Louis ribs – and my husband went for a full rack of baby backs ($15.99). As usual, the baby backs were just falling off the bone, and the St. Louis ribs – while meatier – were just about as tender.
All entrées are served with garlic toast and a choice of two sides, so on this visit I picked the sliced tomatoes and the BBQ beans, and my husband opted for the cole slaw and a baked potato. The garlic toast is nothing to write home about, and the sides here tend to be disappointing. But it's the ribs you come for – and the BBQ beans were delicious.
By the time we finished our ribs, there was no room left for dessert – though my husband thought several looked tempting as they passed our table.
Rib City has a variety of other items on the menu. Of the ones we've tried, the pulled pork – smoked onsite, and mixed with Rib City's tangy BBQ sauce and unique spices – was the best.
Bottom line: This place – which turns out to be the lone East Coast outpost of a group of family owned rib joints by the same name over on the Gulf Coast of Florida – serves great flavorful ribs.
And if you are disinclined to drive there and wait for a table at night, they open each day at 11 for lunch.
I welcome your comments, and encourage you to send feedback to me at tina@verobeach32963.com.
This reviewer dines anonymously at restaurants at the expense of Vero Beach 32963.
Rib City
Hours: 11 a.m. to 9 p.m. (10 p.m. on Fridays and Saturdays)
Beverages: Beer & Wine
Address: 5390 S. U.S. 1, Grant-Valkaria
Phone: 321-241-6510