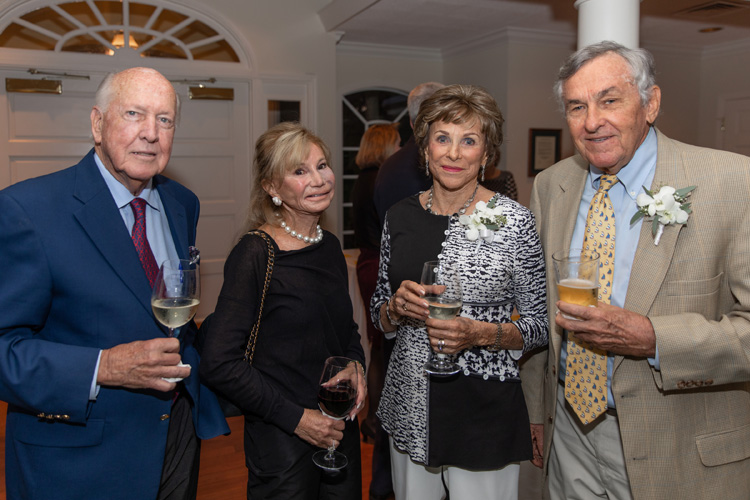 Members and supporters of the Old Vero Ice Age Sites Committee gathered last Friday evening for a Centennial Gala at the Riomar Country Club to celebrate their ongoing success at digging up the past. Guests rehashed ancient history over cocktails and hors d'oeuvres before enjoying a dinner of "Mammoth" proportions.
Honorary co-chairs Tommye and Rody Johnson were acknowledged for their unwavering support of the nonprofit's mission to preserve and excavate Ice Age archaeological and paleontological sites in the county, and promote a greater understanding of their contents and history.
The Vero site saga began more than a century ago when, while dredging the Main Relief Canal, the Indian River Farms Company unearthed fossilized bones belonging to extinct mammoths, mastodons, saber-tooth tigers and bear sloths. Vero Man remains were uncovered in the same area two years later.
Dinner guests Friday included Barbara Purdy, curator emerita at the Florida Museum of Natural History and a professor emerita of archaeology and anthropology at the University of Florida. It was Purdy's dating of a mammoth bone from the area as between 12,000 and 14,000 years old that put to rest the Vero Man scandal and eventually led to the creation of OVIASC.
Randy Old, board president, said the collaboration developed under the excavation protocols of principal investigator James Adovasio, with support from Indian River State College students and researchers.
"The excavations that were conducted in Vero from 2014 through 2017 were the most complicated logistically archaeological excavation ever conducted in the state of Florida," said Adovasio. "We tried to understand the geological and environmental history of this area and then to figure out where the human record articulated with that geological and environmental record. We now think we have the best handle on 20,000 years of changing environments that exist anywhere in the American Southeast."
OVIASC is now looking to fill in pieces of the past in other locations. Soils collected from sites in the western portion of the county are currently being dated at the University of Georgia Laboratory.
"To date, no one has really looked at the potential for deeply stratified sites in this part of Florida," said geoarchaeologist Frank Vento. "With Dr. Adovasio's work and the work of the Vero group, we know that there is a potential to find not just artifacts at the surface, but more deeply buried cultural resources that date back many, many thousands of years."
Adovasio added, "It's about painting an image of past behaviors, climates and environments in a way that hasn't been done previously anywhere else in the state. We are extremely indebted to all of you for your interest in this. There is no other group that concentrates on the late Ice Age in the manner in which you folks have helped us to do."
The Old Vero Sites exhibit can be viewed at the Brackett Library at Indian River State College. To learn more, visit oviasc.org.
Photos by: Denise Ritchie
Click HERE to see more or buy photos