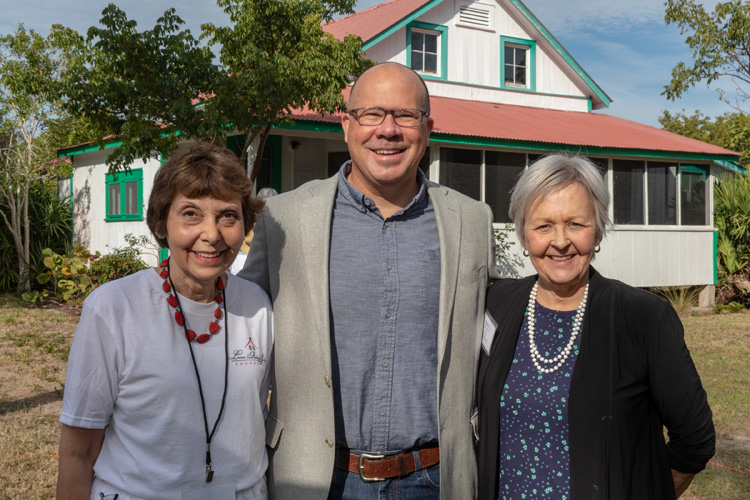 Supporters of the Laura (Riding) Jackson Foundation hosted 'Laura's Birthday Bash' last Saturday to celebrate the 118th birthday of the esteemed 20th century American poet at the historic home she lived in after moving to Indian River County with husband Schuyler B. Jackson.
Looking at the primitive "cracker" home they shared – with its artisan well and lack of hot water and electricity – it is almost difficult to believe that her history is actually a relatively recent one. Jackson was born Jan. 16, 1901 and died at age 90 on Sept. 2, 1991.
Once nestled amid a citrus grove they operated to help pay the bills, the home was carefully relocated to the grounds of the Environmental Learning Center in 1994 and is now on the move once again – this time to the campus of Indian River State College.
"We're starting our Capital Campaign, 'Let's Move It,'" said LRJF board member Susan McDaniel, noting they hope to raise roughly $500,000 to relocate and preserve the integrity of the home. They have been offered a $50,000 matching fund from the Indian River Community Foundation, which she said they hope to match by June. "We want to move the house before the hurricane season and also to align with the academic season of the college."
"So that it will be in place and ready to go when they get back in the fall," added Marie Stiefel, board president of the all-volunteer nonprofit. "That's in our minds; that's what we would like to have happen."
No birthday party is complete without cake, and this one had two colorful versions – one with birthday greetings and a photo of the home as it stands now, and another with 'Good luck on the move' and a photo of the home on wheels.
There were also talks by people who knew her, including her authorized biographer Elizabeth Friedmann, author of "A Mannered Grace: The Life of Laura (Riding) Jackson."
"It was wonderful to have Elizabeth Friedmann here," said Stiefel, noting they enjoyed hearing stories of Jackson and her time living and working in the home.
In addition to preserving Jackson's turn-of-the-century home and possessions, the LRJ Foundation sponsors such public programs as Teen Writers and Adult Writers Workshops, and an annual Poetry & Barbecue event.
Jackson's original writings are housed and can be researched at Cornell University, where she was educated.
For more information about LRJF and links to Cornell, visit lauraridingjackson.org.
Photos by: Denise Ritchie
Click HERE to see more or buy photos