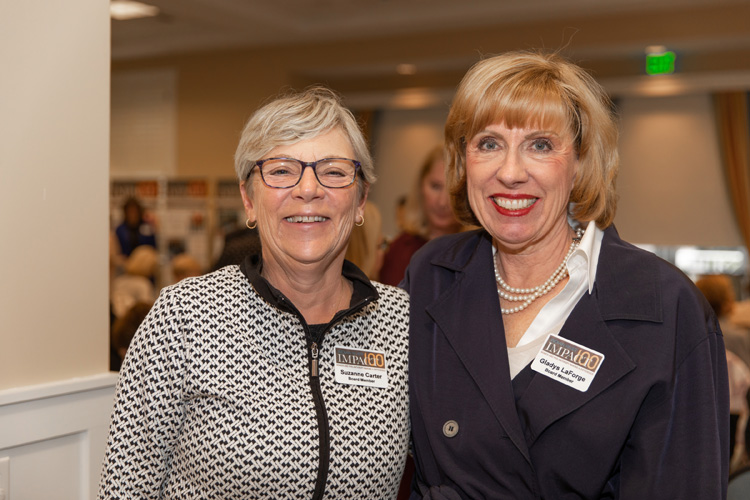 Indian River Impact 100 members and prospective members gathered last Wednesday afternoon at Northern Trust Bank for Impact Day, where the four latest Community Partners welcomed the opportunity to thank members and discuss achievements since April, when each was awarded a $100,000 transformational grant.
Suzanne Carter, Impact 100 immediate past president, moderated a discussion with Carroll Oates, Veterans Council of IRC special projects director; Natalie Sanders, Economic Opportunities Council of IRC Head Start director; Jeff Shearer, Tykes & Teens executive director/CEO; and Felix Cruz, Youth Guidance executive director.
"This year, our 11th year of operations, Impact 100 will surpass a total of $4 million in grants given in Indian River County," said Carter.
With 100 percent of member contributions earmarked strictly for grants, event sponsorships are essential; Impact Day was sponsored by Robin Lloyd & Associates, P.A.
"This is the only charity that I've ever seen that does this: shows you where your money went and lets the folks tell you what they did with it. And to me that's very important," said Lloyd.
Each panelist spoke briefly about the status, challenges and highlights of their programs.
"We have a large veteran population; over 15,000 in Indian River County," said Oates. "Because of your grant, we were able to start a new program called Veterans Helping Veterans – exactly what our mission in life really is."
He said the program improves the lives of veterans and their families through home improvements and repairs, trying whenever possible to employ veteran-owned contractors and/or Next Gen veterans with the skills needed for projects. "We are right now about 65 percent through our grant," said Oates. "The need was much greater than we thought."
The EOC's Early Bird Program Expansion funded the purchase of a portable classroom, furniture and technology to enable 17 low-income Gifford children to attend preschool at Dodgertown Elementary School. Children are exposed to critical academic and social skills to prepare them for kindergarten, and parents have also benefited. With their children in school, some have found employment, and Spanish-speaking parents are learning English along with their children.
"We don't call it homework; we call it family engagement," said Sanders.
Shearer said that through the Little TYKES (Teaching Kids Emotionally and Socially) program, they provide support services to children ages zero to 5 struggling with mental health or inappropriate behaviors, often the result of traumatic family lives. Working with teachers, they develop ways to interact with those children, and develop relationships with parents, some with issues themselves. He added that because of this early intervention, he believes they will likely not have to see them in adolescence.
"And that is why we do what we do," said Shearer.
The S.T.E.A.M. (science, technology, engineering, arts and math) Magnet Program at Youth Guidance is preparing low-income children from single-family homes for future success through programs designed to engage, educate and motivate children so they are not intimidated in school or in the future. Through their music program they are teaching coding and sequencing; in turn providing an introduction into robotics and computer graphics. Cruz said one home-schooled girl, now in 11th grade, entered the program with fourth-grade-level reading and math. In less than a year, he said, "she has jumped five grade levels, just because of the things we are doing with her."
"Thank you for sharing with our members what you do," said Denise Battaglini, Impact president. She noted that the Impact 100 Membership Drive is currently underway, adding that the number of members – who each contribute $1,000 – determines the number of grants that will be funded.
For more information, visit impact100ir.com.
Photos by: Denise Ritchie
Click HERE to see more or buy photos