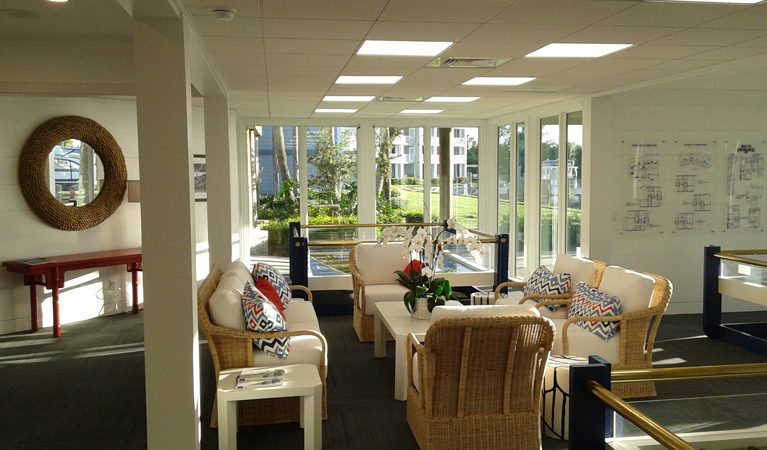 From the outside, The Moorings Realty Sales office looks the same as it has for decades – a handsome timber-framed structure that would be at home by the water anywhere from Cape Cod to Key West – but the interior has been transformed.
When they step through the brass-handled front doors, Moorings residents and real estate clients now enter a much brighter and more contemporary setting, the result of a multi-month, $285,000 renovation project that completely updated the iconic building while preserving its dockside charm.
"We started talking about giving the office a fresh look about a year ago," says Moorings Realty broker Marsha Sherry. "It was hard, because so many people loved the building the way it was, but we wanted to update and lighten it while maintaining the nautical feel.
"All the flooring and the ceilings were replaced, and we have all-new windows that open up the office and bring the outside in. We put shiplap siding up on the walls and painted the old dark wood white. There are new lifestyle photos and a flat-screen display that shows our properties.
"We totally remodeled the reception area to make it more attractive and functional and redid the back deck – took down railings and trimmed bushes – so that you see the water now as soon as you walk in."
Electrical upgrades, new LED lights, and a new sound system were part of the renovation, along with the installation of a design center on the second floor.
"We put that in to help developers who are building in The Moorings who have their properties listed with us," Sherry says. "It allows buyers to look at and handle materials and study floor plans instead of just looking at concrete block going up at the building site."
"The design center has been fantastic, very well received," says Kimberly Miller, a developer who is building a waterfront home on Mooringline Drive that is listed with Moorings Realty for $3.2 million. "It is very helpful in the sales process. We have had some people go back a second time to look at the design and materials. It is a big plus."
Miller says The Moorings Realty Sales Company has helped with her project in other ways as well, providing valuable advice based on knowledge of the community. "Marsha and my realtor, Erika Ross, gave me a lot of input about lifestyle during the design process. They said, 'You absolutely have to have four bedrooms and a three-car garage.'
"Everything was designed to be suitable for an older couple who have children and grandchildren who visit, or for a family with kids who would live here full time. It will be a very luxurious home, with creamy white marble floors and a gourmet kitchen with Thermador appliances, but also casual and in a way that fits with the Moorings lifestyle."
Miller and her husband, Rodney Miller, bought the .56-acre property they are redeveloping for $935,000 in February 2018 and tore down the outdated house that occupied the prime, deep-water lot with long views of the Indian River. The new 4-bedroom, 4.5-bath, 3,989-square-foot home with "all the bells and whistles" is slated for completion by Sept. 1.
Miller says there has already been a great deal of interest from potential buyers inside and outside The Moorings who have contacted Ross or visited the design center. In addition, she says, "the construction foreman tells me there are people stopping by all the time to look."
"We are holding an open house for area brokers on Friday, Feb. 15 and then having a 'sneak peek' party for the neighbors on Saturday the 16th. The roof will be on by then and people will be able to get a good sense of the scale and layout of the house."
Meanwhile, back at the real estate office, Sherry says she has gotten positive feedback on the renovation, with "lots of lovely compliments."
Well-known Vero Beach interior designer Rod Mickley came up with the contemporary look of the remodeled office and the renovation was done by a subcontractor working for Proctor Construction, according to Sherry.
"We updated the office with a red, white and blue nautical color scheme," Mickley says. "It was starting to feel a little bit dingy and outdated and our aim was to freshen it up. Everyone is happy with the result."
Miller designed the spec house she is developing at 1786 Mooringline Drive, with the aid of draftsman Bryan Loseke of 3-D Design Solutions and input from Moorings realtors and others. It is being built by Indian River Project Management, a company Miller says has been top-notch to work with in all regards.
She has a business degree and corporate background, working for General Electric and other companies, and says she is motivated as a developer by "a passion for making something beautiful."