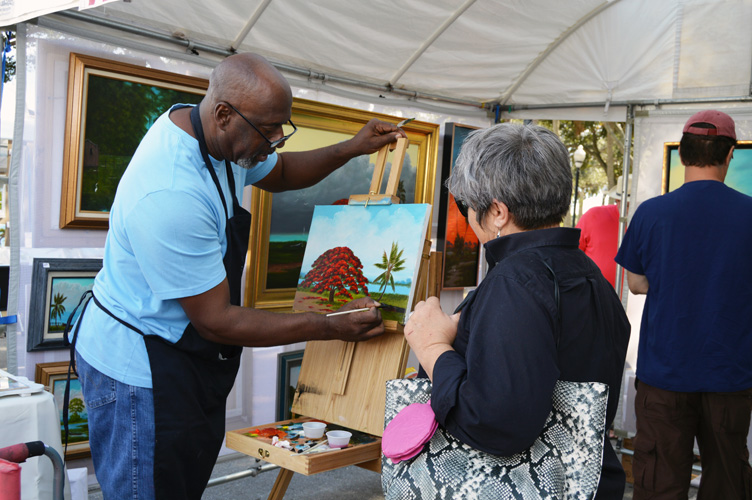 With the promise of bad weather looming on the horizon for Sunday, art and music lovers descended upon the 18th annual Sebastian Riverfront Fine Art and Music Festival at Riverview Park last Saturday, wanting to make sure they didn't miss out on the two-day event.
Booths contained artwork from 130 juried artists ranging from the traditional – clay, oil, watercolor, wood, glass and photography – to the sui generis, think plates made from recycled soda cans, drumstick and palm frond art. It was a veritable cornucopia of techniques and mediums.
After taking a turn through the colorful display of artwork, which also included jewelry, textiles and sculpture, attendees dined at food tents set along the Indian River Lagoon. While feasting and mulling over their purchases, they were entertained by a local lineup of musicians who cranked out tunes from the nearby stage.
Robert and Lynn Johnson stepped in this year to organize the event, held in memory of Lisanne Robinson, the longtime proponent of the arts who founded and directed the festival before losing her battle with cancer last summer.
"She was so '60s," recalled Terry Corcoran, who designed this year's T-shirt in homage to Robinson and explained the meaning behind her design. "Art meets the river. That was Lisanne."
"Artists from across the country participate in the show; it brings people to town. I've heard Sebastian referred to as 'Key West north,'" said Johnson. "It's a big cultural event for Sebastian."
The goal of the nonprofit is to "promote interest in and appreciation of the arts and to promote cultural enhancement and awareness through public exhibition and performance within the City of Sebastian and its environs." Proceeds from the festival enable them to give scholarships to schools' performing and visual arts programs in Sebastian.
Show organizers also try to seek out three emerging artists who have never done a big art show before to help them gain exposure.
For more information, visit sebastianartshow.com.
Photos by: Stephanie LaBaff
Click HERE to see more or buy photos