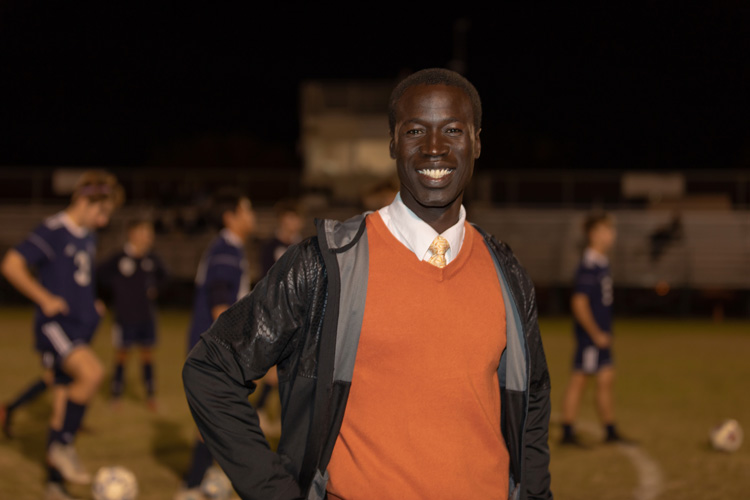 St. Ed's varsity boys soccer team opened the New Year with a 1-1 tie against Boca Raton Christian a day before celebrating Senior Night last Friday. The record at that point was 8-1-2 with a scoring differential of 55-5 in favor of the Pirates.
Three of those opposition goals, plus the defeat and the other tie, came in a pair of earlier matches with perennial district nemesis Holy Trinity Episcopal. The boys and girls from those two schools have been engaged in a highly competitive rivalry for the past decade.
First-year head coach Pape Seye arrived at St. Ed's only to discover more of the same. He was well prepared for this gig by playing and/or coaching the game for most of his life. He was pleased to have layers of talent at his disposal the first day of practice.
"I must say this is a wonderful, wonderful group," Seye said. "I will start with the coaching staff we have. (Athletic Director) Jeff Lamscha is amazing. He has vast coaching experience (over 300 wins with St. Ed's varsity girls) and a thorough knowledge of the game. He is the guy who keeps us all in check. We also have Adam Tamburello, a young guy and former college soccer player who is very motivated. Nothing could have happened here without those two coaches.
"Then we trickle down to the team captains, Britt Reisman and Will Sternberg. They are absolutely fantastic players. I call Britt 'Captain Zero' (jersey number) because he is the goalie. Will is 'Captain One' because he is a striker. The two of them basically have the whole field covered. They have been amazing captains – and I'm not just talking about on the field. They make sure everything runs smoothly. We are lucky to have that type of leadership."
Twelve different players participated in the goal-scoring blitz through 11 matches. Sternberg had 14 to go with nine assists. Junior Lorenz Schaefer contributed 13 and six, while sophomore Will Franco chipped in with eight and three. Reisman had 34 saves at an 88 percent clip, and freshman Marshall Heim was a perfect three for three in a brief back-up role.
This will be the Pirates' fourth straight season with double-digits wins, highlighted by a district championship in the 2016-17 campaign. The program is obviously on sound footing dating back to the Bill Keating era, and it should remain that way with only three seniors (Sternberg, Reisman and Chris Fashek) on the current roster. Seye is the third head coach in the past three seasons, and at age 35 says he would like to stick around a while.
"I grew up in New York City and played soccer my whole life through high school and college," Seye told us. "I went to Cornell University for my undergraduate degree and played soccer there for four years. Then I wound up getting a master's degree from Columbia University.
"After that I was a teacher and coached soccer at a boarding school in Connecticut. I was also living in the dorms at the time and got to play soccer with the students all the time, seven days a week.
"When the opportunity presented itself here at St. Edward's, I ran with it. It's great because you cannot just wear one hat. I'm also dean of students and director of activities for the Upper School, and I teach a geography class. I get to see the students in many different environments.
"I am enjoying Vero Beach and loving the weather. This is my first year away from the northeast. The thing that struck me the most here is the friendliness of the people. I didn't have any issues when I first arrived because of the efforts to bring me into the community. And that is a blessing."
As Seye was basking in the warmth of the Florida sunshine, he saw what he had inherited on the soccer team and decided to play it cool. He described the program as a "well-oiled machine" hardly in need of any major overhaul. Instead, his knowledge of geography might come in handy as he tinkers with field formations to control tempo and time of possession – the name of the game.
"The boys have shown that they can play against anybody," he said. "They also have shown that they have heart. The ceiling is absolutely high. Most of all I want them to stay healthy, but I also want them to realize that they can rise to any challenge. They know that and they believe that.
"These are teenagers and you always have to remind them to just be in the present. The boys are hoping to see Holy Trinity again (in the district playoffs), but it's never about another school.
"But I do know one thing: It makes everything sweeter when you play well against a team that is as good as they are."