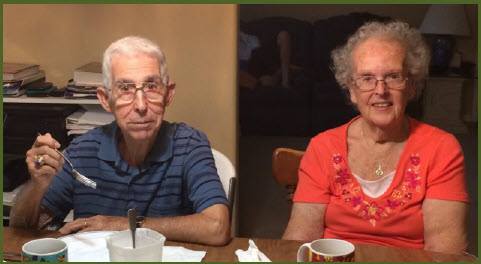 Update: Joseph and Louise Miranda were found safe about 4:30 p.m. Friday by the Florida Highway Patrol, said Indian River County sheriff's spokesman Maj. Eric Flowers.
A silver alert that was issued for the two after they were reported missing has been cancelled, according to Vero Beach police. Further details on troopers finding the married couple were not immediately available.
Earlier story
INDIAN RIVER COUNTY — Deputies are searching for a man and woman they described as endangered who left their home Thursday to go grocery shopping, but never returned home.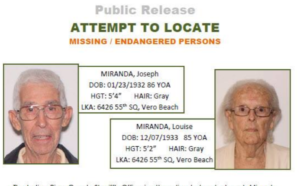 Joseph and Louise Miranda, ages 86 and 85, both of the 6400 block of 55th Square, Vero Beach, are believed to have early stages of dementia, according to the Indian River County Sheriff's Office. The married couple was last seen about 6 p.m. Thursday leaving their residence in a blue 2009 Toyota Venza with the Florida tag number 69506.
Neighbors told deputies they have not seen the Miranda's since they left. A silver alert – or a missing persons alert for an older person with Alzheimer's disease, dementia or other mental disabilities – was issued Friday for the two, Vero Beach police said.
Joseph Miranda was last seen wearing blue shorts and a blue windbreaker, police said. Louise Miranda was last seen wearing a light colored shirt with shorts and slippers.
Those who have information on the whereabouts of the Mirandas should contact the Indian River County Sheriff's Office at 772-978-6047.