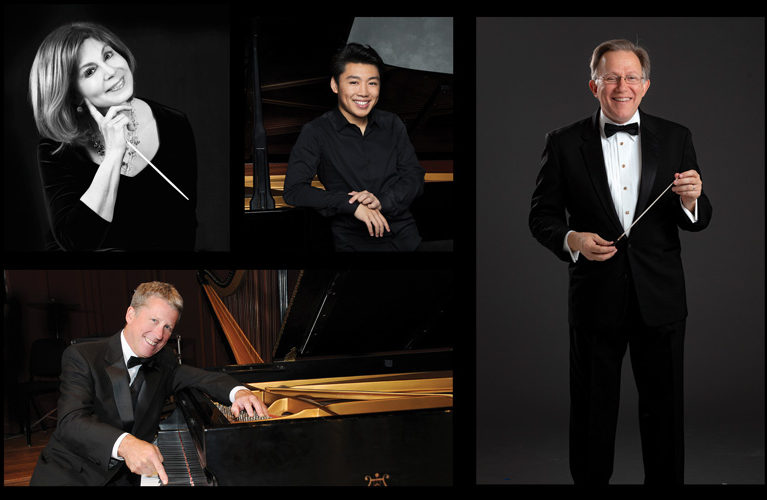 Vero Beach music lovers can expect the fresh and new plus the tried and true with this year's impressive 'Festival of Orchestras' presented by the Indian River Symphonic Association.
The entire season is set to "soothe the savage breast" and expand minds with an array of musical artists. You will hear something new in Amy Beach's 19th century "Gaelic Symphony" and in Chen Gang and He Zhanhao's 20th century "Butterfly Lovers' Violin Concerto." And you will be thrilled when JoAnn Falletta, American's first woman conductor of a large symphony orchestra, steps onto the podium to present another powerful performance.
World-class artists and fresh, contemporary voices will be heard in concert with the Brevard Symphony Orchestra, Russian National Orchestra and the Buffalo Philharmonic Orchestra. Vero is the first stop in the Shanghai Opera Symphony Society's tour, and the Brussels Philharmonic will make its premier appearance here.
The idea, says IRSA board member Ed Shanaphy, is to "expose our Vero Beach audiences to wonderful orchestras of the world."
Christopher Confessore, conductor and music director of the Brevard Symphony Orchestra, which has performed with IRSA since it first formed in 1993, calls it an "impressive" organization that wants the "very, very best."
Indeed. When the BSO opens the new IRSA season Jan. 18, audiences can expect a stunning program of "beautifully melodic, romantic" music. While the concert features well known works by familiar composers such as Strauss and Tchaikovsky, the "wild card," he says, will be Austin Wintory's "Nascence and Apotheosis."
An award-winning American composer, Wintory was the first Grammy nominee for a videogame score called "Journey," and he has received international recognition for his more than 50 feature film scores.
The BSO's March 17 St. Patrick's Day concert will introduce audiences to more "new" work, even though it was written in 1894 – the "Gaelic Symphony" by American composer Amy Beach.
"It's a significant commitment to put on a piece that virtually no one in the audience will be familiar with," Confessore says. "But I'm confident everyone will enjoy it."
A full-length symphony that will be performed in the second half of the concert, it was written during the same time period and is the same length of Dvorak's "New World Symphony."
Women composers are a rare breed in a field dominated by men, but you can find them, Confessore says.
"It just requires a little bit of work. What so oftentimes was the case, it was considered not a career a woman should be doing," he adds. "The way the story goes, when (Amy Beach) got married, her husband told her she wasn't going to be writing music any more. So there was a period of time where she did not actively compose, or did some composing in secret. That music was brought to light later."
Something new will also be heard when the Shanghai Opera Symphony Orchestra performs on Jan. 25. Chen Yang Yue Tong, considered one of China's top violin virtuosos, will perform a relatively young piece from the mid-20th century – the "Butterfly Lovers' Concerto" written by Chen Gang, when he was a musical student.
"They say it's one of the greatest hits in classical musical because it's played all over," Shanaphy says.
Art breaks through political barriers with the Russian National Orchestra presentation of American pianist George Li on Valentine's Day, Feb. 14. Li, who won the silver medal in the International Tchaikovsky Competition in Moscow in 2015 and the prestigious XIV Concours International Grand Prix Animato, will perform Chopin's "Piano Concerto No. 1 in E minor."
The Brussels Philharmonic, led by famed French conductor Stéphane Denève, will feature Danish violinist Nikolaj Szeps-Znaider in Bruch's famed "Violin Concerto No. 1 in G-minor."
Znaider, 43, was recently selected to assume the position of music director of the Ochestre National de Lyon in September 2020, taking the baton from famed American conductor Leonard Slatkin, who was also music director for the Detroit Symphony.
The season ends with another robust concert by the Grammy Award-winning Buffalo Philharmonic Orchestra, led for the past 20 years by powerhouse conductor JoAnn Falletta.
"This is an orchestra with a big personality and a real commitment to making music in a vibrant way," she says.
Confessore says Falletta could also be talking about herself.
"I'm definitely coming to hear the performance of the Buffalo Philharmonic," he says. "She gets a beautiful, lyrical sound out of the orchestra."
Falletta says the concert, which features romantic Russian pieces as well as a big Chopin work, will move audiences with its "powerful music, filled with color and drama."
And while some may find it unusual to see a woman conduct such traditionally masculine pieces, Falletta says she simply focuses on the greatness of the music, rather than concern herself with intransigent mindsets.
"It's still, I suppose, a boys' club," she says. "Although it's changing, not as fast as I thought it would be."
She has heard comments about people worrying what women conductors were going to wear, and once got a review that talked about her hairstyle. She believes such legends as Austrian conductor Herbert Von Karajan and Italian conductor Arturo Toscanini reinforced the image of a conductor being tyrannical.
"That does not open doors easily for a woman," Falletta says. "Women have a different way of interacting with a group and a different leadership style. I've seen women work very brusque, rough, and men work very gentle. In general women tend to approach their work in a more collegial or inclusive way. That seems to be something inherent in how we grow up. That's very good team-building style. Yes, you have to be in charge and make the decisions, but it's not all about you. It's about the team around you."
However, she says she has never felt anything but a warm welcome from Vero Beach audiences.
This marks the orchestra's fourth IRSA appearance – now dubbed the orchestra's "Friends and Family Tour" since so many in the ISRA audience are snowbirds from the Buffalo area.
"The (Vero Beach) concerts have been packed with people," Falletta says. "The interest in music and the arts is so strong there. It's a cultural heaven."
Indian River Symphony Association Season:
Jan. 18 – Brevard Symphony Orchestra:
Strauss, On the Beautiful Blue Danube; Tchaikovsky , Piano Concerto No. 1 in B-flat minor, with soloist Sergey Belyavskiy; Brahms, Hungarian Dance No. 1; Rimsky-Korsakov, Capriccio Espagnol; Wintory, Nascence and Apotheosis
Jan. 25 – Shanghai Opera Symphony Orchestra:
Rossini, The Barber of Seville Overture; Gang/Zhanhao, Butterfly Lovers Violin Concerto with soloist Chen Yangyuetong; Berlioz, Symphonie Fantastique.
Feb. 8 – Brevard Symphony Orchestra:
Great Movies, Grand Piano Pops concert with soloist Rich Ridenour playing movie themes featuring the piano.
Feb. 14 – Russian National Orchestra
Rachmaninoff, Vocalise; Chopin, Piano Concerto No. 1 in E minor with soloist George Li; Rachmaninoff, Symphonic Dances.
March 12 – Brussels Philharmonic
Ravel, La Valse; Dukas, Sorcerer's Apprentice; Roussel, Bacchus et Ariane Suite No. 2; Bruch, Violin Concerto No. 1 in G minor with soloist Nikolaj Znaider.
March 17 – Brevard Symphony Orchestra
Beach, Gaelic Symphony; Grainger, Irish Tune from County Derry; Dvorák, Violin Concerto in A minor with soloist Andrew Sords.
April 4 – Buffalo Philharmonic Orchestra
Borodin, Overture to Prince Igor; Brahms, Piano Concerto No. 2 in B-flat major with soloist Fabio Bidini; Prokofiev, Selections from Romeo and Juliet.
All concerts begin 7:30 p.m. at the Community Church of Vero Beach, 1901 23rd Street. Season subscriptions range from $395 to $425. Single tickets range from $60 to $90. For more detailed information on concerts or to purchase tickets, call 772-778-1070 or visit IRSymphonic.org.