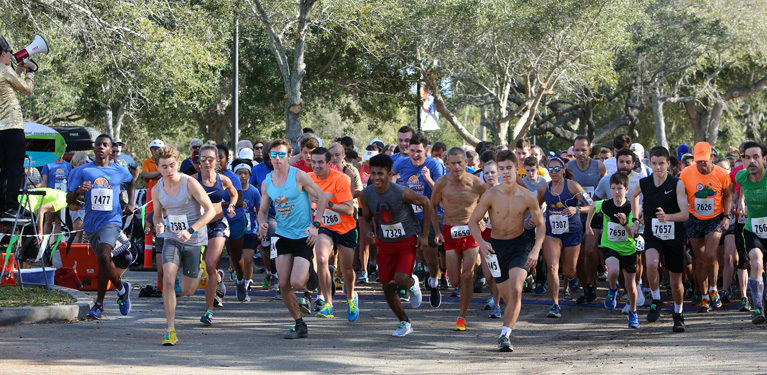 A slew of nearly 500 eager runners gathered at Riverside Park on the first morn of 2019 to begin the year with a confetti-filled Runner's Depot Resolution Run 5K to benefit the Education Foundation of Indian River County. From ages 7 to 84, runners cemented their resolutions with sweaty exuberance as they sprinted across the starting line, looking forward to beginning anew.
In a nod to the elegance of New Year's Eve, Runner's Depot's Jim Van Veen, sporting a gold-sequined jacket, kicked off the race with much fanfare, and a natty tuxedo-clad bicyclist squired the runners along the race route.
Participants crested the Barber Bridge to behold a spectacular view of the Indian River Lagoon – the perfect spot to contemplate goals for the upcoming year.
"The race is a good way to start the New Year," said Sarah Mondano, who was on hand to support her husband. "I usually don't make resolutions, but I think more patience would be a good one. It covers a lot – patience with things, people, situations and the world."
"It's important to start your new year out on the right foot, and this race is the perfect way to start the year," said Gina Kempf.
Photographer Aric Attas, who waited on the sidelines to get the perfect shot of his brother-in-law crossing the finish line, said every new year holds special meaning. As a two-time cancer survivor, he holds the turn of the year with a bit more reverence than some.
"It's a great time to reflect and think back about the last year and the things that didn't get done or could have been done better," shared Attas. "If I were re-diagnosed, would I be happy doing the things that I'm currently doing? I use that to refocus on the big things and the things that are truly important – my family, my health and staying creative."
First-time race participant Katha Kissman said she wants to get back to practicing mindfulness, adding, "I want to be more intentional. New Year's is kind of like a reset for me."
"My resolution is to get back into my running practice," said Lenora Ritchie, a second-year Resolution Run participant, admitting that she had let it slip a bit last year.
And Jessica Schmitt, a participant since the inception of the annual New Year's Day race, said she has set her sights on paying off some debt.
This year's overall winner was Bailey Yoerin with a time of 17:07; Lauren Gregory was the top female finisher at 17:40.
The race was the fourth of six races in the Runner's Depot 2018-19 Run Vero Race Series. Up next: the Feb. 9 Cupcake 2-Mile and the March 23 Citrus Classic 5K.
For more information, visit runnersdepotvb.com.
Photos by: Leigh Green
Click HERE to see more or buy photos