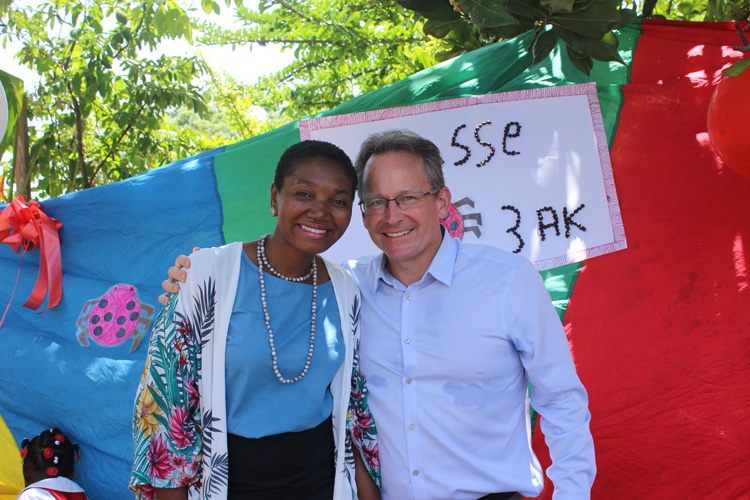 Even the most successful programs can have consequences that present their own challenges. Such is the case with the partnership formed in 2013 between two Vero Beach-based nonprofits – Haiti Partners and Haiti Clinic.
At the Haiti Partners Children's Academy and Learning Center, founded by Vero residents John and Merline Engle, Haiti Clinic runs a clinic staffed by Haitian medical professionals such as Dr. Dubique Kobel and supplemented by medical teams from the U.S., who stay at the Engle's Bellevue Guest House.
Vero Beach dermatologist Dr. Neil Heskel has been involved with Haiti Clinic since its founding more than a decade ago and has made more than 30 trips to Haiti. Haiti Clinic also operates a facility in the slums of Cité Soleil.
At issue is that the clinic at the Children's Academy has been so successful, it now sees upwards of 175 patients each week, leaving little time to also care for the school's 200 students.
"We started to feel like our kids were being a little bit left out, because of all the people coming from the community," says Merline Engle. "The service was so good, that people outside of the community were coming in. And they're so sick, so you can't turn them away. But our priority, for the clinic, was the kids."
After several visits as volunteers, Nova Southwestern University medical students Christina Baxter and Gabriela Teixeira, along with Danielle Gilbert, who holds a degree in public health, devised a way to confront the problem.
They applied for and received a $7,500 grant from Nova Southeastern University to implement a Children's Wellness Program.
Over the past year, five mothers of students have been trained as health agents by Kobel, utilizing a model structured on the U. S. School Nurse Program. The funding has enabled training and a stipend for the mothers, as well as some simple medical supplies.
Under Kobel's supervision, the mothers take vitals, clean and bandage wounds, administer simple medicines and encourage good hygiene and healthy habits, with the ultimate goal of reducing school absences and improving the overall health of students and their families.
In a recent report, Baxter, Teixeira and Gilbert said they teamed with the women and a local pediatrician to give more than 100 physical exams, teaching the women how to identify contagious infections and how to treat sinus, breathing and stomach issues.
"And when a student misses two days of school, a member of the team will go to their house and find out what's happening with them," says Merline Engle.
"It's all part of the partnership of working together to address the health needs of the school and the community," adds John Engle.
He says the health agents have also assisted members of their very rural communities – students live up to an hour away and it's a six-hour walk for some clinic visitors – with basic medical care.
"If they're not doing it for the school, in some cases they'll give their services free to people who need it; and in other cases, if people can give them something, then they can also have some income," he says.
The Children's Academy opened in 2012 with the enrollment of 30 children, 3 years old, and now has 200 children ages 3 to 9.
"The idea is, we only take children who are starting school at age 3 and have them grow up in the school," John Engle explains. "We started out with 30 children and we just keep adding a grade and we'll keep doing that until it's a high school."
They have already outgrown their building and hope to complete the addition of a third floor – at a cost of $250,000 – to house 90 more students.
Parents are extremely poor, so to offset the minimal monetary tuition, they contribute four service hours per week – volunteering at the school or clinic, or in one of the social entrepreneurial programs.
Social enterprise is encouraged as a way to bring money into and socially impact the community. They have already developed a noteworthy handmade paper business and Merline Engle is currently working with parents to plant and grow Caribbean Scotch Bonnet peppers in Haiti, which she then buys to create Merline's Hot Sauce in the U.S. They are also looking into aquaponics and agricultural programs.
Close to 500 parents are involved in a number of self-governed Village Savings and Loan groups that meet weekly, pool their money and make decisions on loans to residents ranging from several hundred to several thousand dollars.
"It's a way for people to have access to credit, which poor people typically don't have access to, and to have credit at very, very low interest rates. It's also a way for people to develop good collaboration skills," John Engle explains. "All of this is part of an effort to establish a school-based community development model."
For more information, visit www.haitipartners.com or www.haiticlinic.org.