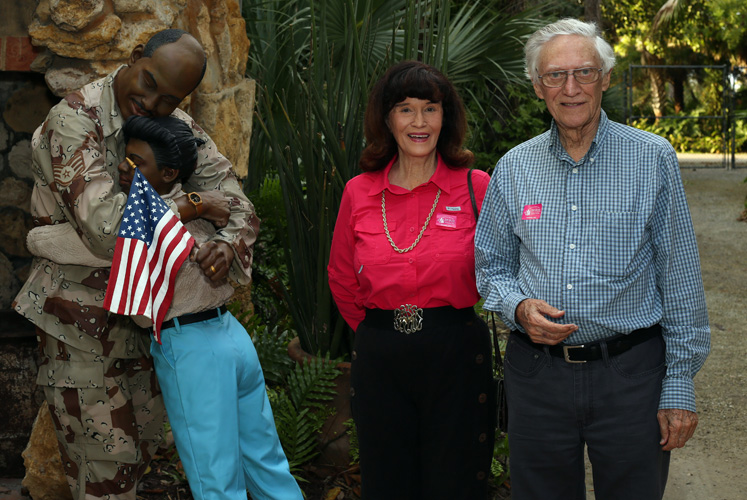 McKee Botanical Garden has taken things to new heights with its newest Seward Johnson exhibition – Celebrating the Familiar. McKee hosted a special donor preview reception last Thursday before the exhibit opened to the public on Saturday.
The collection features Johnson's monumental sculpture "Embracing Peace," a 30,100-pound work that seemed right at home among the mature flora of the 80-acre tropical hammock. Inspired by the iconic V-J Day photograph by Alfred Eisenstaedt of a U.S. Navy sailor kissing a nurse in Times Square on Aug. 14, 1945, the sculpture looms larger than life among McKee's towering Royal Palms.
Last Thursday, guests strolled through the garden, maps in hand, to get a sneak peek at the exhibit featuring sculptures from Johnson's Celebrating the Familiar series. Unlike "Embracing Peace," the other 20 bronze sculptures are life-sized, depicting "beautiful moments of ordinary life," as seen from Johnson's perspective.
Although he was a painter earlier in his career, Johnson is perhaps the most widely recognized sculptor of his time. He has had more than 450 sculptures featured in private collections and museums, and publicly, his work can be viewed in Times Square, Rockefeller Center, the Pacific Place of Hong Kong, at Les Halles in Paris and the Via Condotti in Rome.
Among the trompe l'oeil style statues at McKee are a father and son fishing near the lily pond, the touching embrace of a soldier returning from war, a woman seeking the perfect spot for a picnic and, appropriately, a gardener caught in the act of pruning some bushes.
Near the site of the Children's Garden, currently under construction, a little girl plays with a Hula Hoop while another, watering can in hand, lovingly tends to her flowers.
Volunteers had some fun at the reception, freezing in place as guests approached the hors d'oeuvre and wine stations provided by Sealantro at the Garden Café – forcing people to take a second look.
At 88, Johnson continues to set the mundane activities of everyday life in bronze, poignantly capturing the beauty of simple acts. He felt so strongly about the importance of making contemporary sculpture accessible to all that in 1984 Johnson founded Grounds for Sculpture, a public sculpture garden and museum in Hamilton, N.J.
If Johnson's work seems familiar, perhaps you've seen the billowing skirt of his 26-foot "Forever Marilyn" or, closer to home, you may recall his Celebrating the Familiar and Beyond the Frame collections when they were on display at McKee in 2014.
"We are so grateful to all of our sponsors of the Seward Johnson Celebrating the Familiar exhibition," said Christine Hobart, McKee executive director. "It is because of their generosity that we are able to continue to feature award-winning exhibitions year after year."
Celebrating the Familiar will be on display at McKee through April 28. For more information, visit mckeegarden.org or sewardjohnsonatelier.org.
Photos by: Leigh Green
Click HERE to see more or buy photos