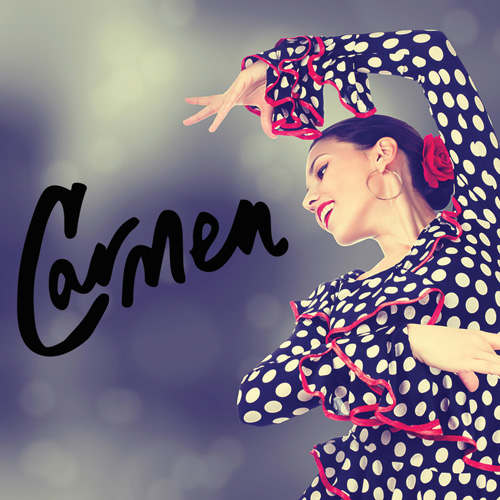 Obsession, betrayal, jealousy, murder, colorful costuming, fiery dancing and, of course, the magnificent, compelling music. The Vero Beach Opera season opener has it all, as it opens Sunday, Jan. 13, at the VBHS Performing Arts Center with Georges Bizet's "Carmen," one of the most popular, most frequently performed operas in the history of the genre, although it did get off to a bit of a slow start: When "Carmen" opened in Paris in 1875, its breaking of conventions shocked and scandalized its first audiences, says Wikipedia. To tell the story, set in Seville circa 1820 – Don José, a naïve soldier, is seduced by the fiery gypsy Carmen, but loses her love to the glamorous matador Escamillo, with deadly consequences – VBO has gathered a powerful cast: In the title will be Uruguayan soprano Maria Antunez, described by critics as "impressive, remarkable, smoldering … with a flexible, dark voice." Antunez returns to VBO after appearing in the title role of last season's "Madama Butterfly." Don Jose will be sung by tenor Marin Nusspaumer, who sang Pinkerton opposite Antunez's Butterfly. Of Nusspaumer, critics write that he "possesses star potential, with a tenor reminiscent of Domingo." The third participant in this incendiary triangle, Escamillo, will be portrayed by "rising star" Ethan Simpson, a singer and actor with, says the Chicago Tribune, "a robust baritone voice and compelling stage presence." Expect an exciting afternoon of excellent opera, with orchestra and English subtitles. Curtain: 3 p.m. Tickets: $30 to $100. 772-564-5537; 772-569-6993.
Opera aficionados will wish to make note of another musical opportunity this coming Wednesday. Soprano Anush Avetisyan, who sings the role of Don Jose's girlfriend Michaela in the VBO's presentation of "Carmen" Jan. 13, will be featured in the Music Angels Education Fund Concert at First Presbyterian Church Jan. 16. Avetisyan was winner of the Deborah Voigt/Vero Beach Opera Foundation International Vocal Competition in 2016. Time: 7 p.m. Tickets: $50. 772-234-2736.
What stirs the heart as do romance and revolution? To open its 29th season, the Atlantic Classical Orchestra musically addresses that (rhetorical) posit this Tuesday, Jan. 15, at the Community Church of Vero Beach. Under the baton of David Amado, "Romance and Revolution" will feature three masterpieces, beginning large with Grieg's dazzling, virtuoso "Piano Concerto in A Minor, Op 16," performed by world-renowned pianist Philippe Bianconi; Beethoven's seminal Third Symphony "Eroica," filled, says the concert promo, "with the values and fervency that fueled the French Revolution"; and finally, slowed and softened with Paterson's gentle 21st Century portrait of Vermont's Green Mountains – "Dark Mountains." Time: 7:30 p.m. For ticket information: 772-460-0850.
The music of Carole King, multi-Grammy winner and the most successful female songwriter of the latter half of the 20th century, according to Wikipedia, will be the focus this Friday, Jan. 11, when Live! from Vero Beach presents "Tapestry: A Tribute to Carole King" at the Emerson Center. "Tapestry", of course, is the title of King's breakthrough album, which sat atop the U.S. album chart for 15 weeks in 1971 and remained on the charts for more than six years. This "beautiful re-creation of the Carole King songbook," according to the show promo, will be "performed with a live band and multi-media images." Time: 7 p.m. Tickets: $25 to $95. 772-234-4412; 800-595-4849.