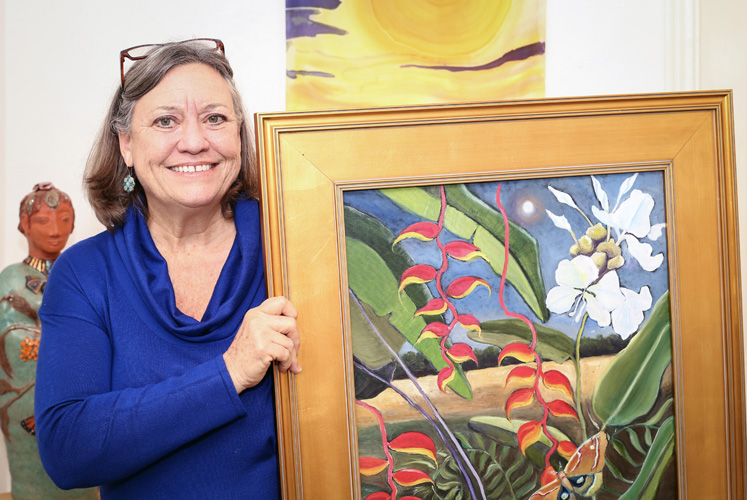 Painter and ceramic sculptor Sharon Sexton is enjoying her first solo exhibition. And it is not in Tiger Lily Art Studios and Gallery, the cooperative workspace that she co-founded in Vero over a quarter-century ago.
Instead, Vero's Center for Spiritual Care is the venue for "Reflections," a show of Sexton's nature-themed work in acrylic paintings on canvas, polychrome terracotta sculpture, and painted silk banners. The exhibit continues through Friday, Jan. 25.
Sexton professes to have been "embarrassed" about her work for much of her art career. The confidence with which she creates art does not extend to talking about it – hers or anyone else's. She used to believe that "real" art needed verbal justification, the kind you learn through a collegiate art degree program. Sexton never went to college.
Instead, Sexton benefited from an intensive study of art during her high school senior year in Fort Lauderdale, where she grew up. As an independent study student, she took seven classes in art.
"I just lived in the art department. I did everything from raku-fired ceramics, to painting, to sculpture. That was a wonderful thing, because I didn't go to college or anything. I did a class in drawing after that at IRCC, but that was about it."
In recent years she has come to the conclusion that for her, having an art school diploma is not as important as "what you do" with your art.
"I don't need to be embarrassed, because I've worked in art for more than 40 years now. My whole life," she says.
Much of that career has been spent on Treasure Hammock Ranch, the Sexton family property west of town where she and spouse Sean Sexton built a home 38 years ago. That's where they raised their daughter Julia, who lives with her family in Portland, Ore., and son Mike, who lives nearby and manages the ranch.
Sean Sexton, scion of the Sexton cattle ranching family, is a poet and visual artist whose cultural pursuits have made have made him as well-known in Florida as his skills as a cattleman. In the late 1970s, while earning a Bachelor of Animal Sciences from the University of Florida, Sean simultaneously gained an art education by hanging around the university's art department, where he sat in on drawing classes, attended critiques and conversed with professors.
In addition to being a working cattle ranch, Treasure Hammock is home to an Eden of native flora and fauna which, along with Sharon Sexton's lush Southern flower garden, provides the inspiration she needs for her art.
Almost every painting on display in the current exhibition has animals in it, except for one that depicts a moonrise over the ocean. That painting, as well as five ocean-themed, painted silk banners that take up a long wall in the show, are unusual for being long vertical compositions, rather than wide horizontal ones.
Another landscape painting is a square composition, where the pads of blooming water lotuses and the clouds of an intensely blue sky meet in a clash of pattern at the horizon. The top part of that painting is reminiscent the Georgia O'Keeffe's paintings in her "Sky Above Clouds" series, inspired by the view from a jet liner.
"That was kind of the idea for me, too, from flying above – because the clouds are so beautiful."
The yellow lotuses that meet the clouds at the painting's horizon were inspired by a painting trip she and Sean took to Paynes Prairie, a state nature preserve just south of Gainesville.
"There were thousands of lilies in bloom," says Sexton.
No sooner did the couple set up easels to sketch the scene, "some cops with a bullhorn" told them they were in a restricted area and had to leave.
"We were packing up and they hollered at us to 'Step it up!'" Sexton recalls, with a frown that conveys the indignity of it all.
"But I got a lot of beautiful photographs," she adds.
Nature also abounds in the ceramics on display, most of which depict nesting birds. All of Sexton's avian subjects are found in Indian River County: its beaches (a skimmer), marshes (red-winged blackbird) and sandy scrub and pastureland (meadowlarks and a nighthawk). No porcelain Boehm birds, these.
Sexton's terracotta sculptures, colored variously with mineral stains, ceramic glazes and acrylic paint, have a folksy quality about them that, while well-sourced as to detail, is playful, not pedantic in spirit. Modeled as an entity with bits of their environment about them, many of the bird ceramics are wall mounted.
A sculptural pair of improbably (but naturally) colored Painted Buntings might be identified by some art lovers as spiritual relations of the parrots that Mexican artist Frida Kahlo famously depicted.
"People say, 'You paint like Rousseau' or 'Your palette is like Frida Kahlo's,'" Sexton says.
"And no wonder; I love them. But I didn't know who they were when I was developing my style. I didn't really look at art. Walter Anderson (the Southern U.S. painter renowned for highly stylized nature depictions) is another one. When I saw his work, it made so much sense to me."
Sexton relates her artistic fondness for color and pattern to her childhood fascination with her interior decorator father's wallpaper sample books.
"They were as big as me when I was a little girl. I spent hours just turning the pages, feeling their textures and looking at the patterns – Florida tropical patterns from the 1950s and '60s. Just gorgeous!"
In fact it was her father, Al Koerner, who made her childhood in Florida "magical" – full of art and books, sunny weekends at the beach and a home garden that was out of this world.
Born and raised in New Jersey, Koerner enlisted in the Air Force soon after the U.S. entered World War II. A flight engineer on a bomber in the South Pacific, he visited the island of Biak, whose strategically important airfields had in 1944 recently been captured from the Japanese. The island's smothering equatorial heat was not his chief memory of the place. According to Sexton, her father loved Biak's rampant tropical vegetation, limestone caves and native population.
After the war, Koerner worked as an independent interior decorator in New Jersey until 1957, when he moved his wife and three children to Fort Lauderdale, re-establishing his business in nearby Pompano Beach.
"Here was a guy from New Jersey who moves to Fort Lauderdale and plants bamboo and crazy foliage all over the backyard," says Sexton. "I was his little buddy. I developed this total love of plants."
Her love of animals was abetted by her dad's habit of bringing home animals from the pound, including a monkey named Lynn who was allowed free range of the neighborhood. He wanted to add a lion to his personal jungle, but "mother put her foot down on that," Sexton says.
"I had a totally enchanted childhood. That's why I'm so enthusiastic and enchanted about life. The true beauty of things is still always apparent to me."