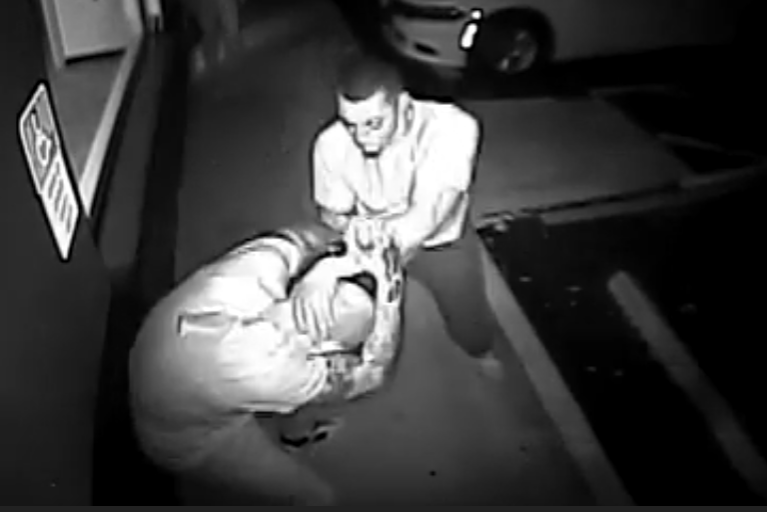 VERO BEACH — A 36-year-old man who was beaten unconscious outside a local bar in November and suffered serious injuries has been released from the hospital, according to a state prosecuting attorney.
The victim, Steven Ronshaugen, suffered "bleeding on the brain" and a broken eye socket after the 2 a.m. incident Nov. 11 outside of Filthy's Fine Cocktails & Beer, 1238 16th Street, reports show. Ronshaugen was taken to Lawnwood Regional Medical Center & Heart Institute in Fort Pierce.
Assistant State Attorney Robyn Stone, who is prosecuting the case, confirmed Ronshaugen was released from the hospital, but could not say when. Stone said the state is in the process of getting Ronshaugen's medical records, which should take a few weeks.
The November attack captured on the bar's surveillance video shows Christopher Browning, 32, punching the victim nearly 30 times and kicking him twice while he was on the ground. Browning, of the 800 block of 9th Street Southwest, was charged in November with attempted second-degree murder.
State prosecutors in December added a charge of aggravated battery with great bodily harm. If convicted on the two charges, Browning could face up to 30 years in prison.
The owner of the bar told police Browning was a regular patron that never caused any problems, reports show. A staff member said Ronshaugen was provoking Browning inside the bar before the attack.
Security removed Ronshaugen from the bar. When Browning went outside, he and Ronshaugen exchanged words and then Browning attacked Ronshaugen, police said.
Vero Beach police found Ronshaugen slumped over the sidewalk with blood all over his face, reports show.
Browning was released Dec. 21 from the Indian River County Jail on $25,000 bond. Browning was due in court Jan. 16.