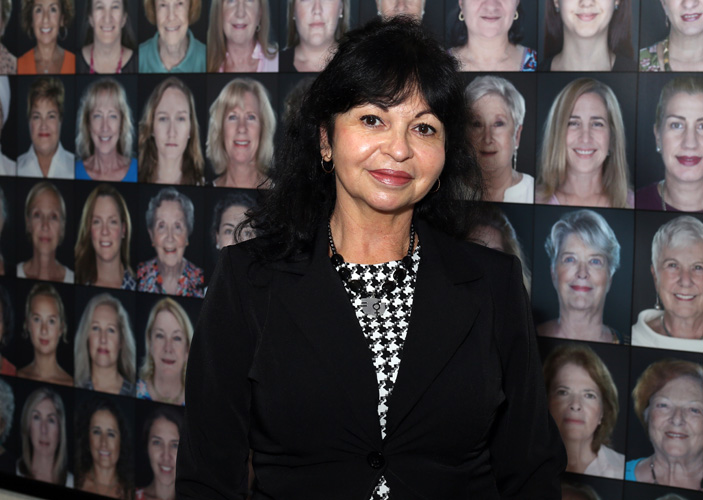 "She asked me not to show her face. I thought of this as a symbol of diversity. She is a symbol of someone who has no voice," says Niurka Barroso. She is speaking of the woman in her "Faces of Eve" photo project, whose back-of-the-head "portrait" features a sleek brunette head sporting a long, loose braid.
On display at Raw Space in Vero Beach through Jan. 29, the 140 headshots show women of all ages and from all walks of life. They are arranged in a mural-sized format 13 ½-feet-high and a little under 16-feet-wide; 20 heads long, seven rows high. The visages of all but that one anonymous woman confront the viewer from the wall opposite the gallery's main entrance.
The portraits include those of Neli Santamarina, businesswoman, art patron and owner of the shopping plaza in which Raw Space is located, and Silvia Medina, the experimental gallery's curator.
With Barroso, Medina co-directs Art Concept Alternative, a business that represents a group of international artists. While none of their faces are included in the photo mural, some of them have works on display alongside "Faces of Eve" in the concomitant "Women by Women" art exhibition, featuring the artwork of 43 women.
Among the faces in Barroso's mural are those of former Vero Beach Museum of Art executive director Lucinda Gedeon; Vero's beloved Alma Lee Loy; Sharon Smith Theobald, president/CEO of Art Appraisals International; Vero Beach Wine and Film Festival founder/executive director Jerusha Stewart; and 32963's own society editor Mary Schenkel.
A number of local artists are represented here as well (including the writer of this article), not only in the photo mural, but also in an exhibition in the second largest of Raw Space's three gallery spaces. Some of those women, whose faces the visitor can match to their art, include Jan Miller, Emily Tremml, Lila Blakeslee, Deborah Gooch, Jill Kerwick, Lou Mullan, Quentin Walter, Maria Sparsis, Minakshi De, Suzy Mellott and Barbara Landry.
It is a big show, and a big project made bigger by 10 adjunct programs – lectures, workshops, yoga classes and even a "Battle of the Sexes" fine art game (co-presented by this writer) offered throughout January. There will also be an evening reception at the gallery on Jan. 11 that promises to be packed with special presentations. If the mobbed Dec. 14 opening night party is any indication, you'll want to get there early.
According to Barroso, the "Faces of Eve" project had its inception about a year ago, during her extended period of travel in Europe.
Something of a rolling stone, Barroso was born in Cuba and enjoyed the early part of her professional career there. After receiving a degree in Ancient Languages from Havana University in the mid-1980s, Barroso wrote copy for an Italian news service before taking a job in with Fondo Cubano de Bienes Culturales (Cuban Fund of Cultural Assets).
"I was director of publicity. So I started to work with photographers," she says.
"One of them asked me, 'Why don't you write about photography? We need people who write about photography.'"
Soon afterward, Barroso began her research on the Cuban Photographic Club (1935-1962), a slice of Cuban history about which no literature existed. She eventually uncovered some 50,000 negatives buried away in drawers and dusty cabinets in people's homes, offices and forgotten storage nooks. The negatives are now archived at Havana's Cuban Fototech, a museum dedicated to photography.
The same photographer who set her on her research task, Adelberto Roque, taught Barroso how to use a camera and develop film. After a year under his mentorship, Barroso was selected for a position with Agence France-Presse (AFP) as a photojournalist.
"I worked for them for 12 years," she says. During that time she took pictures of politicians and celebrities at home and abroad, and for the first half of her tenure was the only woman AFP photographer in Cuba.
Photojournalism strongly influenced the photos she began to take as an independent artist. These included visual essays about child patients in a Cuban hospital's oncology ward, and Cuban subcultures, including hippies (also known as "frikis," or freaks) and transvestites. Barroso was also part of a U.S.-Cuba cultural exchange, in which she spent months in Phoenix, Ariz., photographing the residents of the Pima Maricopa Reservation, as well as Arizona's biker subculture.
In 2005 Barroso emigrated to Canada, where she established a studio and was later employed as a photojournalist for a travel magazine, happily indulging her love of the open road.
She alighted in Vero a year ago, after an initial visit about eight years ago, when she exhibited her work at the short-lived Intrepid Gallery in Pelican Plaza.
"I fell in love with this town then. It resonates with me," she says.
During recent rambles through Spain, Portugal and Italy, Barroso found the topic of gender came up frequently in conversation.
"I came to Vero connected with that subject. When Silvia asked me to be an artist-in-residence at Raw Space, I wanted to do something about the community; something about the women here. And so the project 'Faces of Eve' was born. I created the 'Women by Women' aspect of the show, as well."
Setting up her camera and lights in the smallest gallery at Raw Space, she photographed women from Labor Day through mid-November. Barroso shot her subjects at uncomfortably close range, using a ring light that cast a form-flattening brightness across each face (you can see twin reflections of the circular light in the women's eyes). A uniform black background isolates each head in its own strict precinct; the effect of the whole is like a chart of celestial bodies captured by an astrophotographer's lens.
The portraits are arranged in no particular order, save one dictated by the artist's sense of visual balance. The aim was to present all the women as equals, says Barroso, who notes that she attempted to represent area women of all social and cultural backgrounds, ethnicities and ages – the youngest is 18 years old and the oldest is over 90.
In the long run, asserts Barroso, "it doesn't really matter who you are. Everybody looks the same."
If that is true, how were these women in particular selected for the project? In short, the answer is word of mouth.
"First of all, I invited women from the Raw Space mailing list; so all of those women were bringing in the next subjects and then the next. Everything grew naturally, organically. That was the beauty of it."
At one point Barroso began to include certain women of standing in the community, because without them, a collective portrait of Vero's women would not be complete.
"I would like to make my home here in Vero," she says, wistfully.
"But this project, 'Faces of Eve,' is an itinerant project. I don't know yet where I will do it next. It has to be a place that resonates with me. Every time I photograph someone it has to resonate."