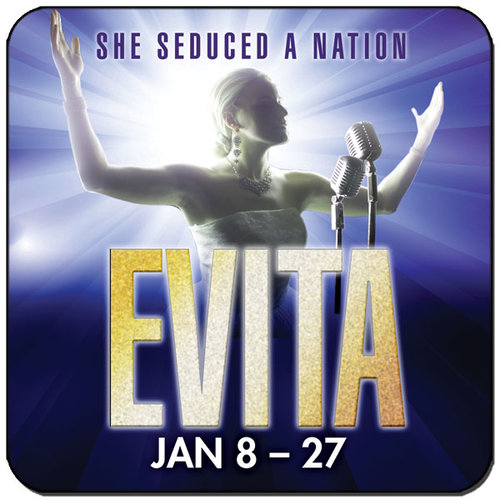 Definitely for your "Do Not Miss This One" list: one of Broadway's greatest musicals, Tim Rice and Andrew Lloyd Webber's 1979, seven Tony-winning smash hit "Evita," opens on Riverside Theatre's Stark Stage this Tuesday, Jan. 8.
This is a show you can see for the first time, or again and again, and feel the same exhilaration and excitement. Of course, "Evita" tells the story of Eva Peron, one of the most fascinating women in history who, says the theatre promo, used her charm and charisma to rise from her penniless origins to political power as the first lady of Argentina at the age of 27.
Acclaimed and adored as a champion of the people, Eva used her position as first lady to fight for causes she believed in, including women's suffrage and improving the lives of the poor. Her glamour, power and greed ended with her heart-breaking death from cancer in 1952 at the age of 33, one month after her husband's second inauguration. She was given a funeral fit for a head of state.
"Evita" blows audiences away with its "electrifying score of pop, jazz and Latin influences, including the unforgettable grand anthem, 'Don't Cry for Me Argentina.' To direct and choreograph this exciting theatre event, Riverside's Producing Artistic Director/CEO Allen D. Cornell and Managing Director/COO Jon R. Moses have brought back to Riverside Tony Award- and Drama Desk Award-nominated theatre director and choreographer Marcia Milgrom Dodge.
"When I work on revivals, I dig into the characters and relationships resulting in intimate rather than epic storytelling," she says. Dodge's goal is to "illuminate Eva's motives, in an empathetic way," allowing the audience to relate to Eva "with wonder, fascination, excitement, danger and passion."
"Evita" runs through Jan. 27. Curtain: Tuesdays, Wednesdays, Thursdays, 7:30 p.m.; Wednesdays, Saturdays, Sundays and Jan. 17, 2 p.m.; Fridays and Saturdays, 8 p.m. Tickets: start at $35. 772-231-6990.
On the heels (read 'toes') of Ballet Vero Beach's original Christmas extravaganza, "Nutcracker on the Indian River," comes Program 2, "Premiers," taking the VBHS Performing Arts Center stage this Friday and Saturday, Jan. 4-5.
According to the Ballet Vero Beach promo, the aptly named program includes the company premiere of Matthew Carter's lush and romantic "French Songs," staged to Joseph Canteloube's "Songs of the Auvergne"; a world premiere by Ballet Vero Beach Ballet Master Camilo A. Rodriguez; and the acquisition of Ariel Grossman's exquisitely crafted "Ori," which garnered raves at the 2017 Riverside Dance Festival.
Curtain: Friday, 8 p.m.; Saturday, 2 p.m. and 8 p.m. Tickets: $10 to $75. 772-905-2651 or info@balletverobeach.org.
Shift down from the often-frenetic Holiday High Gear into Stroll Gear this Friday, Jan. 4, and enjoy the friendly art-filled vibe of the First Friday Gallery Stroll in Historic Downtown Vero Beach. The many diverse galleries and shops all along and around Vero's "Main Street" (aka 14th Avenue), between 19th Street and 23rd Street, open their doors in "a lively gallery reception atmosphere."
Enjoy refreshments and chat up the artists always happy to discuss their work. Each month, the galleries and several businesses exhibit new artwork for you to check out, and be sure to drop by the Main Street Vero Beach Studio and Gallery. Linger longer and make an evening of it at one of the downtown's excellent eateries. Time: 5 p.m. to 8 p.m..