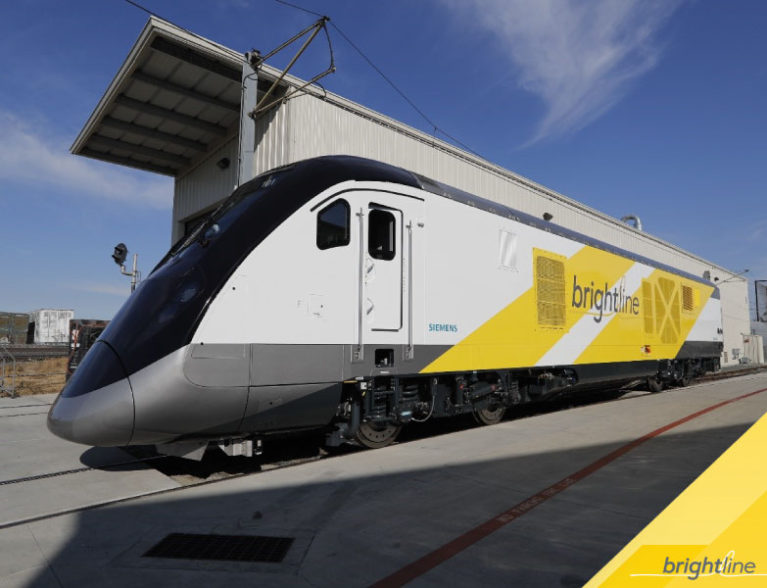 Despite yet another in a series of legal defeats in various courts, Indian River County is not ready to give up its fight to stop high-speed passenger trains from zipping along the coastal ridge between Oslo and Sebastian.
County Commissioner Peter O'Bryan and Assistant County Attorney Kate Pingolt Cotner say the county is actively exploring its options and considering an appeal in the wake of U.S. District Court Judge Christopher R. Cooper's Dec. 24 dismissal of the county's latest lawsuit against Virgin Trains USA, previously known as Brightline.
"We're currently analyzing the ruling," Cotner said. "We still have lots of different avenues."
Prior to the judge's ruling, the County Commission approved spending another million dollars on the fight, in addition to $3 million already spent.
"The ruling from Judge Cooper was obviously disappointing," said O'Bryan, who believes the county will most likely appeal the ruling to a higher court. "The County Attorney's Office is reviewing the entire summary and evaluating what options might be available to the county.
"I believe there is a 30-day window for an appeal so I would imagine this will come back to the board sometime in early January."
O'Bryan was the only commissioner to support accepting a November settlement offer from Virgin Trains USA that would have ended the county's costly legal battle with the company. But he says he now stands in solidarity with other commissioners.
"Regardless of my opinion on the settlement, the Board made a policy decision and now we will just work hard to make that policy decision successful," he says.
Other commissioners did not respond to requests seeking comment.
Cotner and County Attorney Dylan Reingold say the county still has several ways to continue the battle against Virgin Trains USA. In addition to filing additional lawsuits, the county can lobby state legislators to introduce bills that could stymie future expansion efforts by the company. Commissioners can also call on members of Congress to put more pressure on the U.S. Department of Transportation to provide better oversight on plans submitted by Virgin Trains USA.
Two Republican Congressmen, Brian Mast and Bill Posey, have already swung into action against the train company's plans. In December, they called on the state to slow down efforts by Virgin Trains USA. They also asked Transportation Secretary Elaine Chao to deny the company's request for more time to sell $1.15 billion in bonds to raise money needed to extend high-speed service from West Palm Beach through Indian River and other counties to Orlando, but that extension has since been granted.
Cotner said the county is conferring with outside legal counsel to evaluate what additional actions it can take to try and stop Virgin Trains from running 32 trains through the county daily at speeds up to 120 miles an hour. The County Attorney's Office is expected to present all options to the commission during its Jan. 8 board meeting, she said.
In the meantime, the county already has another legal challenge in the works. Commissioners in early December decided to file a separate lawsuit to try and block Virgin Trains USA from seeking to make the county pay for railway crossing upgrades it needs to run high-speed passenger train through Vero Beach.
Commissioners voted to hire the law firm Murphy & Walker, P.L., at a rate of $290 per hour, to seek a declaratory judgement on whether the county or Virgin Trains USA should pay for railway crossing upgrades and ongoing maintenance that officials estimate will cost at least $10 million over the next 14 years if the project proceeds.
Officials for Virgin Trains USA, declined to comment on the county's new lawsuit, which hasn't yet been filed. They expressed cautious optimism that Cooper's ruling will allow them to move forward with their plans.
Ali Soule, spokeswoman for Brightline/Virgin Trains, said the company still hopes to begin construction of the new West Palm Beach to Orlando route in March 2019 and have trains running on the new route by late 2021 or early 2022.
The company is in the process of narrowing down a list of possible sites for construction of a Treasure Coast station where the train would make stops and serve area residents, Soule said.
"Our team recently toured station sites in Stuart with members of the city staff and economic development committee," Soule said. "We also have toured station sites in Fort Piece.
"We continue to have ongoing conversations and the next step would be to conduct a ridership study."
In his ruling, Judge Cooper dismissed the county's lawsuit which alleged that the U.S. Department of Transportation wrongly granted permission for the company to use private activity bonds to finance the project. Cooper also dismissed the county's challenge of the validity of an environmental impact statement conducted by the U.S. Department of Transportation conducted.
Cooper, who issued a summary judgement, provided little detail explaining what he based his decision on.
Virgin Trains USA, then Brightline, began running high-speed passenger trains between Miami and West Palm Beach earlier this year. Many Indian River County residents and political leaders have opposed the plan to extend service through the county to Orlando because of concerns about cost, safety and quality of life.