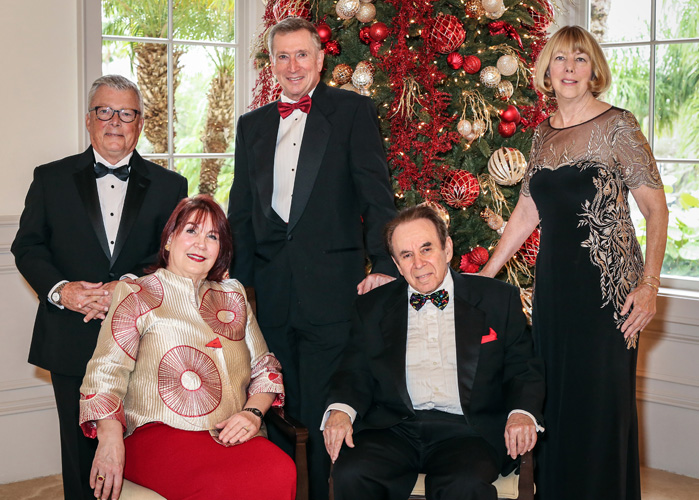 In celebration of its 30th anniversary, the Vero Beach Opera has launched a '$300,000 Endowment Challenge – We've Come a Long Way, Baby.' And so it has.
Much as a hothouse orchid unfurls into glorious bloom with the perfect balance of nature, nurture and time, so too has the Vero Beach Opera grown into one of the city's shining cultural stars – a producing/performing company that attracts such internationally lauded luminaries as Metropolitan Opera stars Deborah Voigt, Marcello Giordani and Paul Plishka.
From its new headquarters, a suite in the Tocqueville Building on Cardinal Drive, Joan and Román Ortega-Cowan, president and artistic director, respectively, board chairman Louis Lawson and board member/challenge chair Bill LaViolette discuss their Endowment Challenge goals as well as the overall VBO management philosophy.
Their original endowment fund was created in 2015 by Tommy and Simonetta Steyer through the Indian River Community Foundation in memory of their son, Andrzej Steyer. A practical tool of forward-thinking nonprofit organizations, endowment fund income, says Román Ortega-Cowan, supports sustainability. The infusion of additional funds via the 30-Year Challenge will build on that sustainability and enable growth through the next three decades.
Earlier this month, LaViolette announced the Endowment Challenge at the Amici Society's annual Christmas luncheon. The society is a support group of VBO members committed to its mission and vision.
As LaViolette tells it, the response was almost dizzying – and immediate. Lawson started things off on a 'high C', announcing he would make "a $15,000 challenge gift that will double contributions up to a total of $15,000, when received over the next 30 days," potentially raising 10 percent of the challenge goal.
It didn't even take 30 minutes to meet Lawson's generous challenge gift, as VBO members put their money where their hearts are.
"By the time I got to the podium," LaViolette remembers with great pleasure, "Louis was out $10,000."
Lawson laughs and says he found himself writing checks at warp speed.
"By dessert, we'd reached $56,000," says LaViolette. The fund has since grown to $68,500, leaving $231,500 left to raise.
"It was like a little explosion. Now we have a really nice start," Lawson adds.
Now retired from two divergent career paths, Lawson is uniquely suited to his position as VBO board chair. He was a New York-based lyric baritone with the Metropolitan Opera Young Artists Studio, and performed professionally with summer opera companies as well as with the Robert Shaw Professional Chorale. He explains his second career as being in "senior management and board of director roles, including CEO, with major life insurance companies. I mention this as it is a retirement dream come true for me; to draw on that background in support of VBO."
"We don't spend money we don't have," says the uber-frugal Román Ortega-Cowan. Neither are funds spent "willy-nilly." Rather, he says their operating guidelines of managing to a break-even budget are documented, firmly adhered to and embraced.
Joan Ortega-Cowan explains that the $300,000 is a first step in creating a firm financial foundation toward a 3- to 5-year transition plan, with the likely addition of two paid, key roles: assistant artistic director and executive administrative assistant. She notes that the challenge has also inspired a VBO donor to make an anonymous $100,000 testamentary bequest.
The VBO saw its genesis in 1988 when beloved local musician Eloise Rogers and fellow opera enthusiasts formed the Vero Beach Opera Guild to present concerts using excellent local talent.
As fate would have it, Román Ortega-Cowan, a renowned operatic baritone and local banking executive, was among those performing in the Opera Guild's first concert. At the time, he envisioned the Guild eventually transitioning into an entity that would produce operas, rather than simply present concerts. Moving, as he describes it, "from an amateur to a professional producer platform."
Over time, that transition was made – with a pleasant lack of the high drama that often accompanies such change. In 2003 the Guild was reorganized, with a new board focused on a "more professional platform to produce and present grand opera."
In 2006, the Vero Beach Opera Guild officially became Vero Beach Opera, Inc., and the Ortega-Cowans assembled a successful advisory group, including the board and other members of the community. Together they brought to the table a priceless body of knowledge and expertise, as well as an amazing depth of dedication to VBO goals. Each and every VBO supporter, including the Ortega-Cowans, volunteers their time.
Bringing grand opera to a community of about 17,000 is a costly endeavor, says Román Ortega-Cowan, resulting in a focus on "quality, not quantity."
From the beginning, the VBO also had a mind to support, encourage and nurture young talent. This is accomplished through scholarships, the annual international competition, and through a warm and welcoming homestay program, which enlists community members to provide housing accommodations to artists and competition judges. That last is extremely popular with visiting artists and has the additional benefit of sparing the VBO the expense of costly hotel rooms at the height of season.
"Our style of artistic management is we treat them like family," says Román Ortega-Cowan. "When they're here, they're part of the family."
He says artists frequently comment that performing in Vero Beach "is not like work," adding the relationships are wonderfully symbiotic.
The 2019 Season opens Jan. 13 with Georges Bizet's "Carmen," one of the world's most popular, most frequently performed operas. It has it all – obsession, betrayal, jealousy, murder, colorful costuming, dancing and, of course, magnificent, compelling music. The "Habanera" from Act 1 and the "Toreador Song" from Act 2 are, without doubt, among the best known of all operatic arias.
The choice is an excellent one, not only for its global popularity, but also because "Carmen" was the VBO's very first production. It opened March 20, 2004, to a sold-out house at the St. Edward's School Waxlax Auditorium.
On Feb. 2, "Bel Canto Concert" features tenor Matthew White in an evening of Rossini, Bellini and Donizetti arias, duets and ensembles. White won First Place in this year's Deborah Voigt/Vero Beach Opera Foundation International Vocal Competition.
Then, from March 19-22, it's the Rising Stars Vocal Competition, with the charming international superstar tenor Marcello Giordani.
For more information, visit verobeachopera.org.