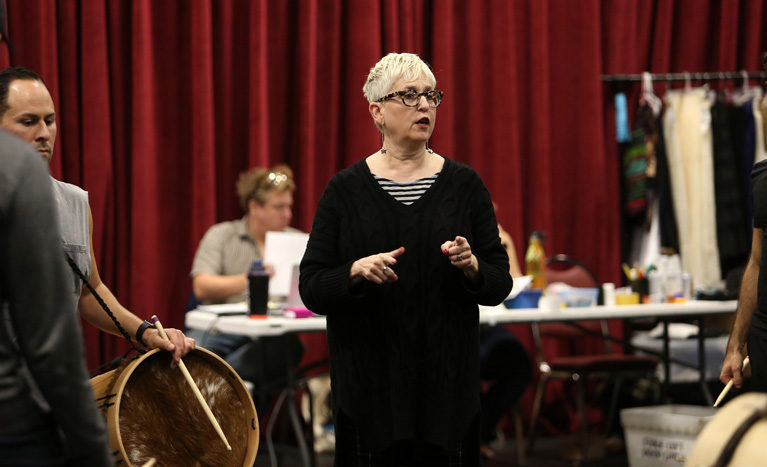 From composer Andrew Lloyd Webber and lyricist Tim Rice to directors Harold Prince and Alan Parker, men have stepped up to recount the rags-to-riches drama of the notorious Eva Peron. Now, with Riverside Theatre's upcoming production of the musical "Evita," it will be a woman's turn to tell the story.
"I'm going to bring my DNA to the project," says Marcia Milgrom Dodge, one of only a handful of women to direct this landmark musical. "I have a big responsibility as a woman helming this production."
Dodge, nominated for a Tony Award for her 2009 direction of the revival of "Ragtime," hastens to say there's no reason a man cannot understand a woman's story; and vice versa. But, she adds, it's "nice to have a woman direct a woman's story."
"Evita" opened in London in 1978 and on Broadway in 1979, where it won eight Tony Awards, including Best Musical and Best Score. Its iconic anthem is "Don't Cry for Me, Argentina."
The storyline revolves around Eva Peron, dubbed Evita by the people who both loved and hated her, who dug her way out of poverty to find fortune and fame as the wife of corrupt Argentine dictator, President Juan Peron.
Dodge says 'no' to people who maintain the only way to do the show is to fill it with "razzmatazz." Instead, she wants to dig into its main character to discover truths.
"I'm spending two hours with this woman; her rise and her demise," she says. "I want to understand why she does what she does."
Indeed, Dodge should bring some different insight to Eva Peron.
At age 63, with decades of professional experience in an industry not known for letting girls play in the boys' clubhouse, Dodge has the distinction of being the first woman hired by the Kennedy Center to direct a major musical – the revival of "Ragtime" in 2009.
And that came about because "Ragtime" composer Stephen Flaherty and lyricist Lynn Ahrens told Kennedy Center president Michael Kaiser that they wanted her to direct the musical, having known of her work from two of their other productions, "Seussical" and "Once on this Island."
"Lynn had been aware of my work from the late '80s," Dodge said. "I wasn't new to them, but I wasn't in their camp. I was off doing regional theater."
By 2009, Dodge had not only made it to Broadway, she was thrust into the heady atmosphere of the Tony Awards as a nominee for best direction of a musical. (The award went to Terry Johnson for the revival of "La Cage aux Folles.")
"It didn't change my life," she says. "But it was one of the most exciting times in my life because I felt welcomed into the Broadway community, which I admired from afar."
As a woman in a man's world, Dodge says "I reach out and I make myself present and accessible for all the work and hopefully I'll get the call. But it's not lost on me that I'm a woman in a business that still has a long way to go."
She sees changes in regional theater, listing such women as Pam MacKinnon, newly hired artistic director of the venerable American Conservatory Theater in San Francisco; Hana S. Sharif, soon the new artistic director at the Repertory Theatre of St. Louis; and Stephanie Ybarra, recently named artistic director of the Baltimore Center Stage.
"It's going to be 2019 and things are just now shifting," she says. "Boards are taking a good hard look at how to take theater into the future."
Dodge is proud to be a role model to 21-year old daughter, Natasha Sydney Dodge, who will graduate this year from George Washington University.
No doubt about it, Natasha takes pride in her mother's achievements.
"For as long as I can remember, my mom has always taken risks in terms of reimagining traditional theater," Natasha says. "(She) is not afraid to claim her space as a woman in theater. It is so inspiring and I can see how it had led other women to follow her lead and take risks in their own art as well."
Moreover, she says her mother stands up for women who come forward in the #MeToo movement and it shows in her work, explaining, "Since then, you can see in her projects how much women have become even more central to her storytelling."
This is the fifth show Dodge has directed at Riverside Theatre, following "Anything Goes," "Dames at Sea," Blithe Spirit" and "Knight Life/The Girl Who Would Be King."
"We are fortunate to have Marcia back with us at Riverside," said Allen D. Cornell, producing artistic director. "As a busy, in-demand director, I knew she would enjoy the opportunity of doing this challenging piece of musical history."
Tackling such a big show means tearing into the script, which here has scant stage directions. In fact, Dodge says, its presentation is that of a rock album format.
"So you have to get in there and figure it out," she says. "Oscar Hammerstein wrote very thoughtful stage directions about where things were and how people felt during this event. There's none of that in this text. So it's all for me to figure out."
Since Argentina is famous for its love of the tango, Dodge is setting the show in a dance hall, utilizing her experience as a choreographer to tell the story through dance and song.
"I have some amazing triple threats," she says, of actors who can sing, dance and act.
One of those is Natalie Cortez, cast as Eva. Cortez was in the 2006 Broadway revival of "A Chorus Line" and played Anita in the 2009 revival of "West Side Story," famously directed by its librettist Arthur Laurents.
So, Dodge says, "two strong chicks" will be at the top of this production.
"It's a woman's turn."
"Evita" runs Jan. 8-27 at Riverside Theatre, 3250 Riverside Drive, Vero Beach. Tickets start at $35. Call 772-231-6990 or visit RiversideTheatre.com.