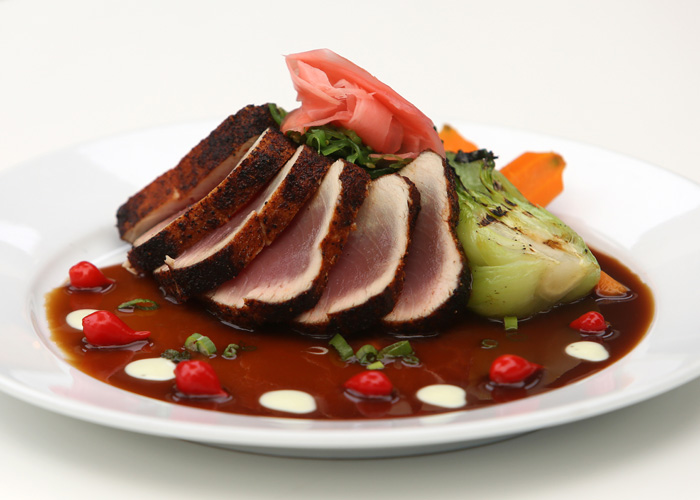 When there's only one restaurant in town, it had better be a good one.
Fortunately for residents of Indian River Shores, Citron Bistro – set among the oaks and palms in the heart of the Village Shops – is about as good a restaurant as you could hope for.
Jay and Joan McLaughlin have given residents of the northern side of our island – in a manner similar to their restaurant on Manhattan's Upper East Side (which is going strong entering its 35th year) – a close-to-perfect "neighborhood joint" for a pretty nice neighborhood.
After we decided to have dinner at Citron Bistro last Tuesday, there was only one more big decision to make: whether to dine inside or out.
We booked ahead (always a good idea here) and indicated we would prefer to dine al fresco. But when we arrived, even though there were several groups of people enjoying dinner under the colorful blue and green umbrellas in the courtyard, the night seemed a bit chillier than we had anticipated – and the hostess graciously offered to seat us in the warm, inviting dining room.
Our server quickly brought a basket of bread and took our drink order, a bottle of a medium priced ($46) chardonnay.
For starters, I decided to have the classic Caesar salad ($7), my husband ordered a small beet and goat cheese salad ($8), and our companion opted Citron's house salad ($7). The salads here (including the kale salad, which I've enjoyed on other visits) are always wonderful.
Then for entrées, I went with one of the evening's specials, a panko and herb encrusted yellowtail snapper ($36); my husband chose the day's fresh catch, grilled swordfish ($32); and our companion decided to try the butternut squash ravioli ($22).
My yellowtail snapper was a very nice piece of fresh fish, served in an Asian-inspired coconut and curry sauce, and topped by a giant shrimp. A great dish.
My husband's swordfish filet was a thing of beauty, served with a tasty roasted corn and shrimp salsa, but slightly overwhelmed – he said – by a towering mound of sweet potato mash until he set it off to the side. I liked the sweet potato. Our companion's ravioli was an excellent vegetarian option.
For dessert, we tried two of Citron's house-made specialties – the Key Lime pie ($8) and the blueberry bread pudding ($8). Either is a great way to end the meal.
With an appetizer, entrée and a modest bottle of wine, a party of two should be able to dine at the Citron Bistro for about $110 to $120.
For those who have not yet discovered it, we would describe Citron Bistro as an "under-the-radar" gem.
The food is as consistently good as any served in fancy dining establishments. The only thing some people find lacking are cocktails.
We would also remind those planning a visit to come on the early side. Citron Bistro's agreement with Indian River Shores is that everyone will be out and on their way home by 9:30, meaning that diners are not seated after 8 p.m.
It seems a bit early to us as well, but I reckon it is a small price to pay to have a great neighborhood bistro toward the northern end of the island.
I welcome your comments, and encourage you to send feedback to me at tina@verobeach32963.com.
The reviewer dines anonymously at restaurants at the expense of Vero Beach 32963.
Citron Bistro
Hours: Daily, 5 p.m. to 8 p.m.
Beverages: Beer & Wine
Address: 6260 North A1A, Indian River Shores
Phone: 772-231-6556
Photos by: Leigh Green
Click HERE to see more or buy photos