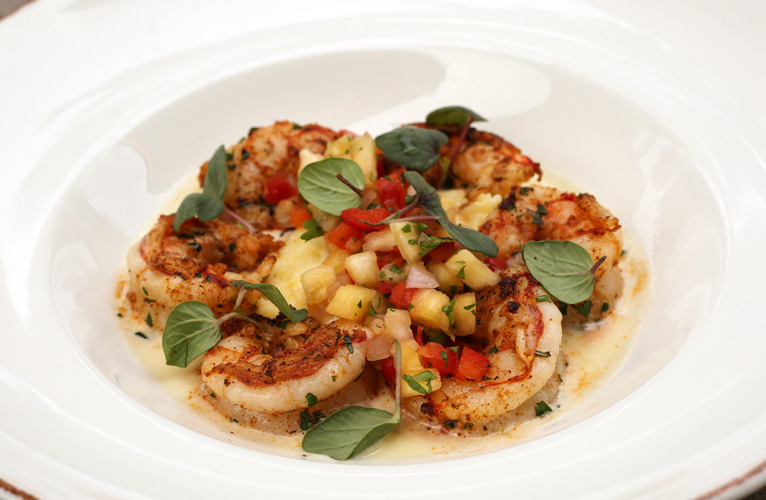 Grandkids coming for the holidays?
If you're looking for a new place to try for a family dinner – where they offer everything from cheeseburgers and chicken nuggets for the kids up to steaks and cioppino (not to mention cocktails) for the adults – you might want to try the Wind & Waves Grill.
Never heard of it? Well, this bright, airy restaurant at Disney's Vero Beach resort may be the area's best kept dining secret.
Servers tell us that relatively few local residents dine at the Wind & Waves Grill, even though it is closer than any other restaurant to the communities on the northern third of our island.
On a visit last week, my husband decided to start with the iceberg wedge salad ($9) while our companion and I opted for the beets and goat cheese ($9). Both salads were excellent, the red beets and whipped goat cheese attractively plated with local lettuces, walnut vinaigrette and black currant granola.
Then for entrées, I chose the cioppino ($24), my husband opted for the swordfish special ($29), and our companion decided to go with the grilled porkchop ($25).
My husband's swordfish was a beautiful large filet, grilled perfectly, served atop an autumn vegetable stir fry and surrounded by a butternut soy puree. The dish would have been wonderful without the puree, which was way too sweet.
Our companion's porkchop was similarly a gorgeous piece of meat, nicely seared, but also served with the butternut puree. Again, raves for the chop – not so much for the puree.
As for my cioppino, it turned out to be a very light rendition of this San Francisco favorite – with clams, shrimp and chunks of fresh fish in a wine and tomato broth.
For dessert, our excellent server Muriel talked us into an order of pineapple upside-down bread pudding with caramel sauce and a scoop of Dole Whip ($8). Dinner for two, accompanied by a glass of wine or one of the Wind & Waves Floridian craft beers, should run in the neighborhood of $100-$120 before tip.
While this isn't fine dining (no white tablecloths here), Wind & Waves comes close. Disney clearly has sought to create a restaurant that will appeal to adults as much as to children, and there really is something for pretty near everyone on the dinner menu.
You don't need kids to enjoy a nice meal here, and for anyone who still needs a little help getting into the Christmas spirit, the soaring lobby of Disney's Vero Beach Resort also currently features the biggest, most lavishly decorated tree around.
If you live toward the northern end of our island, the Wind & Waves Grill is definitely worth a try this holiday season.
I welcome your comments, and encourage you to send feedback to me at tina@verobeach32963.com.
The reviewer dines anonymously at restaurants at the expense of Vero Beach 32963.
Wind & Waves
Hours: Daily, 5 p.m. to 9 p.m.
Beverages: Full bar
Address: Disney's Vero Beach Resort, Highway A1A south of CR 510
Phone: 772-234-2180
Photos by: Leigh Green
Click HERE to see more or buy photos