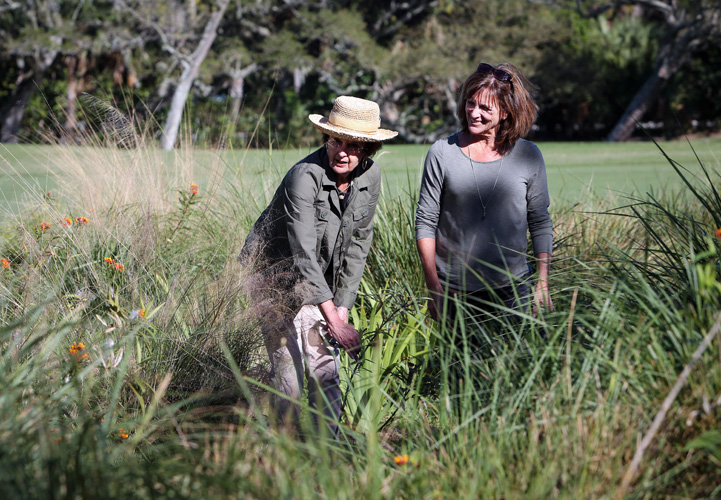 One of the Treasure Coast's most prominent conservation scientists is lauding The Moorings Yacht and Country Club for its environmentally-forward initiatives.
Dr. Edie Widder, founder and chief scientist of the Ocean Research and Conservation Association (ORCA), called The Moorings "a major part of the solution" to the Indian River Lagoon's water quality problems during a packed speech this month at the club.
"The Moorings is a leader in the community in what you're doing," Widder told the gathering.
Specifically, Widder pointed out a 1.1-acre lagoon-friendly re-landscaping project last spring spearheaded by Judi Honiss, a resident of The Pointes condominium, and designed by landscape architect Robin Pelensky.
Pelensky directed the removal of some 5,000 square feet of sod and planted an undulating bed of native grasses and flowers with crushed shell replacing mulch that slopes toward the lagoon. "It helps save water; there's no need for fertilizer," Pelensky said. "The plants themselves suck up nitrogen and phosphorus," filtering out those nutrients before they flow into the lagoon.
Widder also noted the rain garden next to the golf course – about 2,500 square feet of native plants and flowers that attract butterflies and filter run-off before it enters the lagoon.
And those are just two of many environmentally-friendly projects and "best management practices" initiated at the country club.
Golf course superintendent Craig Weyandt, a Florida Master Naturalist, created taller-grass fringes around six stormwater retention ponds as buffers that are neither fertilized nor sprayed with pesticides. He uses recycled water for irrigation, applies fertilizer sparingly where needed, makes his own mulch and compost, removes exotic species such as Brazilian pepper and Australian pine, encourages members to buy reusable stainless steel cups instead of Styrofoam, and creates nesting areas for birds. "We'd rather lead than follow," Weyandt said.
The Moorings' clay tennis courts have been converted to water-saving 'hydro-courts' which dampen them from underground. Court lights are LED to save energy.
Club-wide, the Moorings has banned plastic straws and dispenses paper straws only on request. It has installed water refilling and electric car-charging stations, and recycles paper, plastic and aluminum products, and fluorescent light bulbs. Members have even adopted a spoil island in the lagoon near Harbor Branch Oceanographic Institute. "We're trying to be pioneering and taking initiatives. We're dedicated to best practices," said Ursula Gunter, the club's membership and marketing director.
In her talk last week, Widder told the audience that one of the best ways to reduce pollution in the lagoon is to replace concrete sea walls with "living shorelines" made of oyster shell, mangroves, sea grapes, and other natural materials.
In areas where her "Living Lagoon" volunteers – kids as young as five and adults up to 80 – have installed these sloping swales, they have reduced nutrient loads and curbed shoreline erosion.
Widder said living shorelines are cheaper to build than sea walls, and in hurricane-ravaged areas such as the Florida Panhandle, they are better at withstanding the pounding of winds and waves.
She said she hopes the insurance industry will incentivize homeowners to replace sea walls with the natural breakwaters.
"It would be a win-win," Widder said.
In the meantime, she said, "there's lots of things people can do short of tearing out a sea wall . . . anything that slows water down and holds it for a period of time. These are completely solvable problems."