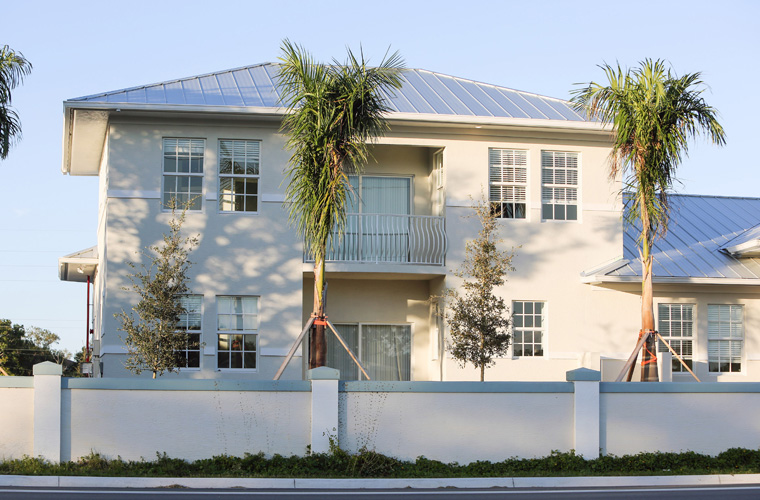 A project to build 27 rental townhomes between 18th Street and 17th Street, close to the 17th Street Bridge on the mainland, has been revitalized by a new developer, Wolfpack Financial Holdings, a local company with an office at 847 20th Place in Vero Beach.
"I think we're going to call them Oakmont Townhomes," said Michael Buza, president of Wolfpack Financial, which bought the 3.1-acre parcel at 401 18th St. last March for $735,000.
The prior owner was a West Palm Beach company that paid $1.85 million for the land in 2005 and built the first three townhomes just as the real estate boom was peaking. The company halted construction during the downturn and the initial attractive triplex, painted in pretty pastel colors, sat alongside 17th street for 11 years, gradually overgrown with weeds, before the property was finally sold in March.
The City of Vero Beach Planning Department looked over updated but similar plans for the project, approving them in September 2018. Thirty units were originally planned, but that number has been scaled back to 27 – three townhomes in each of nine buildings – with a single entrance off 18th Street.
A concrete wall along 17th Street, put in by the prior owner, will remain to shield the property somewhat from traffic noise traffic and noise on 17th Street. Heavy landscaping will screen the 18th Street boundary from noise and traffic. The development will not be gated.
There will be a small park near 17th Street and generous swales between buildings will add to the park-like feel of the development.
Mike Schlitt Construction is the building contractor and will also serve as property manager for the complex after it's complete.
"We think these will rent to baby boomers," Mike Schlitt said. Rents are expected to range from $1,400 to $1,800 a month for two- and three-bedroom townhomes, each with a single-car garage. The townhouses will have between 1,100 and 1,400 square feet of living space and will have one-year leases.
"Retirees don't want to buy right away," Schlitt said. "They lease for a year while they get to know the area. It's a great location, so close to the beach. You've got about 20 restaurants within biking distance."
The first five buildings, with 15 units, are slated for completion in April 2019. Schlitt said the remaining four buildings will be finished about six months later.
The three-bedroom townhomes will be two-story, while the two-bedroom units will be one-story. The walls will be reinforced concrete block with stucco, the roofs standing-seam metal.
Schlitt said thick insulation, air space and concrete construction will make the homes quiet, with 12-inch walls between units.