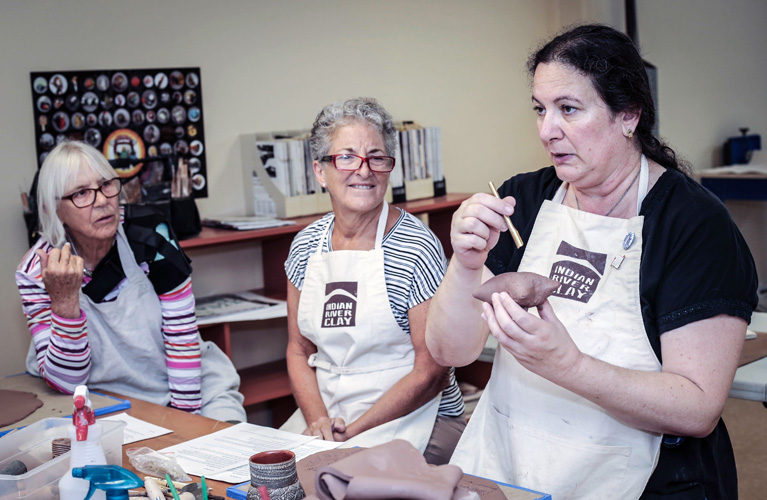 Wheelers, slabbers, coilers and pinchers can now get their hands dirty at the recently opened Indian River Clay community studio. It's the perfect place to roll up your sleeves when you want to throw some mud.
Local potters are 'hand building' a space where they can create, connect and foster the arts. The collaborative features a membership studio with shared workspace and communal equipment, and it is also a teaching facility for the whole community, providing support for all levels of potters.
The collaborative has applied for approval to incorporate as a Florida not-for-profit corporation and, upon receipt of that approval, the Becker Foundation has generously committed to a $25,000 donation to help fund the studio.
Members enjoy studio access and equipment, including wheels and kilns, unlimited firings and use of studio dipping glazes, dedicated storage space and class discounts. The collaborative's founders and members seek to promote the development of pottery skills among those already hooked on clay art, while also fostering curiosity about the craft within the community. The goal is to draw together students, artists and an engaged public in an effort to help them discover that clay is the perfect medium through which to explore artistic talents.
"You can be involved at the level you want. Full membership at the studio entitles a member to access the studio at any time of the day or night. Each member gets a key so they can work when they want to and for as long as they need to," explains Maria Sparsis, studio founder and resident artist.
Indian River Clay is the creation of several local clay artists who wished to form a shared space where they could create their own works while cultivating interest within the broader community. Sparsis says that Vero's ever-growing community of potters had been batting around the concept of forming a community studio for at least 15 years.
"Most everybody in town involved in clay took classes at the museum [Vero Beach Museum of Art]," notes Sparsis. After "outgrowing" museum classes, the potters began establishing their own home studios or shared workspaces.
"But there's always been this buzz about town that one day we would have our own pottery place where we could have master workshops, where we could have alternative firings; a collaborative of some sort," says Sparsis. "Many of them have home studios, but there is a difference between working in a solitary fashion and being around people. There is a sense of community with clay people; they feed off of each other."
Susan Scarola, board chair, co-founder and resident artist, says she got the mudbug after she retired and moved to Vero Beach permanently. She was looking for a way to get to know the community and try new things.
"Working with clay was not intimidating for someone who comes with very little artistic background," says Scarola. "I found it was a way that I could do something tangible and express myself in a way that I never had, and be with people who were encouraging."
This wasn't the first community clay venture for Ginny Piech Street, co-founder and studio manager. She had been involved with Peacock Clay in Fort Pierce, before a fire in an adjacent storefront forced it to close.
"Vero already has a big clay presence with the museum. I think this is just an extension of the possibilities to get your hands in the mud," says Street.
"There's just something about it that is soothing; it's therapeutic. It's good for the soul. Maybe because it comes from the ground and it's grounding. It just does something for me. And it seems to do something for everybody that I come in contact with who messes with the clay. It's just a pile of mud. What's there to be precious about? You mess up, you start over again."
As they began to develop a blueprint for the studio, the board did their research. They looked to several of the large community studios across the country as examples of what they were hoping to become – a regional resource that could bring in big names for lectures and workshops.
"We'd like to create a place that is open-minded, present and hospitable, and a place where creative energy can grow. A place where everybody can share what they know, so that everybody can grow creatively and express themselves creatively," says Street. "Every artist has their own method of working, but I think a lot of people need or appreciate interaction with other makers."
"People go out of town and take classes and bring information back and they share it," says Sparsis in agreement. "One of the things that I found with potters is they're extremely generous with information. If you're working in a studio with other people, you get the benefit of everybody else's experience."
As to why so many people are drawn to pottery, Sparsis explains that even someone with no experience or natural talent can do it.
"There's something about the tactile nature of clay that you can lose yourself in. There's an intimacy with the medium. If you learn how to follow the rules and do what you're told, you will be able to make something. You don't have to be creative," says Sparsis. "We are trying to think in a way that will allow this to become a bigger collaborative over time, a place that will allow us to expand."
The hope is to have that expansion include partnerships with other nonprofits. Plans are in the works to develop programs for cancer patients, teachers, veterans and their families, and clay-based summer camps.
Beginner, intermediate and advanced classes are ever-changing, but will include such instruction as hand-building with coils and slabs, wheel throwing, vessel and figurative sculpture, and glazing. In addition to Sparsis, Scarola and Street, the other co-founders of Indian River Clay are Leah Cady, Jim Cohoe and Joan Cortright.
Indian River Clay is located at 1174 South U.S. 1 in Vero Beach. For class schedules, hours, membership costs and additional information, visit indianriverclay.org.