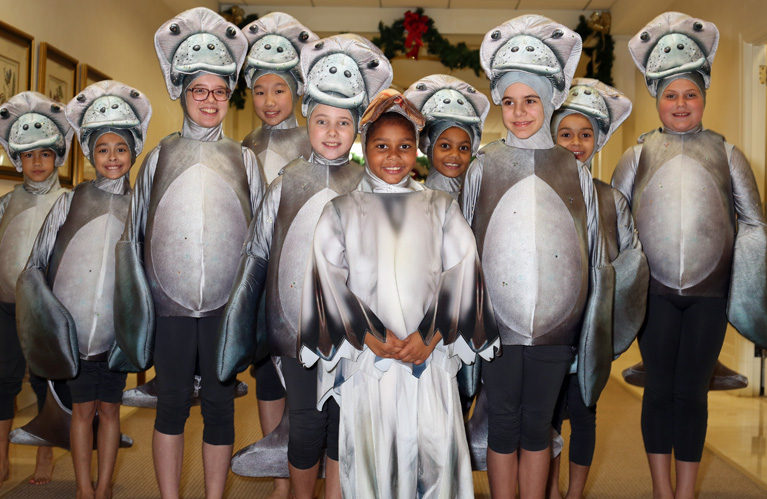 In what has become a much-anticipated holiday tradition, the third annual Ballet Vero Beach Tea Up for the Nutcracker Luncheon and Fashion Show at the Oak Harbor Club conjured up visions of sugar plums to usher in the holiday season.
Delightful dancing manatees opened the fashion show, giving viewers a sneak peek of the upcoming Nutcracker on the Indian River performances.
Thanking supporters, Linda Downey, BVB board chair, said "it's Adam's [Schnell] vision along with the board, but it's incredible what we've accomplished in five years."
"I am still basking in the glow of last year's reception," said Adam Schnell, artistic director/CEO.
"We've strengthened the partnerships we had on the production and we're working on new ones. The Land Trust has really stepped up, and the information about the lagoon that adorns the hallways will be like waiting in line at Disney World."
He added that in addition to presenting beautiful, professional ballet, Ballet Vero Beach is working to become enmeshed in the community. New outreach partnerships include being part of the City of Vero Beach Centennial Celebration. After all, this Nutcracker version is set in the same year Vero was chartered. Also, an adoptable Humane Society dog, dubbed 'Muttcracker' by Schnell, will make a guest appearance during the show, and 16 students from Fellsmere and Dodgertown elementary schools will perform with the professional dancers and young dance students.
"We are the only professional arts organization in the area that donates free tickets and educational outreach initiatives to 14 local, social service nonprofits," said Schnell, adding they also host a free student matinee series for third- and fourth-graders.
BVB has teamed up with the Learning Alliance to create a dance and literacy component, and a one-hour Nutcracker on the Indian River version will debut next year geared toward the 20 percent of local students defined as differently abled.
"These are the kids that can't come to our show because either they can't sit the entire time or their parents can't afford it," he explains.
During the luncheon, a stream of hometown models showcased seasonal attire from local boutiques and student performers from the upcoming ballet presented a preview of costumes designed by Travis Halsey. Closing out the show was an appearance by Santa and Mrs. Claus.
The Vero Beach version of the beloved Nutcracker follows Marie and her family as they travel from New York to Vero Beach in 1919, so flora- and fauna-themed centerpieces were designed to hearken memories of that era, resplendent with citrus trees; sandhill cranes and vintage suitcases overflowing with Nutcracker paraphernalia.
After the show, children played mini-golf, decorated cookies and sat with Santa, while adults enjoyed champagne and gourmet desserts and perused items from the silent auction and Boutique.
Nutcracker on the Indian River performances will take place at 8 p.m. Dec. 30 and 2 p.m. Dec. 31 at the Vero Beach High School Performing Arts Center. Then, on Jan. 4 and 5, BVB Program 2 presents Premiers, showcasing works spanning from classical to contemporary, also at the VBHS PAC.
For more information, visit balletverobeach.org.
Photos by: Leigh Green
Click HERE to see more or buy photos