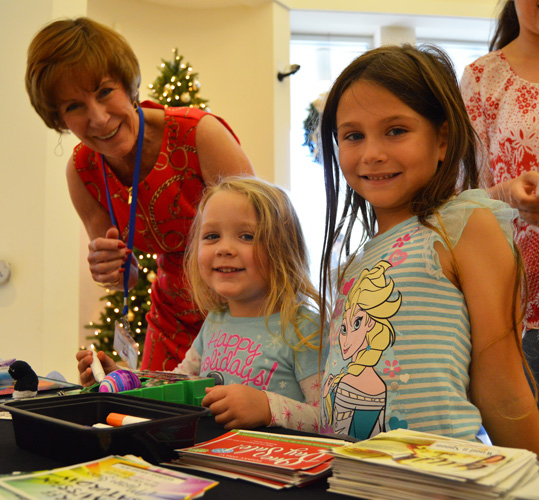 A Weihnachtsmarkt (Christmas market) popped up at the Vero Beach Museum of Art during the 37th annual Holidays at the Museum event, influenced this year by the 'Made in Germany: Art Since 1980 from the Rubell Family Collection' on display through Jan. 6.
"We were inspired by the Made in Germany exhibition and wanted to turn the museum into a German Christmas market," said Pam Sommers, VBMA Youth and Family Programs manager. "Each room is like a tent where you would buy an ornament, but instead, the families are making them."
A stilted wooden soldier straight out of the "Nutcracker" greeted arrivals to the museum, engaging them in the 'height' of comedic entertainment as he teased pint-size visitors from on high.
Once inside, attendees to the free event were transported to a marketplace overrun with kinder (children) who dashed from one activity to the next along the ornament-bedecked hallways. Activities abounded throughout every area of the museum, where more than 60 volunteers helped to corral the estimated 3,000 visitors who partook of the family-oriented festivities.
Families visited the art studios in the education wing where youngsters could create decorations, ornaments and nutcrackers – wrapping Popsicle sticks with yarn to make Gods-Eyes, using wood, paper and straws to create holiday-themed ornaments, and building nutcrackers out of clothespins.
The Beachland Shark Singers, Imagine South Vero Tangerines, Osceola Singers, Rosewood Magnet and Treasure Coast Strings delighted audiences with traditional holiday music performed from the stage in the Leonhardt Auditorium.
In the atrium, ballerinas from Dance Space were the featured holiday performance and across the way in the Holmes Great Hall, the Indian River Charter High School Orchestra, Vero Beach Classical Ballet, Studio C Dance Company, Vero Beach Karate Association, and Liberty Magnet Eagle Sound & Ensemble performed before appreciative onlookers, who enjoyed a seemingly endless supply of cookies and cider provided by the VBMA Friends.
Other amusements included face painting, a scavenger hunt, gallery-themed games and shopping in the Museum Store.
The Made in Germany exhibition, on display through Jan. 6, features paintings, sculptures and photography by contemporary German Artists collected by Don and Mera Rubell. The next exhibition – Victorian Radicals: From the Pre-Raphaelites to the Arts & Crafts Movement – begins Feb. 9.
For more information, visit vbmuseum.org.
Photos by: Stephanie LaBaff
Click HERE to see more or buy photos