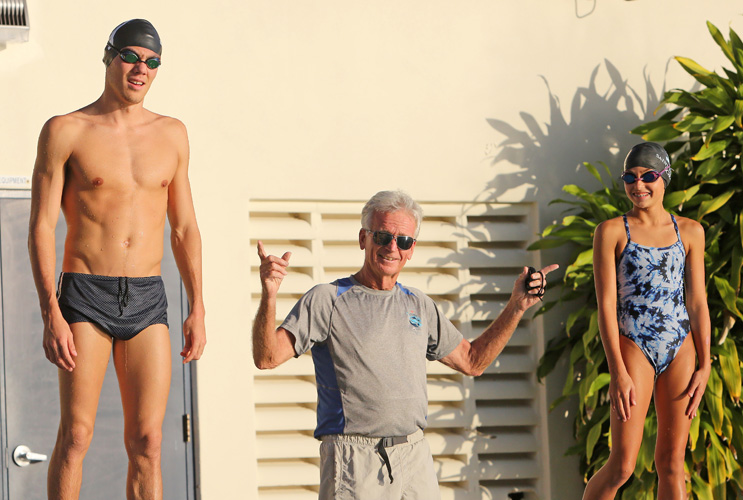 Senior Tomas Botero and seventh-grader Alexandra Stern were repeat performers for St. Ed's at the regional swim meet this year, with Botero advancing to the state meet for the third consecutive time.
For Botero, this marked the end of a lengthy era of success that he shared with a group of swimmers he was together with since middle school. For Stern, this was another step in a budding swimming career that could eventually see her competing at the state level.
The entire varsity program at St. Ed's has entered a state of flux, with essentially a new generation taking over. This year Botero was the lone senior and only two sophomores were among a middle school-dominated roster of 17 boys and girls. However, if committed to this sport and willing to dedicate long hours to training and instruction, young swimmers in St. Ed's varsity and aquatics programs can strive to become among the best in the area.
Explaining his approach this year, head coach Stephen Fenning told us, "Our dual meet season wasn't something that we were concerned about because we had a small team with a lot of young kids. Instead we focused on several multi-team meets and the invitational that we went to in September at Westminster Academy in Fort Lauderdale. We just went into those meets and tried to improve our times."
On the plate this season was a taste of what team competition is like, but overall it was downplayed for most of the youngsters in favor of individual development. That was not the menu for Botero and Stern, they were in a different lane entirely. Both specialized in the 200 (yard) and 500 freestyle.
Botero finished 22nd in the 200 and 23rd in the 500 at the state meet two years ago. Last year he missed a seeding in the 200, but moved up to 17th in the 500. Last month at states Botero improved to 11th in the 500 with a time of 4:37.07, less than eight seconds off first place. He was 18th in the 200 at 1:44.64.
Those are the facts and figures. Botero explained how he reached that level. "I've been at St. Ed's since sixth grade and I've been swimming with the varsity since then. I'm in the pool Monday, Wednesday and Friday mornings from 5:30 to 7. Then every afternoon Monday through Friday from 4 to 7 and Saturday mornings from 8 to 10.
"The whole year you are working hard and two weeks before a race you start tapering. You're not doing such long sets or sprint work."
Stern, meanwhile, is making progress based on her results in consecutive regional trials. A year ago she was 21st in the 200 and 17th in the 500. In 2018 she advanced to 15th at 2:11.44 in the 200, and 9th at 5:36.25 in the 500.
"I've been swimming for six years and it's always been a lot of fun," said Stern. "I really like doing it, especially after school when I'm really stressed.
"I'm practicing Monday through Friday afternoons and some Saturdays. The first time I was really excited about going to regionals, and I was again this year. After making it to regionals I really want to go to states. I tried to make it this year, but I definitely want to make it next year."