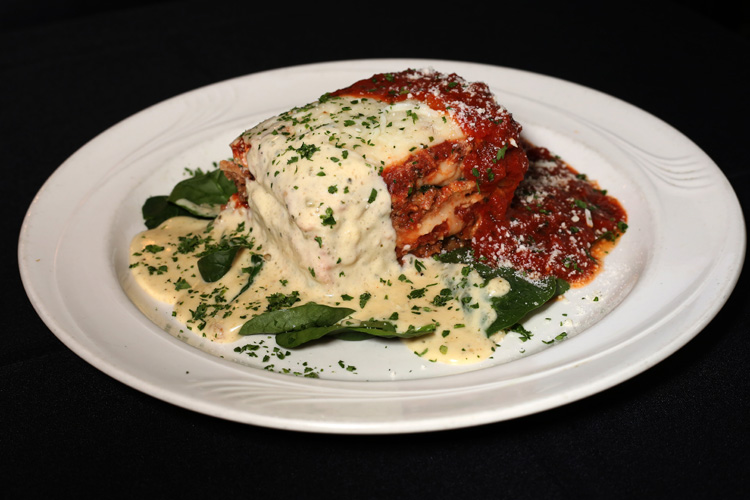 When someone says neighborhood Italian restaurant, I think of a red-sauce joint serving reasonably priced, simple food in an unpretentious atmosphere. And for the past five years, nobody has been doing it better at the northern end of our readership area than the Italian Cousin.
The Cousin has been packed almost from the day that Chef Gus took over the space on U.S. 1 in Sebastian from wife Michelle Hennessey, a former Vero Top Chef who shut down her own highly successful restaurant to spend more time with her young son.
The restaurant has a warm Italian vibe, and with Chef Gus popping in and out of the kitchen, and Michele frequently on hand hugging and kissing regulars, the atmosphere makes you feel like part of a large family.
When our party of three arrived there last Friday night, we were quickly shown to a nice table. Our attentive server, Donnie, brought a basket of wonderful warm, crispy Italian bread and a dish of delicious dipping sauce, and took our order for wine.
On this visit, we decided to forego appetizers – we previously have enjoyed the stuffed clams with bacon, spinach, artichokes and cheese and the Prince Edward Island mussels served in a chardonnay-lemon-basil broth – and started with salads.
Our companion and I had the Cousin salad tossed with gorgonzola vinaigrette, and my husband opted for the Caesar salad with anchovies.
Then for entrées, I decided to have one of the evening's two specials, the ravioli with shrimp ($24.95). My husband chose the grilled sausage ziti ($18.95), and our companion ordered the spaghetti with meatballs ($14.95).
My ravioli came in a pesto cream sauce topped with skewered shrimp and toasted pine nuts. It tasted as good as it looked. My husband's ziti dish consisted of very tasty chunks of sausage, grilled onions and peppers, all in a light marinara sauce. Just right. And our companion absolutely loved the spaghetti with light, moist meatballs.
On previous visits, we have enjoyed the veal parmesan ($26.95), the linguini in a white clam sauce ($19.95), and the chicken cacciatore ($18.95).
The portions are large here – as you would expect in a neighborhood Italian restaurant – but even so, we found room for dessert, an excellent lemoncello cake. We finished our meal with a perfect espresso.
Prices are very reasonable, with many entrées priced from $12.95 to $19.95 (including soup or salad). Dinner for two with a couple of glasses of beer or wine should run in the $60 to $70 area before tax and tip.
This isn't white-table-cloth Italian dining. But it is clearly the best neighborhood Italian place in Sebastian, and if you haven't checked it out in the five years it has been there just south of the Sebastian business district, it's never too late to drop in on your Italian Cousin.
I welcome your comments, and encourage you to send feedback to me at tina@verobeach32963.com.
The reviewer dines anonymously at restaurants at the expense of Vero Beach 32963.
Italian Cousin
Hours: Monday through Saturday, 4 pm to 9 pm.
Beverages: Full bar
Address:  480 U.S. 1, Sebastian
Phone: 772-589-1412