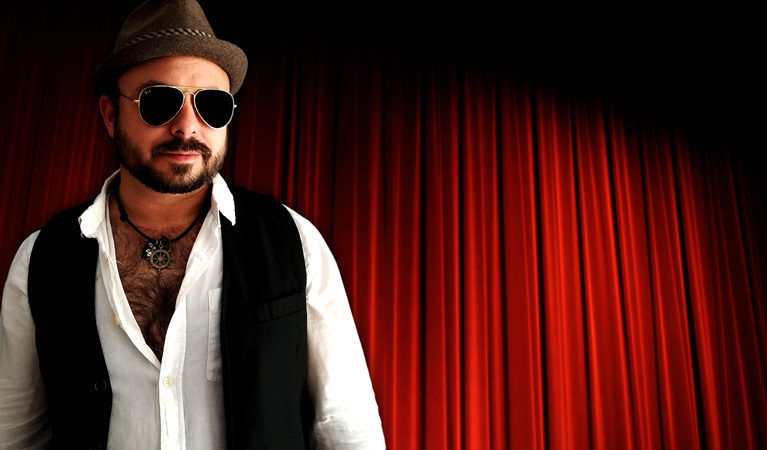 A much-loved and eagerly anticipated holiday tradition continues this coming Thursday and Friday, Dec. 20 and 21. For almost a quarter of a century, the Vero Beach Rec Department has presented a marvelous performing arts production, the cast made up of a couple hundred performers between 3 and 25, from the department's popular Leisure Square gymnastics and performing arts programs.
The show is always unique and always completely original – a truly wonderful show to share with family during the Christmas season. According to the show promo, the script itself, the choreography, the props, backdrop and programs, are all the work of the exceptionally creative and dedicated instructors.
This year's show is "Christmas Road Trip," which will incorporate dance, aerial acts, gymnastics and acrobatics in the heartwarming story of three sisters and their Christmas-magical adventures on a road trip to their grandparents' home for the holiday. "Christmas Road Trip" will take place at the Vero Beach High School Performing Arts Center. Time: 6 p.m. both evenings. Tickets: adults, $8; children and seniors, $7. 772- 567-2144.
Brush up your Sweet Tooth: "Willy Wonka" is on stage at the Henegar in Melbourne now through this Sunday, Dec. 16. Roald Dahl's "Willy Wonka," according to Wikipedia, is a musical that combines parts of Dahl's 1964 book "Charlie and the Chocolate Factory," with parts of the 1971 movie "Willy Wonka and the Chocolate Factory," and adds newly created material.
"Willy Wonka" tells the sugar-shock-inducing tale of young Charlie Bucket, who visits the weird and mysterious Willy Wonka's weird and mysterious chocolate factory just as Wonka is conducting a contest. Wonka tells the pack of eager young contestants that he's hidden golden tickets in five of his irresistible (scrumdidilyumptious) candy bars. Whoever finds the tickets will win a tour of the factory and a lifetime supply of candy.
Musical, sugar-coated mayhem ensues. Times: Fridays and Saturdays, 8 p.m.; Sundays, 2 p.m., through Dec. 16. Tickets: $19 to $29. 321-723-8898.
The music of a sax is like no other: beguiling, emotional, smoky, mellow. And in the hands of saxman extraordinaire Kenny G, well … You'll want to mark your calendar for this Sunday, Dec. 16, when the award-winning R&B, pop and Latin-infused jazz saxman will take the King Center stage to perform career hits and holiday songs.
The show promo notes that, during his almost four-decade career, Kenny G's "combination of unparalleled instrumental chops and indelible melodies" has scored sales of more than 75 million-plus records worldwide and more than a dozen ascensions to the top of Billboard's contemporary jazz chart. Time: 7 p.m. Tickets: start at $48.50. 321-242-2219.
Riverside Theatre Comedy Zone's Winter Nights this weekend: From the often intimidating, you're-all-alone-up-there life of the stand-up comedian to the often intimidating, you're-all-alone-up-there life of the middle school teacher. Oh, yes he did.
On the double-bill this weekend are a couple of transplanted Floridians, Mike Rivera and Rico Sita. Rivera started performing comedy in college and sharpened his act in San Francisco Bay comedy clubs. Then, possibly recalling how deadly dull his own civics classes were, he decided to use his skill for the betterment of student-kind and set out on a 13-year gig as a middle school civics teacher.
He made a major positive impact and now teaches in Pinellas County (by day). Sita is a New York native who moved to Florida because, he says, "no one has ever heard of that before." One time, at a party, someone told Sita he was hilarious, so he decided to try stand-up. Then, he says, a terrible thing happened.
The audience loved him and he was hooked. His act draws on his life: being married, being bald, having a child, having a business, being VERY sarcastic. And, of course, his fear of Florida's State Bird – "the Palmetto Bug." Arrive early for the "pre-party" party, "Live on the Loop," with foodstuffs from the outside bar and grill; and free live music under the fabled Riverside oaks: Friday it'll be classic rock-n-roll with the Bobby Owen Band; and Saturday brings soul rock from Rocket City.
Times: Live pre-party music: 6 p.m. to 9:30 p.m. Comedy Zone Winter Nights: 7:30 p.m. and 9:30 p.m. Doors open: 7:15 p.m. Tickets: side seats: $12; table seating: $16-$18. 772-231-6990.