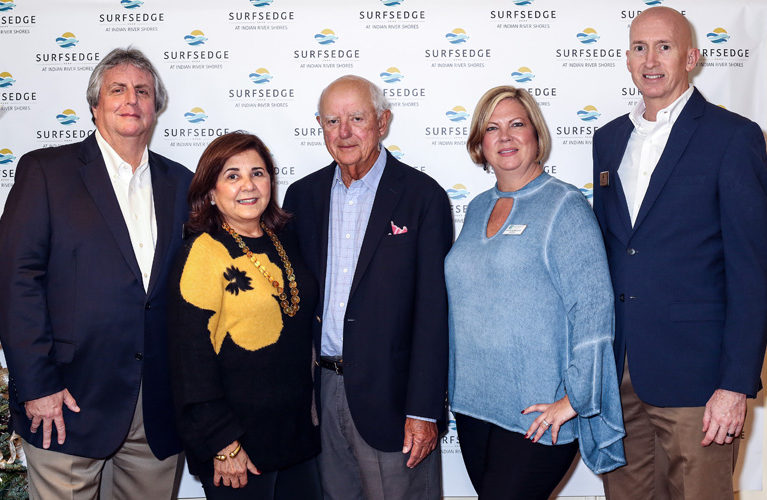 The Lutgert Companies and Dale Sorensen Real Estate debuted the upcoming 24-home Surfsedge subdivision at two well-attended events at the Vero Beach Hotel and Spa last week.
Surfsedge will be developed by Naples-based Lutgert on a 5.2-acre oceanside site across A1A from Pebble Bay, just north of Pebble Beach Villas and Tracking Station Park. The company purchased the land from the Town of Indian River Shores at auction for $4.4 million in April 2017 and is in the final stages of permitting its plan for 12 single-family homes plus 12 luxury condominiums with ocean views.
Lutgert vice president and Surfsedge project manager Mike Hoyt – who grew up in Vero Beach – said he hopes to start site work on the project in February, as soon as he has "wrangled all the permits."
There will be three single-family home models, ranging from 2,971 square feet to 3,513 square feet in size and from about $1.7 million up to $2 million, depending on the model and lot a buyer chooses.
Likewise, there will be three condo floor plans, ranging in size from 3,020 square feet to 3,290 square feet. The condominium residences start at $2.5 million and go up to $3 million.
Dale Sorensen's Megan Raasveldt brought the property to Lutgert's attention and has signed on to market the community, which she said is designed for carefree living with great amenities.
Raasveldt said she was delighted with the turnout both evenings at the Vero Beach Hotel and Spa, where about 60 people attended a VIP reception on Wednesday and then about 40 area brokers showed up to look over the site plan and gather information at a broker event on Thursday.
"The idea of the VIP event was not to get 60 buyers in a room, but to get 60 influencers who would then go out and talk about Surfsedge and what they had seen," Raasveldt said.
One thing that has brokers buzzing about Surfsedge, Raasveldt said, is a unique rooftop terrace on the south end of the multifamily building. Though spectacular, panoramic views of the Atlantic might be enough of a draw to the top of the condo building, the terrace will feature cozy seating and fire pits, plus a hot tub and a dog-walking area because Surfsedge will be a pet-friendly community.
"All of the residents, both in the single-family homes and the condos, will have an elevator key to access the rooftop terrace," Raasveldt said.
Residents also will have access to a high-end fitness center and community swimming pool, as well as the dune crossover to the ocean. Townhome buyers who need more storage area than their two parking spaces can purchase one of four 20-foot tall, air-conditioned garages for $65,000 and have ample room for up to four vehicles.
"It was a great event," Hoyt said of the two-night reveal. "We are super happy with the buzz in the community and the feedback we have been getting. We are in for all the site-work permits (city, FDOT, FDEP, stormwater, etc.) and hope to have those in place in January."
Construction drawings for the buildings are in progress, Hoyt said, adding that he hopes they will be available for review by the end of January.
After those are approved, Raasveldt said, "we can start [writing pre-construction sales] contracts, hopefully right after the first of the year."
"The bulk of the site work should be complete enough to allow vertical construction to start late summer 2019," Hoyt said.
Lutgert will set up a modular sales center onsite early next year. That will be followed by a model home.
Lutgert has a long history of successful residential projects, dating back to the 1960s when it developed Naples' Park Shore oceanfront community. The company has completed more than two dozen major luxury residential projects in Florida and North Carolina.