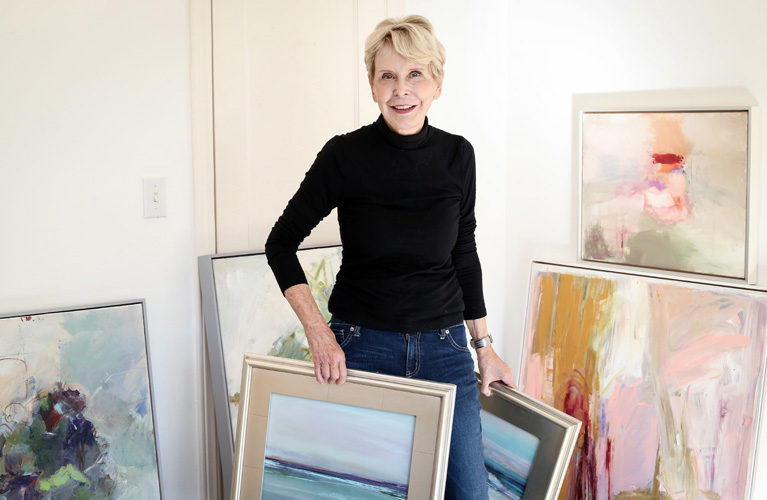 How do you start your day? With a cup of coffee, a meditation, a prayer? Rita Barone can check all those boxes and, in addition, the one marked 'paint a picture.' An abstract artist, Barone is currently showing her work at the Center for Spiritual Care in Vero Beach through Dec. 28.
And although she had two paintings juried into the Backus Museum's competitive exhibition in Fort Pierce earlier this year (her pastel, "Evening Watch," was awarded a first-place ribbon), her display at the Center for Spiritual Care, titled "Between the Lines," is "basically the first show I've ever had."
For Barone, deciding to paint abstractly after a long hiatus, in which she did no artwork, was not easy.
She describes the act of painting as "a constant struggle," resulting in pieces others might scratch their heads over.
"People will say, 'What is it?' They don't seem to understand. And yet I joyfully get up every morning to put paint onto canvas, because it has become part of me."
Born and raised in Chicago, Barone received a liberal arts degree from Syracuse University. After marrying her husband, Syracuse-area native Peter Barone, she worked as a high school teacher for a short time. Overhearing one day that a coworker was going back to school for an MBA, Barone decided to get one too.
Her first marketing job out of school was based in Syracuse, with a manufacturer of explosion-proof lighting fixtures. She then worked as a product manager for Bausch & Lomb in Rochester, N.Y., where she launched the first tinted contact lenses.
After several years of a rigorous work schedule that involved lots of travel, Barone was ready for a change of pace. She took time off to plan her daughter's wedding and, as an adjunct teacher, taught a few college classes. Then came a change of place: the Barones moved to Skaneateles, N.Y., a sleepy lakefront community just a half hour from Syracuse.
It was there that Barone began to paint; her subjects, rosy-cheeked children and beach scenes, were sold by a friend who owned an art gallery in the town.
Today Barone makes light of her initial efforts. "Painting was a sort of therapy; I didn't think too much about it," she says.
Skaneateles was also home to the Stella Maris Retreat Center. Owned by the Sisters of the Third Franciscan Order of Syracuse, Stella Maris became a spiritual home for Barone, who led women's prayer retreats there and worked alongside the nuns doing kitchen chores.
One day, she says, the nuns told her, "You have healing hands."
They fairly insisted that Barone get a nursing degree, and foresaw a job for her at St. Joseph's Hospital in Syracuse, which was founded by their order. It all happened as the sisters predicted, except instead of a nursing degree, Barone received a diploma in respiratory therapy. She worked at St. Joseph's for several years until her husband retired from his job as a glass plant manager. In 1998 the couple moved to Vero, where Peter's parents had retired years before. After settling into her new home, Rita got a job at Martin Memorial Hospital in Stuart, where she continued her medical career for another 13 years.
When she decided to get back into art again in 2011, Barone signed up for a painting class at the Vero Beach Museum of Art, with Deborah Gooch.
"In her class I started to paint my little girls in white dresses. On my second canvas she said, 'You already know how to do those. Start doing some abstracts.'" Barone admits to having been a little afraid of Gooch who, she says, demands a lot of her students.
"My first attempts at abstract painting were atrocious," says Barone, who cites the difficultly of conjuring up a composition on a blank canvas. Then there is the problem of color; which ones to use? Unrelated to anything other than her interior landscape, Barone's palette is limited only by what she decides to put on canvas.
In her early attempts, Barone often found that composition and color might click in one part of a painting, while everything around it was a jumble.
In any painting, says Barone, "you have little bits and pieces that you like. But Deb taught me the lesson that you can't fall so in love with a little section of the painting, that you fail to develop the whole canvas. It's a process of putting in, and taking out. Turning the canvas upside down, repositioning it, stepping back, and waiting to see what happens."
When everything works together, "it's like pulling a rabbit out of a hat – Voila! How I got there, I don't know."
In addition to painting in her home studio, Barone takes part in open painting sessions at Gooch's private studio with abstract colleagues Elise Geary, Regan Kenyon, Susan Bouma, Tim Sanchez and, of course, Gooch.
Adds Barone, "And George Pillorge. I wanted to do pastels because he does pastels."
Standing in front of her most recent acrylic painting in the show, Barone remarks, "It's a little Twombly." As in Edwin Parker "Cy" Twombly Jr., the late, Rome-based American painter known for scribbling and smudging his large canvases with calligraphic abandon. Twombly, along with his 20th century American contemporary Robert Motherwell and 19th century English landscape painters John Constable and J.M.W. Turner are, Barone says, her "icons."
Barone's "Inside Looking Out" is a 36-inch square canvas in colors of khaki beige, red and a fleshy rose – made by mixing red oxide with varying amounts of white. In a couple of places, strokes of black can be seen behind filmy passages of paint.
"I start with some form of color palette, and often put black in, but the black often gets covered up," she says.
There is a bit of recognizable subject matter in the painting. On the left side of the canvas, the rudiments of a figure, seated with hands demurely placed in her lap, faces the viewer. On the right is a tall, thin form that might suggest to some a music stand, a skyscraper or – "windows," says Barone.
"I think when I was growing up I always felt like an outsider. I was very shy, very introverted. The whole idea of this painting, I think, is representative of things I felt when I was growing up. That's what I like about abstract art; you can put yourself into it, but anybody else would see something completely different," she says.
Barone mentions her just-begun series of paintings, none of which are in the current exhibition. They are subtle works; atmospheric grounds with mere traces of composition upon them.
"To me there's a sense of being in this nothingness. So it is spiritual. It's definitely spiritual. I think all my works are prayers," she says.